The Edge: A (Very) Hot 2015 in the Books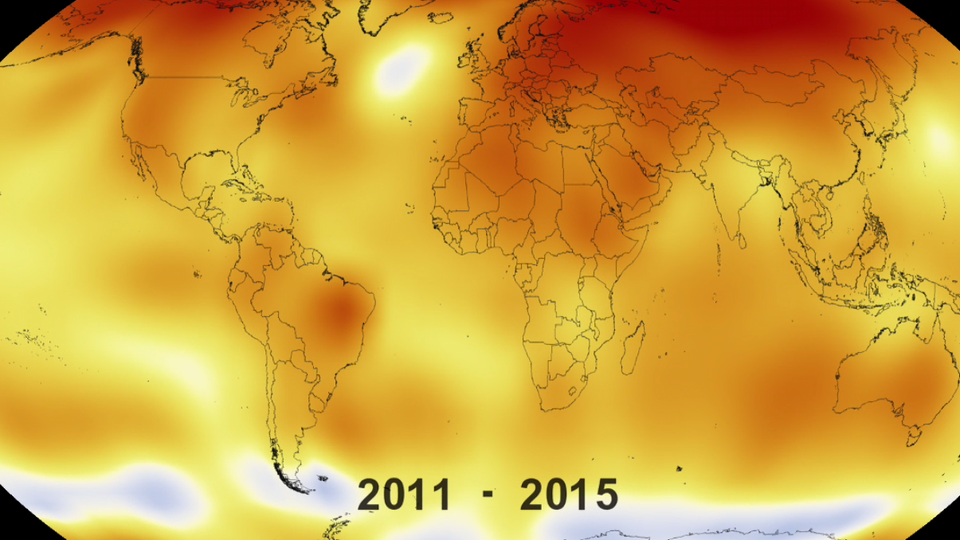 Today in One Paragraph
Armed militants killed at least 20 people at a university in Pakistan. Stocks in the U.S. plunged as global oil prices continued to decline. Senate Democrats blocked a bill that would have tightened screening procedures on refugees from Syria or Iraq. Climate scientists said that 2015 was the hottest year in recorded history. And an inspector-general letter said that Hillary Clinton's private server contained a high level of classified material.
---
Top News
Attack in Pakistan. Armed gunmen stormed Bacha Khan University in Charsadda, killing at least 20 people and wounding dozens. It's unclear who's responsible for the attack. (Jibran Ahmad and Mehreen Zahra-Malik, Reuters)
Dow Takes Another Hit. The Dow Jones Industrial Average tumbled nearly 250 points, recovering from a dip that peaked at 565 points earlier in the day. Market turmoil this year has been driven largely by a steep decline in crude oil prices, which are at the lowest levels since 2003. (Saumya Vaishampayan, The Wall Street Journal)
Refugee Debate in the Senate. Senate Democrats blocked a House-passed bill that would require new FBI background checks and individual sign-offs from three high-ranking federal officials before allowing a refugee from Syria or Iraq to enter the U.S. (Richard Lardner, Associated Press)
Record-Breaking Heat. Independent analyses performed by the National Oceanic and Atmospheric Administration and NASA found that 2015 was the hottest year on record since record-keeping began in 1880. Fifteen of the 16 warmest years have occurred since 2001. (Alex Knapps, Forbes)
Emailgate. The Intelligence Community Inspector General sent a letter to lawmakers last week, claiming that Hillary Clinton's private server contained emails with classified information about "special access programs"—an even more restricted subcategory of sensitive material. Clinton hit back at the claims, calling them "another effort to inject this into the campaign. It's another leak." (Tal Kopan and Laura Koran, CNN)
Tomorrow in One Paragraph: Hillary Clinton heads back to Iowa, while Bernie Sanders and Martin O'Malley each begin two-day stints in New Hampshire. Jeb Bush, Chris Christie, John Kasich, and Marco Rubio will also be campaigning in the Granite State. Mike Huckabee continues to stump in Iowa, and Donald Trump will make his way to Nevada.
---
Follow stories throughout the day with our new Politics & Policy page. And keep on top of the campaign with our 2016 Distilled election dashboard.
---
Top Read:
"Mrs. Clinton had hoped to galvanize women late last month in her critique of Mr. Trump. Instead, two weeks before the Iowa caucuses, her campaign has found itself trying to shore up support among women." The New York Times' Amy Chozick on how Hillary Clinton's involvement in the '90s scandals could hinder the Democratic frontrunner's support among female voters.
---
Top Lines
The 'Take Care' Clause. The Supreme Court is "breaking constitutional ground" this term with the challenge to Obama's immigration program by asking a president to prove that he is faithfully executing the law. (Josh Blackman, National Review)
Missing Dollars. An allegation that the Pentagon spent $43 million on a natural-gas station in Afghanistan—a pricetag that outraged lawmakers last year—wasn't true, revealing a "toxic relationship" between the Pentagon and the Office of the Inspector General. (Nahal Toosi, Politico)
---
Top Views
A One Way Street. Donald Trump may be fond of Scotland, but Scotland isn't too fond of him. The Atlantic's Andrew McGill maps where the enmity is the greatest in light of a petition that sought to ban the Republican frontrunner from the U.K.
---
We want to hear from you! We're reimagining what The Edge can be, and would love to receive your complaints, compliments, and suggestions. Tell us what you'd like to find in your inbox by sending a message to newsletters@theatlantic.com.