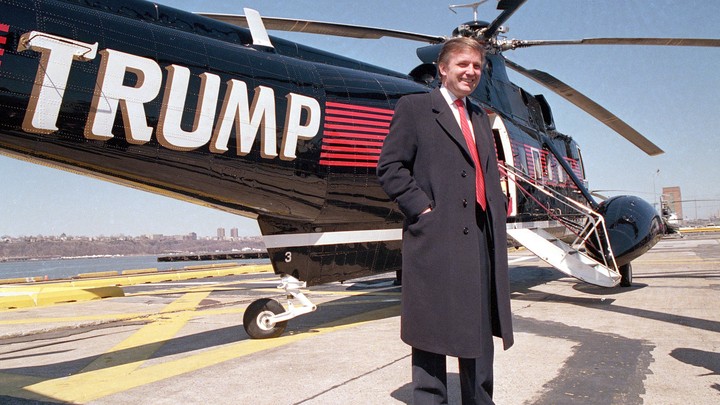 In 1980, a 33-year-old Donald Trump sat down with Tom Brokaw to talk real estate in New York City, predicting that investments in inner cities would do well in the long run and that, five years out, a hotel room in NYC might fetch $1,000 per night. "Mr. Trump, what's left in your life?" Brokaw asked. "You're 33 years old, you've got all this money. You say you didn't say that you want to be worth a billion dollars?" Said Trump, "No, I really don't. I just want to keep busy and keep active and be interested in what I do. That's all there is to life as far as I'm concerned."
So began a decade of interviews that helped the real estate developer transition from a figure of note in New York City to a national celebrity and household name. Though described even at the time as a man with a brash personality and a giant ego, in the interviews, he seems polite and even somewhat humble in comparison to the man now seeking the Republican Party's nomination for the presidency. At the same time, the way that he talked about politics all those years ago sounds awfully familiar, save for the fact that back then he showed no inclination to bash minority groups. "I really believe in trashing your enemies and staying loyal to your friends," he said in one interview, in which he acknowledged having few friends.
When he published The Art of the Deal in 1987, he gave a particularly large number of interviews, staying in the spotlight through the presidential contest the following year.
Here he is in 1984, being interviewed as the owner of the New Jersey Generals, a franchise in the United States Football League, which operated from 1983 to 1987:
​* * *
Trump made his first appearance on 60 Minutes in 1985. He complained to Mike Wallace about the press: "I believe they make me out to be something more sinister than I really am."
​* * *
Strange as it seems now, Trump repeatedly refused to disclose or speculate about his net worth in a 1987 interview with David Letterman. "You won't put a figure on it?" the comedian repeatedly presses. "Never have, never would," Trump says. He seems embarrassed by the question of how much money he is actually worth:
​* * *
On the Oprah Winfrey Show in 1988, Trump complimented presidential candidates George H.W. Bush, Michael Dukakis, and Jessie Jackson, complained that Japan is beating the United States, and declared that while he didn't plan to run for president, he wouldn't rule it out (and would probably win the office if he were to mount a candidacy). "I really am tired of seeing what's happening with this country," he said, "how we're really making other people live like kings, and we're not."
* * *
In 1988, Trump attended the Republican National Convention as a guest of Vice President George H.W. Bush, whom he supported in that year's presidential contest. While there, the businessman sat down with Larry King for a CNN interview.
"Are you a Bush Republican?" King asked.
"No," Trump answered. "The people that I do best with drive the taxis. You know, wealthy people don't like me because I'm competing with them all the time. And I like to win. I go down the streets of New York and the people that really like me are the workers."
* * *
On November 10, 1988, just after the election, Trump again went on David Letterman's show, where he expressed optimism about the election of President Bush, complained that Japan was dumping cheap cars and VCRs on the United States, and revealed an unexpected amenity that was offered for a time at one of his properties:
We bought a whole series of birds for the suites in the Plaza Hotel. These are real,live birds—all sorts of little birds flying around in the suites. Some people walk in, they don't believe what they're seeing. Usually they're just little artificial birds. These are real birds. And we have to be very careful, David, with who we let go into the suites. Sometimes a high roller wants to come to New York, and they want to go into the Plaza Hotel, and I'll never let a high roller from Atlantic City go into the suite in The Plaza where we have these live birds because the birds won't be alive very long.
Later  in the interview, Letterman asked him if he'd ever consider running for office. Trump said he was enjoying his work as a real estate developer too much. What about eight or twelve years in the future, Letterman pressed. "I don't know," Trump answered. "Do you want to see the United States become a winner?"
* * *
In 1989, Trump released a board game and starred in this TV commercial to promote it:
​* * *
In a 1990 interview with Larry King, Trump described how his divorce and the tabloid coverage surrounding  it changed his opinion of the American press, a collection of disparate entities that he thought he understood, only to find out otherwise. Don't miss the part starting at about the 17:25 mark where he talked about what a mistake it was to hire an Atlantic City casino manager who displayed low energy and had "a type C personality." That's just how he attacks Jeb Bush.
Trump would continue to court press attention throughout the 1990s and beyond. But his interviews would lose the tone and feel of his earlier appearances. The divorce and contemporaneous financial troubles changed the man. And the media landscape would change dramatically. In many ways, the Donald Trump on display in the 1980s seems preferable to the one now running for office, but no matter. You go to vote with the Donald Trump that you have.
We want to hear what you think about this article. Submit a letter to the editor or write to letters@theatlantic.com.