Ted Strickland's Ohio Woes
Democrats are optimistic, but the former governor's first year on the trail hasn't gone exactly as planned.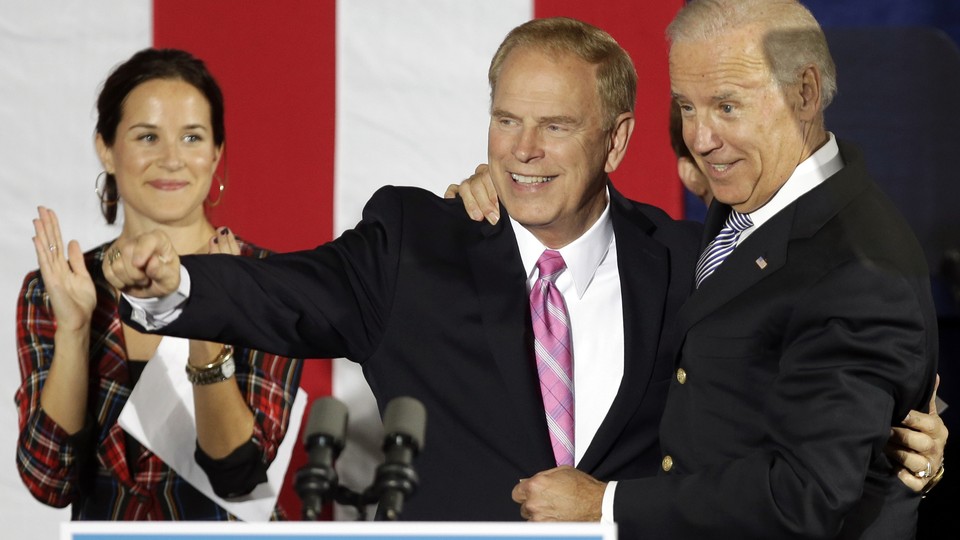 As he approaches nearly a full year of campaigning for Senate in Ohio, Ted Strickland's political comeback bid isn't the juggernaut party leaders once hoped.
Despite a decades-long career of winning tough races, the former governor and congressman has fallen short of fundraising goals, drawn criticism for a lack of visibility, and failed to shut down a little-known primary opponent.
While Strickland, who has the backing of nearly every Democratic power source in the state, remains heavily favored to win the nomination in two months, it's far from the smooth operation party leaders forecasted when they drafted the 74-year-old political veteran for this marquee race.
Even as Strickland continues to poll ahead of Republican Sen. Rob Portman, a coalition of Cincinnati Democrats is raising money for a super PAC to breathe life into the long-shot campaign of 31-year-old Cincinnati City Councilman P.G. Sittenfeld.
Criticism from Strickland's Democratic rivals—who will soon launch TV ads—is threatening to pull his focus from the general in a race that could prove crucial to the party's hopes of winning the majority. His fundraising has already fallen well below the early goals set for his campaign and is less than half the nearly $10 million Portman raised in the past year.
Sittenfeld's presence, kept alive by the super PAC despite dried-up personal campaign fundraising, has not only choked off some of Strickland's fundraising in Cincinnati—one of the state's biggest Democratic strongholds—but also incited some cringe-worthy moments on the trail.
Asked last week in a radio interview with WXVU whether he'd participate in a Democratic debate, Strickland said the primary would "be over in a relatively short period of time'' and he wouldn't allow himself "to be distracted by anything like that.''
That caused some exasperation within Ohio Democratic circles. While it's not uncommon for a front-runner to avoid debating a little-known opponent, Strickland's dismissive attitude struck the wrong chord with some would-be allies.
In a local TV appearance, former state House Majority Leader Tracy Maxwell Heard referred to Strickland as a "ghost" on the trail and offered an unsolicited endorsement for Sittenfeld. Former Allen County Democratic Party Chairman Bill Angel said the refusal made the candidate "look weak."
Still, the Strickland campaign remains confident about its strategy.
"The important thing to keep in mind is both the amount of money a candidate has, and what they have to do with their money," Strickland spokesman David Bergstein said. "What Strickland has to do with his money is very different than what any other candidate in this race has to do with their money. Strickland has nearly universal name ID in Ohio, he's well-liked, and after weathering up to $11 million in attacks he's still winning the race."
Strickland's allies insist that however bad things may look, he's led every Quinnipiac poll against Portman since joining the race, while Sittenfeld has trailed by double digits.
"I've always said this primary was an unnecessary distraction, and it continues to be one, because their main focus should be on defeating Rob Portman," said former Ohio Democratic Party Chair David Leland, who supports Strickland. "You have a guy like Ted Strickland who has 97-98 percent name recognition, and that's worth millions and millions of dollars."
Indeed, a year into the race, many of the upsides to Strickland's candidacy have come to play out. That includes his popularity in his former congressional district in Southeast Ohio, an area that's become increasingly tougher territory for Democrats since he won 17 counties there in his unsuccessful 2010 gubernatorial reelection.
Strickland's critics argue that in a presidential year, when Ohio's Democratic turnout in urban areas is much higher than in off years, the party doesn't need to cater to the reddest part of the state.
Despite securing the immediate support of the Democratic Senatorial Campaign Committee, the entire Ohio Democratic congressional delegation, and the state party, a handful of wealthy donors from the Cincinnati area haven't given up on the idea of promoting Sittenfeld, who they say has made more of an effort on the campaign trail and is a better match for the state's urban Democratic electorate on guns and the environment.
In particular, leaders behind the pro-Sittenfeld PAC say Democrats shouldn't be promoting a candidate who has previously split from the party on those hot-button issues.
"What Ted is experiencing in his lackluster fundraising is directly traceable to his positions," said Paul DeMarco, a Cincinnati attorney behind the super PAC, adding that there is "a segment of Democrats who resent" Strickland's prior support from the National Rifle Association.
DeMarco says his group, which has raised more than $700,000, will spend its resources leading up to the March 15 primary to remind voters that Strickland once received an "A-plus" NRA rating, an issue he said has helped him raise money for pro-Sittenfeld efforts.
For Strickland allies, it's a frustrating argument. Not only has the former governor condemned the NRA in recent years and come out in favor of background checks, he's been endorsed in this campaign by liberal champions such as Sen. Elizabeth Warren of Massachusetts. On the Republican side, he's been attacked relentlessly for his work at the liberal think tank Center for American Progress.
"The biggest issue for Ted is, does he feel like he has to spend money against P.G.?" said one Strickland ally, who requested anonymity to speak candidly. "That is when it goes from being what I'm sure Ted is thinking of as a small nuisance to something that's damaging. ... Because that's money you can't spend against Portman."
Correction: The Ohio Democratic Party's bylaws do not prohibit endorsements before the election year, as the story initially stated.