Tea Party Senate Candidates Look to Broaden Their Appeal
Conservatives running in Florida, Indiana, and Louisiana are reaching out to the establishment in their quests for the Senate.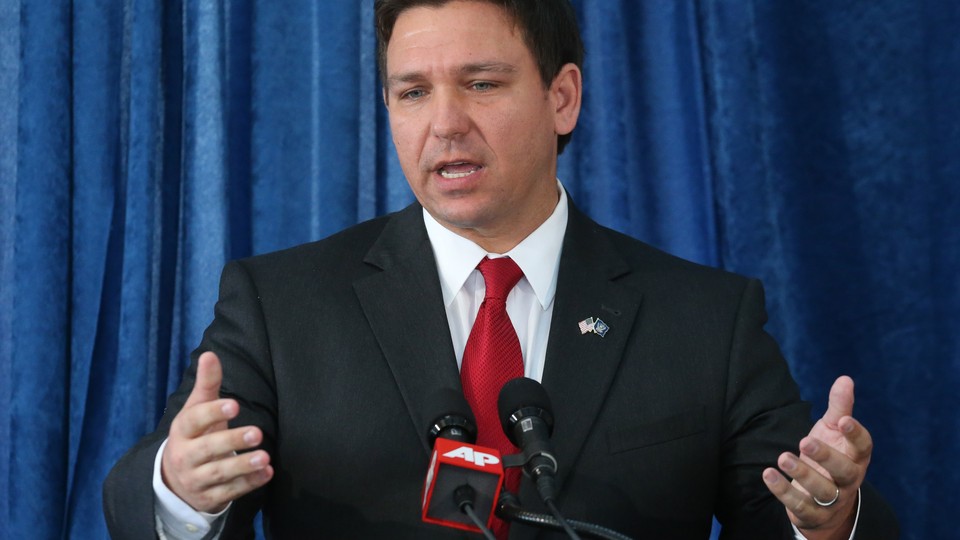 The tea-party movement found few bright spots in Senate races last cycle. Thanks to an aggressive effort by the U.S. Chamber of Commerce and the National Republican Senatorial Committee, insurgent candidates were eventually shut down at every turn.
This time around, a few conservative Senate hopefuls are taking a new approach. Already armed with the support of national conservative groups, which in the past have spent big going head-to-head against the national party, Senate candidates in Florida, Indiana, and Louisiana are also going out of their way to court establishment-aligned backing.
Even if they can't secure an endorsement, by pitching themselves as broad-appeal candidates they hope to neutralize a potential enemy that has spent big to squash conservative campaigns.
"We want the support of everyone who wants a consistent conservative Republican in Florida," said Brad Herold, campaign manager for Rep. Ron DeSantis, one of several GOP candidates vying for the nomination to replace Marco Rubio in the Senate. "Ron is a Reagan conservative, and that appeals to the conservative groups, like [Senate Conservative Funds] of the world, but also pro-business groups like the Chamber."
DeSantis, a member of the conservative House Freedom Caucus, has already won over the first of those factions. The same groups that helped put him in the House in 2012—Club for Growth, SCF, and FreedomWorks—have all pledged to spend big in his primary against moderate Rep. David Jolly.
But DeSantis's campaign is doing everything it can to court the other side as well. The congressman sat down with the Chamber early in his campaign, a meeting both sides said was positive. And after rolling out an initial team of strategists from Jamestown Associates—a firm that drew the ire of the NRSC last cycle for working against Senate incumbents—he's also bolstered his campaign with establishment-friendly hires.
Most notably, DeSantis brought on the Chamber's pollster, Tony Fabrizio, as a senior adviser, and Herold, who ran the Senate campaign of Chamber-endorsee Mike McFadden in Minnesota last cycle and most recently was executive director of the Florida GOP.
While none of this guarantees DeSantis will have the Chamber's support—or even that it will stay out of the race and not support his opponent—his moves reflect the new reality for the conservative movement this cycle.
"There's a dramatic difference in the approach," one Republican strategist said of the candidates' establishment outreach. "In the past … these folks would file for office, run, and rail against the establishment."
In Indiana's race to replace retiring Sen. Dan Coats, conservative groups quickly lined up behind Freedom Caucus member Marlin Stutzman. He met with the Chamber and rolled out an initial campaign team of NRSC alumni and establishment-friendly strategists. While Stutzman has since replaced that team, his new campaign manager Joshua Kelley said in an interview last week that Stutzman "has a great record on economic development and pro-business legislating," and would "be happy to have [the Chamber's] support."
Rep. John Fleming of Louisiana, also an HFC member, is running to replace retiring Sen. David Vitter. He plans to meet with the Chamber's senior political strategist, Scott Reed, according to Fleming adviser John Brabender.
The Chamber hasn't said what role it will play in any of these races. In each case, these tea-party candidates have competition from more establishment-friendly House members.
Rep. Todd Young of Indiana has a 94 percent lifetime score with the Chamber, to Stutzman's 80 percent. In Louisiana, Rep. Charles Boustany has a 91 percent score to Fleming's 76 percent. Young and Boustany have also been active in courting the Chamber's support, as has Jolly, for whom the group shelled out big in his 2014 special-election victory.
Asked whether he believed the group would come to his aid in the primary, Jolly laid out his pitch.
"I have thought all along that at some point ... it's going to be make or break," Jolly said. "For those who really care about keeping the Senate in Republican hands ... we're at great risk of having another shutdown Republican in the U.S. Senate."
Not only does Jolly believe his moderate profile is more suitable for Florida's purple November electorate, he said electing DeSantis would roll back some of the gains the Chamber made last cycle in fighting to keep out Republicans who often oppose their own party.
In the midterms, the Chamber spent millions boosting candidates in crowded open-seat primary races in states such as Georgia and North Carolina, as well as defending incumbents in Mississippi and Kansas. (In Georgia, the Chamber endorsed Rep. Jack Kingston, who lost to businessman David Perdue in the runoff.) On the heels of a historic nine-seat pickup, many Republican strategists highlighted the establishment's success in those primaries.
At the Chamber's State of American Business presentation earlier this month, President Tom Donohue said that among the group's "most aggressive" areas of focus was backing "pro-growth candidates in upcoming primaries" and general elections. Pressed later for specifics on Senate races, he said the group was still looking closely at each of the above races.
But the GOP is faced with a starkly different map this cycle, with significantly more incumbents in vulnerable reelection races. And that the group is still undecided on these races could be a nod to the outreach of the insurgent campaigns.
Republican strategists said that if this cycle's tea-party candidates are running serious, disciplined campaigns, it could create an opportunity to pool the party's resources on a single candidate, particularly in an expensive race like Florida. As models to aim for, strategists from both sides of the GOP spectrum pointed to races last cycle in Iowa, Alaska, and Arkansas, where so-called "consensus candidates" like now-Sen. Joni Ernst emerged with the backing of both wings of the party, as opposed to unsuccessful antiestablishment nominees like Todd Akin in Missouri in 2012 and Sharron Angle in Nevada in 2010.
"They've got a fundamental choice to make: Are they going to take the approach that someone like Joni Ernst took, which is the rising-tide-lifts-all-boats, or are they going to follow the Todd Akin or Sharron Angle model?" the GOP strategist said. "That's a big question."