This article is from the archive of our partner

The topic of illegal immigration often dominates the U.S. immigration debate, and with good reason. The fate of thousands of undocumented families hangs in the balance while laws remain in limbo. But an overlooked issue in the national discussion entails America's legal immigration pipeline, which is badly in need of an upgrade itself.
To get a sense of just how complex the legal immigration and naturalization process is, take a look at this flowchart, compiled by the Reason Foundation and the National Foundation for American Policy. In the best-case scenario, a potential immigrant who has a permanent resident family member can take up to six or seven years to reach citizenship. Some successful scenarios can still involve nearly three decades of effort, and many attempts end in failure. Even for skilled immigrants, unless you're an extremely wealthy investor or you've made extraordinary achievements in your field of work, there are a lot of barriers along the way.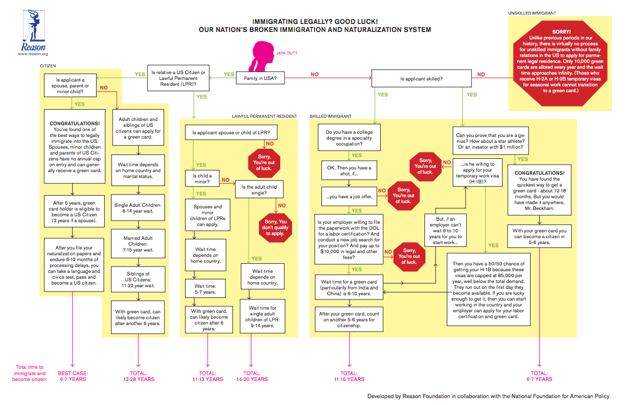 The failures of this system are especially acute for skilled workers, who economists generally agree contribute significantly to the U.S. economy and create jobs for native-born Americans. "A strong case can be made that the economic well-being of natives would improve most if the country adopted an immigration policy that favored the entry of high-skill workers," testified Harvard economist George Borjas, often cited as an opponent of immigration, in a 2006 Senate committee hearing. But in 2011, for instance, those who immigrated through their immediate family made up 65 percent of the lawful U.S. permanent immigrants, while just 13 percent were awarded a green card on the basis of their employment after years of waiting.