How the Supreme Court Could Puncture the Clinton Campaign
The Democratic frontrunner has a lot riding on the justices' ruling on President Obama's immigration policy.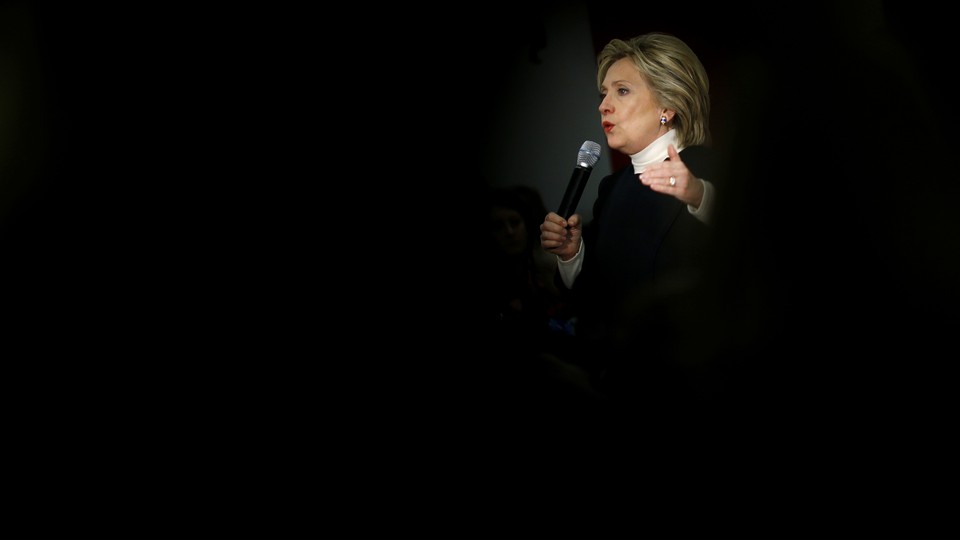 The first crucial vote of the 2016 general election might now belong to the Supreme Court.
When the high court decides in late June whether President Obama's executive actions on immigration pass constitutional muster, the justices won't merely be weighing in on policy choices made by the current president—they will, in effect, be ruling on the viability of Hillary Clinton's campaign platform.
The stakes in the case are big enough as it is. Millions of undocumented immigrants will be waiting for the Supreme Court to decide whether they can apply for protective status that will shield them from deportation. (Lower court injunctions have temporarily halted the program.) And Obama's legacy on immigration could similarly hinge on the justices' ruling: Either he'll be known as a president who secured legal status for a generation of immigrants, or he'll be remembered for having a key promise blocked both by Congress and the courts.
Yet the political consequences of the decision will be greatest for Clinton, who is relying on an even more aggressive use of the executive powers of the presidency to convince voters that she can credibly build on Obama's domestic record even if she's paired with a hostile Republican Congress. That is particularly the case on immigration, where Clinton has pledged to expand on Obama's deferred action program by including the parents of DREAMers—immigrants who were brought into the U.S. illegally as children. The policy Obama announced in late 2014 only protects an estimated 4.3 million immigrant parents of U.S. citizens and green-card holders. Clinton's plan would cover potentially millions more, but if the court rules against the Obama administration, it would be dead before she ever took office.
From gun control to Wall Street reform, Clinton's platform is replete with proposals that don't require the consent of Congress but could be subject to legal challenge. It's become a key part of her pitch to voters as she tries to hold off Bernie Sanders: While the Vermont senator might be offering a more ambitious legislative program, Clinton is emphasizing a more realistic agenda given that control of at least the House, and perhaps the Senate, will remain with Republicans. She is also proposing plenty of legislation for Congress to pass, including comprehensive immigration reform, but in focusing so much on executive action, she is following a model that Obama has used repeatedly during his second term.
A Supreme Court ruling against Obama would likely be limited to his executive actions on immigration, but the precedent set in the case could embolden conservatives to bring more suits challenging his authority. Congressional Republicans are already suing the administration in a separate case alleging that it overstepped its constitutional bounds in the way it has implemented the Affordable Care Act.
Sanders is also pledging to act unilaterally on immigration, and in a statement on Tuesday he reiterated that "if Congress fails to act, as president I would uphold and expand the president's action." But his agenda is more broadly reliant on Congress than Clinton's, and rather than be bowed by the typical gridlock, Sanders has argued that "a political revolution" can create the conditions for successful legislation. In a brief statement of her own later in the evening, Clinton said Obama's executive actions on immigration were "an exercise of long-standing executive authority, and the Supreme Court should uphold them."
"The stakes for families," she added, "couldn't be higher."
In the long term, the Supreme Court's decision will carry significantly less weight if a Republican ultimately wins the White House. All of the leading candidates have vowed to rescind Obama's policy even if the administration is allowed to begin carrying it out. That makes the short-term consequences of the ruling even more important. Clinton is betting on a huge turnout of Latino voters alienated by the anti-immigrant rhetoric of Donald Trump and Ted Cruz and the rightward shift by Marco Rubio, just to name the three leading Republican candidates. "When people walk into the ballot box, one of the critical issues that they're going to have on their mind as they vote for the next president of the United States is, who's going to protect those 4 million people, and who's not?" Representative Luis Gutierrez of Illinois, a Clinton supporter, said Tuesday on CNN.
If, however, the justices rule that neither Obama nor Clinton can unilaterally protect undocumented immigrants from deportation and throw the issue back to a deadlocked Congress, then it becomes harder for Democrats to motivate an increasingly large bloc of voters who have been frustrated by more than a decade of legislative inaction. Such a ruling would tilt the balance of power back toward Capitol Hill and puncture a hole in Hillary Clinton's executive-minded campaign.