Why a Top Democrat Is Leaving the House
Steve Israel's retirement announcement this week was a shock. But it could be a sign of changes to come.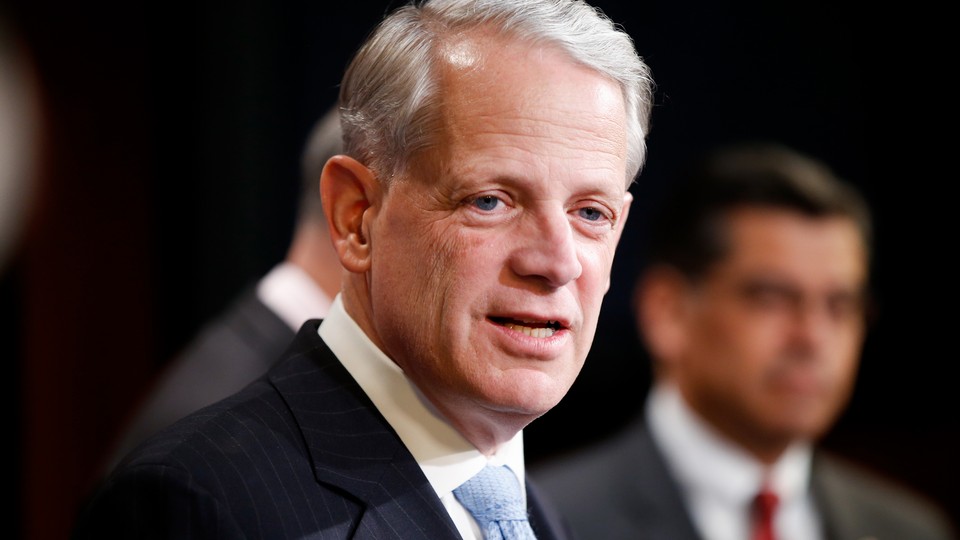 Steve Israel's announcement of retirement Tuesday surprised the Beltway and its observers. An eight-term congressman, Israel has held leadership positions in the House Democratic caucus for years, most recently as its messaging chief.
But the move also might reflect a near-inevitability for Democrats going into November's contest: They aren't going to win back the House—and long-time public servants in the party are fed up with languishing in the minority.
In a statement Tuesday, Israel said he's "proud" of his tenure in House leadership roles, but that it's "time to pass on the torch" as he focuses on personal, outside-the-Beltway goals. "I hope to continue to be involved in public service," he said, "but it is time for me to pursue new passions and develop new interests, mainly spend more time writing my second novel."
Leaving Congress to write a novel seems an unusual career change for the top Democrat, even if he did recently establish the Congressional Writers Caucus. Just over a year ago, the close adviser to Minority Leader Nancy Pelosi was head of the Democratic Congressional Campaign Committee. But after a difficult 2014 midterm election for Democrats, Israel resigned.
Several months later, he assumed leadership at the Democratic Policy and Communications Committee, a body championed by Pelosi and designed to streamline the caucus's messaging to avoid defeat in 2016. After the midterms, leadership had cited Democrats' disunity as a contributing factor.
But the view from early 2016 doesn't look promising. Though Democratic voter turnout is always higher during a presidential election year, those gains didn't translate to rousing Democratic victory in 2012. And the two most recent midterm elections have been solid wins for Republicans. Democrats would need to retake roughly 30 seats to win back the House.
In an interview with The New York Times on Tuesday, Israel said his decision-making was influenced by a lack of moderates in the House and a "dysfunctional" political system dependent on fundraising. Israel's future in the lower chamber, beyond his current messaging role, also wasn't obvious; he wasn't a predetermined successor to even more senior members in the House.
The chamber's Democratic leadership is bound to see a sea change in the coming years, but high-ranking representatives—like Pelosi, Whip Steny Hoyer, and Assistant Democratic Leader James Clyburn—haven't indicated what the near future holds for their seats. Given that uncertainty, and Democrats' minority status, the Associated Press said Tuesday that Israel's "path for advancing in the House was unclear." Israel noted in his announcement that he wants "to be a team player" and make sure Democrats retain control of "the only competitive district in House Democratic Leadership." Before Israel's first election in 2000, a Republican held the seat.
Pelosi is now out an ally if she plans to stick around when calls for fresh blood grow louder. Some speculators on Twitter had divergent viewpoints on what the significance of Israel's retirement is: Does it mean Pelosi will be out soon, too? Or that she's going absolutely nowhere? According to a Washington Post report, Pelosi betrayed none of her future intentions in her response to Israel's announcement. She praised his work as a legislator, and said he'll be a "critical resource for our caucus in the remainder of his term and into the future."
Israel won't be the only long-serving House Democrat to bow out at the end of this year; in fact, he isn't the only one to announce his retirement this week. Five other "veteran" Democrats have done the same this year, including 14-term Washington representative Jim McDermott, who broke the news on Monday. Politico says the total number of House Democrats leaving at the end of the year is 15.
A National Republican Congressional Committee spokesman, Chris Pack, said in a statement Tuesday that Israel's departure means the congressman "sees the writing on the wall for 2016."* Pack, as his party's champion, sees the seat as a "top pickup opportunity" for the GOP.
But no matter what the election's outcome, Israel will soon be off writing his second novel in a more relaxed environment than he did his first, which he penned on his cell phone. And he'll be able to enjoy one of the "beloved New York diners" he plans to frequent after leaving the Hill.
---
* This article originally identified Chris Pack as the National Republican Congressional Committee chairman. We regret the error.