Something to See Here
A wealthy outsider has shaken up the North Dakota governor's race.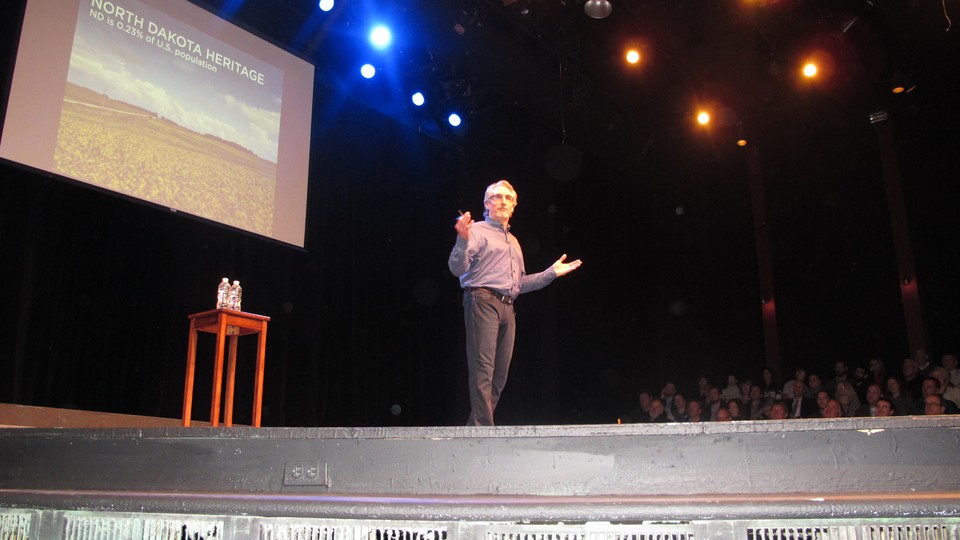 A state that hasn't hosted a competitive governor's race in 16 years suddenly features a burgeoning and unpredictable fight for the Republican nomination.
Wealthy former Microsoft executive Doug Burgum's announcement this month that he is running for governor of North Dakota shakes up what appeared to be a breezy coronation for state Attorney General Wayne Stenehjem. In a year when outsider candidates have flourished, the self-funding Burgum is expected to give Stenehjem a run for his money in the primary.
The field also includes Rick Becker, a libertarian-leaning plastic surgeon and state representative who was endorsed by former Rep. Ron Paul. Stenehjem is the establishment pick, while Burgum is the wild card who threatens to upend the established order of the party's convention and primary process.
"It's shaping up to be a very interesting election," said Roz Leighton, the executive director of the North Dakota Republican Party. "They all have similarities and they all have differences, and it'll be up to the delegates and the voters who they want to represent the state."
Republican Gov. Jack Dalrymple's decision to retire after only one full term left behind the state's first open gubernatorial race since 2000, when John Hoeven defeated Heidi Heitkamp by 10 points in a contest between the state's two current senators.
Since Heitkamp declined last year to join the race, Democrats have struggled to find a serious candidate. Former state agriculture commissioner Sarah Vogel is the only Democrat to express interest so far. But because Democrats are not expected to field a formidable candidate, the Republican primary winner is likely to become the state's next governor.
And that's where things could get interesting. Burgum said he doesn't intend to abide by the convention process through which the GOP traditionally picks a nominee.
Typically, whoever wins a majority of the delegate vote and secures the state party endorsement at the convention is the presumed nominee, but Burgum has vowed to compete in the June primary regardless of the convention outcome. Since Stenehjem is expected to win the party's backing at the convention, he could end up in a competitive one-on-one June primary against Burgum in which he could be significantly outspent.
Burgum's choice to disregard the convention outcome isn't without precedent. Republican Rep. Kevin Cramer took that path when he won the open-seat House race in 2012.
Burgum sold the company he founded, Great Plains Software, to Microsoft for $1.1 billion in 2001, a move he told Fortune in an interview actually created more jobs in Fargo. It will also allow him to self-fund most of his campaign, if necessary.
While he's a first-time candidate, Burgum isn't without ties to the Republican establishment. He's been a donor to local Republicans and served as an honorary cochair of Dalrymple's 2012 campaign.
Stenehjem, who has been in elected office for more than three decades and this week rolled out endorsements from most of the state's GOP legislators, hasn't faced a competitive statewide race since he was first elected attorney general in 2000.
He also hasn't had to raise much money for his contests. Stenehjem raised $219,000 in 2000 when he beat Democrat Glenn Pomeroy by more than 10 points. Since then he's consistently won reelection by wide margins while raising just more than $1 million across his five contests for the attorney general's office. He'll likely have to greatly increase that this year.
One Republican operative who worked on the 2012 gubernatorial race expressed concern about Stenehjem's preparedness for a deep-pocketed candidate like Burgum, noting simply, "He's a game changer."
According to the Forum News Service, Burgum's brother was Stenehjem's law school roommate at the University of North Dakota, but the personal relationship doesn't necessarily mean a primary between the two will be civil. North Dakota is a relatively small place, and personal relationships aren't uncommon.
"Somebody was a roommate or somebody's brother's cousin's sister at some point," Leighton said.
On the issues, most of the attention in the primary is expected to be cast on the state's economy, particularly declining oil and agriculture prices. Burgum is pushing for a bigger emphasis on tech and entrepreneurship, while Stenehjem represents a continuation of the status quo defined by the state's recent oil boom.
None of the three candidates are particularly conservative on social issues, which is noteworthy in a state that gained national attention in 2013 for passing one of the most stringent antiabortion laws in the country, a six-week abortion ban. Even though Stenehjem was prepared to defend the state's controversial ban as attorney general, the Lutheran rejects the label "pro-life." Becker voted against the ban in the legislature, and Burgum is the most vocally liberal on issues including abortion and gay marriage, though Stenehjem came out in support of same-sex marriage earlier this month.
"It is sort of interesting when you're looking at the three candidates, the ideological divide in North Dakota is within the Republican Party," said local conservative blogger and columnist Rob Port. "It's not Republicans versus Democrats. It's Republicans versus Republicans, and Democrats are almost irrelevant to the process."
Because of Burgum's focus on tech and urban issues, plus his profile as the most socially liberal among the three, he could have an unusual GOP primary advantage thanks to the state's lack of partisan voter registration. Absent a competitive Democratic primary, he could be well positioned to pick up Democratic crossover votes in the GOP primary.
Democrats aren't expected to have contested primaries, but there is a referendum backed by the progressive-leaning North Dakota Farmers Union on the June primary ballot that could motivate Democratic voters to show up and vote.
"There's a real possibility here that you could see a number of Democrat voters cross the line and vote in the Republican primary," Port said. "I think there is some concern probably in political circles, especially among the Stenehjem camp, that Burgum, who is perceived as socially liberal, is going to have a lot of appeal to Democrat voters and you could see an influx of those voters."