Some States Look to Avoid Federal Obamacare Payments
By banding together, some states could minimize payments to the Obama administration for using HealthCare.gov technology.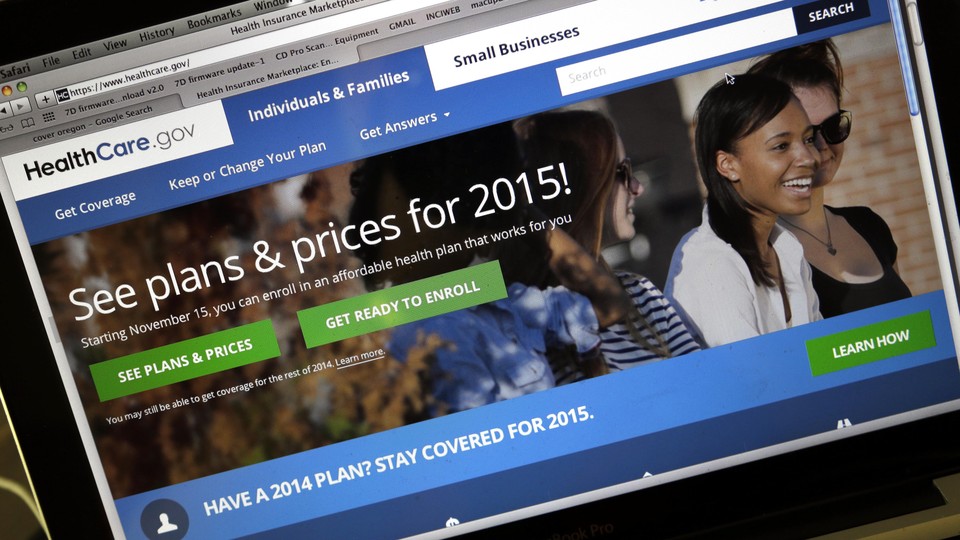 The federal government is poised to start making state-based exchanges pay for using HealthCare.gov's technology, and that has some states mulling the possibility of sharing services with others to control costs.
The Centers for Medicare and Medicaid Services proposed a rule last year requiring that certain states essentially "lease" HealthCare.gov through a user-fee rate of 3 percent of the monthly premium the issuer charges for each policy plan—meaning that, for the first time, using the federal platform for state-based marketplaces won't be free.
Last month, marketplace officials from several states gathered in Portland, Oregon to discuss the rule, increased collaboration, and long-term marketplace affordability and sustainability—a conversation especially pertinent to some states, such as Oregon and Nevada, that use HealthCare.gov to sign up consumers but maintain control over their marketplace.
States are left weighing the possibilities: Do they share another state's vendor technologies? How do they take advantage of exchange software that's already been built? Or is it cheaper to pay the fee?
Some are talking to one another about services they could share, such as technologies, call centers, and marketing strategies.
"We're looking for options that might be available," said Bruce Gilbert, the executive director of Nevada's Silver State Health Insurance Exchange. "I don't see [HealthCare.gov], given their pricing structure, as a viable, long-term partner for a state like Nevada."
Oregon is another state considering the costs. "I think we've known the federal government was going to begin charging for the technology," said Berri Leslie, Oregon Health Insurance Marketplace administrator, "but we didn't know how much. And so I think seeing the amount of the costs is certainly driving people to try and be innovative and creative."
Because of the proposed user-fee rule, Oregon put out a request for proposal in December seeking a technology platform for a state-based insurance marketplace. The state hopes not to create a whole new technology solution, but rather to analyze the cost and capabilities of what's currently on the market. That way, Leslie said, Oregon's legislature can have the different price points in hand when deciding whether to stay on HealthCare.gov (and pay the new fee) or switch to a different platform—data that could be illuminating to other states considering the same thing.
"The outcome of our process will really inform whether or not the federal cost is really affordable or reasonable given what else is on the marketplace," Leslie said. "So I think other states are watching Oregon's process pretty carefully."
For user fees, CMS is allowed to collect only "the amount necessary to cover the cost of unique services/benefits provided through the program assessing the fee," CMS spokesman Aaron Albright wrote in an email. He added that the agency is considering reducing the rate for 2017 to "ease the transition for states."
New Mexico is looking at leasing the federal site, but the state's history is different than those of Oregon, Hawaii, and Nevada—the three other state exchanges that use the federal platform. Their systems were plagued with technological glitches or weren't financially sound, forcing them to switch to HealthCare.gov. But New Mexico began using the federal website with the intention of moving to its own technological platform. In 2014, CMS notified New Mexico that its state marketplace, which hadn't yet launched, was noncompliant. So, the idea was put on the shelf.
While Amy Dowd, CEO of Be Well NM, said she has concerns about the cost and the payment mechanism, New Mexico isn't in any active discussions with vendors. At this point, it isn't contemplating doing so. First, the state wants to see the final rule, which—if last year's precedent for the annual rule serves as an indicator—won't be out until late February.
Dowd did attend the December meeting that discussed the possibility of sharing services, but not necessarily to get on the ground floor of a potential partnership. "My interest in attending the meeting was to hear from my peers about how each state-based exchange is approaching the challenge and to take any lessons learned back to New Mexico," she said.
Other state-based marketplaces, such as the one in Washington, are happy with the technology they created to sign up insurance enrollees. Still, they're looking at ways to partner with others in attempts to drive down the costs. (States are no longer getting federal funds to help them run their own exchanges.)
There are myriad pieces to this complex puzzle, said Michael Marchand, Washington Health Benefit Exchange director of communications and outreach. States are trying to figure out how they could save both financially and operationally, which includes the possibility of creating partnerships.
"We continue to have these conversations with states," said Marchand, who attended the Portland meeting, "and it's interesting because, again, we're all in the same boat. We want to do the best possible job we can for our state and our residents, but we also want … to be good stewards of the taxpayer dollar. And if we can find a way to work with someone to help lower those costs and still provide that great customer experience or that great operational solution to an issue, we're going to do it."