Snyder Concedes Flint is His "Katrina," a Failure of Leadership
Michigan governor vows to earn back public's trust after lead poisoning on his watch.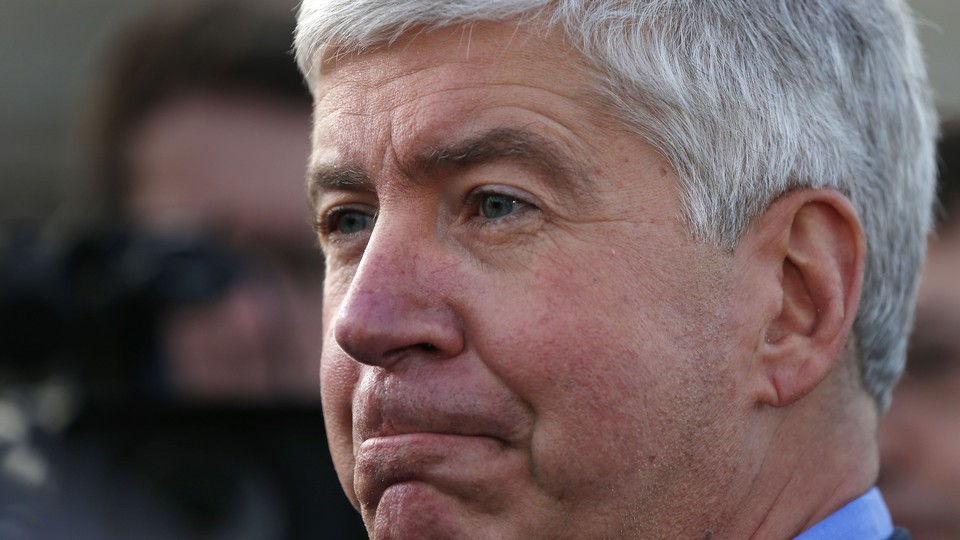 Michigan Gov. Rick Snyder conceded Monday that his administration's handling of the Flint water crisis is a stain on his legacy, reflects poorly on his leadership, and is aptly compared to President Bush's mishandling of Hurricane Katrina.
"It's a disaster," he said when asked about the comparison some critics have made to the 2005 natural disaster in New Orleans that became a symbol of government mismanagement—city, state, and federal. "It's clearly a negative on what we've accomplished since I've been governor."
In a wide-ranging interview on the eve of his state of the state address, Snyder said he knew last summer about his top aide's concerns that Flint residents were "getting blown off" by the Michigan's Department of Environmental Quality. The MDEQ waved off his office's concerns, Snyder said. He accepted responsibility for the lack of adequate follow up, but the twice-elected GOP governor said he would not heed calls for his resignation.
"I want to solve this problem," Snyder said. "I don't want to walk away from it." Both MDEQ's director and chief spokesman were forced to resign, and Snyder has taken several steps—albeit belatedly—to help Flint identify the extent of the contamination and to respond to it. He said more action will be revealed in Tuesday night's address.
The slow and possibly deadly poisoning of Flint, a hard-bitten industrial town of nearly 100,000, began in April 2014, when the city switched its water source from Detroit to the Flint River to save money. Residents' concerns were ignored for 19 months until independent tests by Virginia Tech and a local hospital revealed dangerous levels of lead exposure.
Only then did Michigan's environmental agency admit to violating federal regulations requiring the treatment of Flint's water to avoid corrosion of the city's ancient water pipes, a lapse that caused the lead poisoning. The fateful decision to switch Flint's water source was made by an emergency city manager appointed by Snyder.
In early 2015, months before the lead poisoning was publicly announced, an analyst at the Environmental Protection Agency discovered dangerous levels of lead in Flint's water. An appointee of President Obama forbade the results from being released to the public.
Last month, I wrote a flattering column about Snyder's leadership style that did not address the Flint water crisis. We revisited the issue Monday as part of a broader column I had in the works (How Government -- and This Columnist -- Failed Flint"). This is an edited transcript:
FOURNIER: The last time we were together, we talked about your theory on leadership and your management style, which I bottom-lined by saying you have as much fun—and pay as much attention—to governing as you do politics. I called it a "refreshing approach." I've spent the last couple of days knocking around Flint. Would you agree with me that the last word you would use for your overall leadership with regard to Flint would be refreshing? It's been poor.
SNYDER: Yeah. It's terrible to have the situation in Flint happen and I'm responsible as the governor of the state. Within our team there were clearly things that shouldn't have happened and so you have to take responsibility for that and the real issue is, given that they've happened, how to you address them and make sure it doesn't happen again …
FOURNIER: On July 22, 2015, your chief of staff, Dennis Muchmore, sent off the email that we've since seen where he was telling (Department of Environmental Quality) folks that they were blowing off the people of Flint. Did he let you know at the time that he felt Flint was being blown off by state officials?
SNYDER: Again, the tone was not appropriate so Dennis was following through and addressing the tone issue in particular but also asking some good questions about the substance. I mean: Were they doing the work they needed to do? And then they came back and reaffirmed there was not a problem in Flint.
FOURNIER: What I'm asking you is, did you know in July that Dennis was concerned about the tone?
SNYDER: Yes.
FOURNIER: Did you know as well that Dennis was concerned about reports about the water?
SNYDER: Again, when we get reports, our practice is to go ask those questions to make sure people are coming up with the right decisions.
FOURNIER: In hindsight, should there have not been more follow up and push down by Dennis and yourself?
SNYDER: In hindsight, you can always say that there are other things that could have been done. The challenge in this particular case is that these issues tend to be very technical in terms of test procedures and whole protocols and things like that—and to put it in context, the people in this department failed in this particular case catastrophically in my view in some ways, but if you look at the backgrounds, these are people with scientific backgrounds, technical backgrounds that had been doing this for decades.
FOURNIER: Yes, but that's hardly an excuse because that background did show them that people in Flint were being poisoned and they knew it.
SNYDER: I'm not sure they knew it. That was the point. They didn't see it.
FOURNIER: How could they not have seen it?
SNYDER: Again, that's the point of having investigations take place. I don't think you can draw conclusions yet as to their motives or thought processes versus saying it wasn't seen. That's clear.
FOURNIER: I haven't gotten to the motives yet, but how could they not have known by the summer of 2015 that tests had shown there was lead in the water?
SNYDER: They showed there was lead in the water but not at a level required to take action, and the question is, in retrospect, do you have to wait until the federal action level or should have been more proactive?
FOURNIER: And what is the answer to that question?
SNYDER: In this case, it's clear. Should have been more proactive.
FOURNIER: You do accept responsibility for not pushing down hard enough on your appointees?
SNYDER: Yes.
FOURNIER: EPA tests found as early as Feb. 15, 2015, that there was (excessive) lead in the water. How soon did you find out?
SNYDER: I'm not sure of the specific date in terms of saying, 'There is any lead in the water.' Sometime during 2015. Again, they presented some of the information about having to do a second set of tests.
FOURNIER: Was it summer or spring?
SNYDER: It was summertime.
FOURNIER: And who was it that let you know?
SYNDER: It would have been the director of the DEQ.
FOURNIER: The EPA knew in February that there were (extreme) levels of lead. Do you have any idea why they didn't let you know?
SNYDER: I think there are issues at the EPA through the course of all this.
FOURNIER: What do you think of that? What do you think of the way (EPA Regional Director Susan) Hedman handled her job?
SNYDER: I think that magnified this. The checks and balances that theoretically could have been there didn't work. This is a mess. I mean, I feel terrible about all this happening. And that's why I'm working hard to do everything I can to repair the damage and then actually work to strengthen Flint and the citizens …
FOURNIER: Shouldn't you have done more, quicker?
SNYDER: Again, in retrospect, the answer is yes. I mean, we did a lot but more could have been done.
FOURNIER: But even after in mid-September when the (Hurley Children's Hospital) results came out and it was clear that there were kids who were already poisoned and being affected, it really took another month or so before the state got geared up. Correct?
SNYDER: From the time it was identified by the DEQ that there was a problem with the lead in the water and it was confirmed by (the state Health Department) that there were elevated blood levels, we took action within a couple of days …
FOURNIER: Is there going to be a commitment from the state, a commitment from anybody, that whatever these kids need, they will get?
SNYDER: We are going to make a long-term commitment. This commitment goes on for decades.
FOURNIER: Is there going to be a dollar figure attached?
SNYDER: That's something that's going to take some time to develop …
FOURNIER: (Critics have) called this your Katrina. Do you think that's unfair?
SNYDER: No. It's a disaster.
FOURNIER: What is the leadership parallel between Katrina—where President Bush started, how he handled it, and where he ended up—and you?
SNYDER: I didn't follow all the Katrina steps and all the issues so I couldn't do that for you.
FOURNIER: But you do see this as a black mark on your leadership and a potential opportunity to turn things around?
SNYDER: It's clearly a negative on what we've accomplished since I've been governor. And I don't even describe it as an opportunity I just want to make sure we're doing whatever we can to deal with the damage and address the people of Flint in a constructive way …
FOURNIER: Given what we now know they knew, how in the world does the EPA and the MDEQ not act to alert the public?
SNYDER: I think that's what will come out of this in the longer term. This shows that there were multiple failures at multiple levels.
FOURNIER: Which gets me back to the thing that you and I have talked about, this idea of trust in government and trust in all of our institutions. It seems to me like Katrina (and other high-profile failures of leadership), this is an example in which every institution that was supposed to help these people … let them down. How are people ever going to trust not just state government, but every institution?
SNYDER: That's the nature of trust. Trust is something that once you lose it, it's much harder to earn it back. So that's the point we're at.
FOURNIER: You've lost some of the public's trust?
SNYDER: Yes. And that's hard, that's awful.
FOURNIER: How does that affect you personally?
SNYDER: It makes you feel terrible. It's a terrible thing to happen. I spent most of my career—that's why went in to do this: to improve things, because I didn't think things were being done as well as they could be done. It shows there are challenges even when you come in from the outside. You think you can bring new (thinking). This was a case where we had people who had been in these jobs for years, (who) hadn't gotten the change memo yet saying there's got to be a better way of doing things. So they kept doing things the way they have …
FOURNIER: We talked about trust. One way to get trust back is transparency. You could release all of your emails on Flint.
SNYDER: I'm considering doing that.
FOURNIER: Why not just do it?
SNYDER: Again, I haven't made a decision yet. I was just asked. And to be open with you there are a lot of moving parts with respect of doing a speech tomorrow night …
FOURNIER: Some people are calling for your resignation. Do you think it's a legitimate request?
SNYDER: The request is coming more from people outside Flint than inside Flint.
FOURNIER: There are people inside Flint who want you out. I talked to some of them today.
SNYDER: If you're in Flint and you're affected by it I can see a wide range of opinions on lots of things.
FOURNIER: Is resigning something you're considering?
SNYDER: No, because as soon as it came to my attention we started to take serious action. What I'd say is I feel terrible about it, though, and it's clear that changes needed to be made in my administration and I think long-term, there are things that need to be improved.
FOURNIIER: And one of those things is not the governor quitting?
SNYDER: I want to solve this problem. I don't want to walk away from it.
Correction: Original post incorrectly stated the year of the EPA analyst's findings.