Can the Government Fix Its Corps of Managers?
The Senior Executive Service isn't operating as it was designed to do.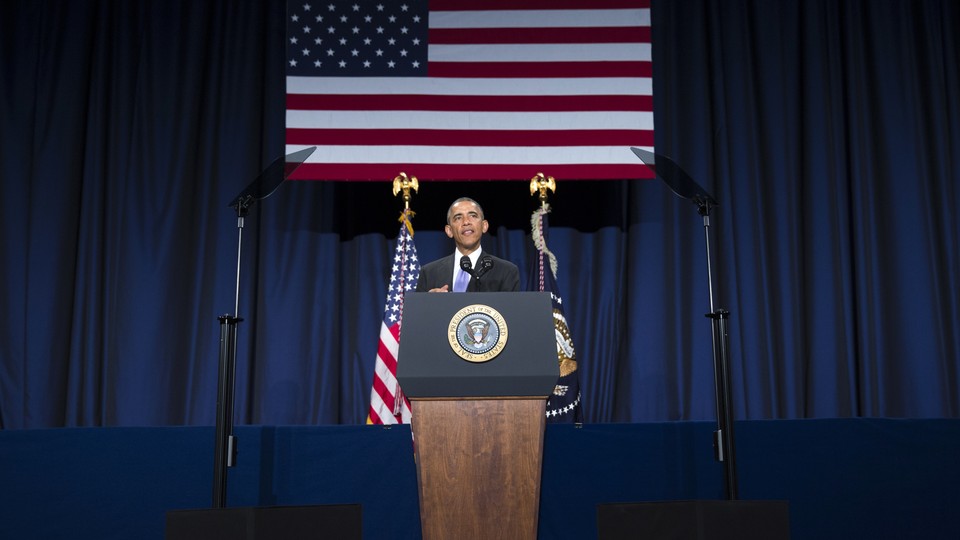 Forty years ago, Congress set out to fix the government's broken bureaucracy. It worried that the political appointees who head federal agencies didn't have solid relationships with the civil servants below them. So it established a new corps of government workers, called the Senior Executive Service, to be the executive branch's expert managers, linking appointees to the rank-and-file. But today, a new report finds, the corps isn't operating the way it's supposed to be. And officials—from the Obama administration, to members of Congress, to the managers themselves—agree that they still haven't perfected the art of running the federal government.
When the SES was created in 1978, Congress envisioned it as an "agile corps of generalists" who'd "move about the government much in the way that military officers or foreign-service officers move through the military or the diplomatic corps," said Jim Read, the director of policy and evaluation at the U.S. Merit Systems Protection Board, which produced the December report. They'd bridge divisions within agencies and ensure continuity in operations across administrations, but first and foremost, they'd be top-flight managers. The SES, though, has drifted away from its original mission: The "agile corps" isn't full of many generalists at all, and the senior executives receive little training to hone their management skills.
The SES is fairly obscure, and its challenges may not seem unusual. Poor managers are found in every field, and the insufficient development of buzzword-y management skills may seem inconsequential. But members of the SES direct offices of the National Institutes of Health or regions of the Veterans' Affairs administration, or lead policy teams at the Department of Defense. In Read's words, career senior executives—which represent 90 percent of the SES and are the focus of the report—are "high-impact" employees. One-third of career senior executives run programs worth more than $100 million, or manage more than 200 employees.
When the SES succeeds, it succeeds big. The report credits the best career senior executives with improving national security and saving taxpayers billions of dollars. But its failures are even more dramatic: "Poor leadership can result in mission failure, a demoralized workforce, tarnished agency reputation, and public distrust of the agency or government as a whole."
Read said one reason the SES isn't living up to its original mission is that agencies often hire for technical, not leadership, skills. Many SES executives are more like the senior-most civil servants in a given agency, rather than a class of professional managers. That could be because of the realities of government work, in which executives' jobs have become "increasingly knowledge-based." No one disputes that some technical knowledge is necessary for particularly specialized departments. Tim Dirks, interim president of the Senior Executives Association, said it's to the government's advantage to hire executives that have both skill sets for positions in the Department of Health and Human Services or the National Weather Service, for example.
Read recommends that on the whole, though, agencies should improve the ability of the SES to function as managers by selecting for "less trainable" leadership traits—that they emphasize hiring employees who, for example, are motivated and entrepreneurial. And that agencies then focus on those employees' executive training and development, teaching them the other skills they need.
He said that, based on surveys of different agencies' employees, there's a connection between how rank-and-file civil servants feel about their SES bosses—their faith in senior leadership—and agencies' use of "robust" executive training and development programs. Agencies with lower scores in terms of employees' faith "also tend to be just less conscious or active" in training and development.
Approximately 30 percent of career senior executives surveyed by the nonpartisan, independent MSPB for the report say their "developmental needs are not being met." And roughly 42 percent said they aren't fulfilled because the right training wasn't available—a "perception," the report notes, that could be the result of budget constraints that have curbed or cut certain programs.
Programs to enhance executives' professional development can take many forms, including off-site programming, formal managerial coaching, and so-called developmental assignments, which involve "unexpected, high stakes, complex, high pressure, or novel challenges." In practice, senior executives often find that they don't have surplus time to commit to their own professional development. Not only that, but they're stressed by higher workloads amidst budget cuts and may not receive support from their bosses to divert attention away from their day jobs. Training and development methods, too, vary across agencies and departments, a barrier to making sure all executives at the SES level are getting what they need.
There's a "very strong indication that senior executives were too busy in many, many cases to take advantage of training opportunities available to them," Dirks said, or "there were fewer opportunities available to them due to cuts in funding for training."
The report suggests encouraging executives to write development plans—which they're required to do, but which only half of career senior executives have actually done; supporting their time away from work for training; and "embedd[ing]" development programs into agencies' normal operations, so that training will be less affected by funding, structure, and administration changes.
Dirks's association, which advocates for senior executives, isn't trying to run away from the problems documented in the report. He said he wasn't surprised by its findings and thinks a culture change might be in order. But he emphasized that it's not just funding for the training programs themselves that's lacking. The executives themselves should be compensated better for the jobs they're doing, he argued, both monetarily and through non-monetary awards.
Though the SEA's bias toward better compensation is obvious, the Obama administration seems to agree. A year after announcing a push for SES reforms, President Obama signed an executive order that, among other provisions, raised the spending cap on bonuses for the best executives, to "retain and reward more top performers." Dirks said a dwindling bonus pool has translated in recent years to "high-performers" leaving the SES and a "real erosion in [its] attractiveness."
The Obama administration has also encouraged giving out non-monetary awards for good performance, something Dirks supports. He notes that, overall, the order "dovetail[s] fairly nicely" with the MSPB report's findings, particularly when it comes to pushing for more emphasis on employee development. "That's where I think the government is short-sighted in many cases," he said. "They think that they can reap the rewards without investing in employees," not only by failing to reward high-achievers, but also in supporting executives in the "tough decisions that they have to make every day."
Congress hasn't been blind to the SES's deficiencies, either. As a 2012 Congressional Research Service report details, reformers have had their eye on the SES for years. The House Veterans' Affairs Committee, for example, has gone after problems at the SES level at the VA. The government has been trying to reform the civil-service workforce for as long as it's existed.
It was one such push for reform, ironically, that led to the creation of the SES in the first place, after Jimmy Carter made overhauling the bureaucracy a goal of his presidency. It may lack glamour, but the corps of senior executives is crucial to determining how wisely, and efficiently, taxpayer dollars get spent, and how effectively the government performs its functions. Forty years after its creation, many of the problems the SES was intended to solve persist.