Senate Seeks Path Through Criminal-Justice Minefield
Lawmakers are negotiating over an issue that could hold the key to compromise—or blow up a delicate bipartisan balance.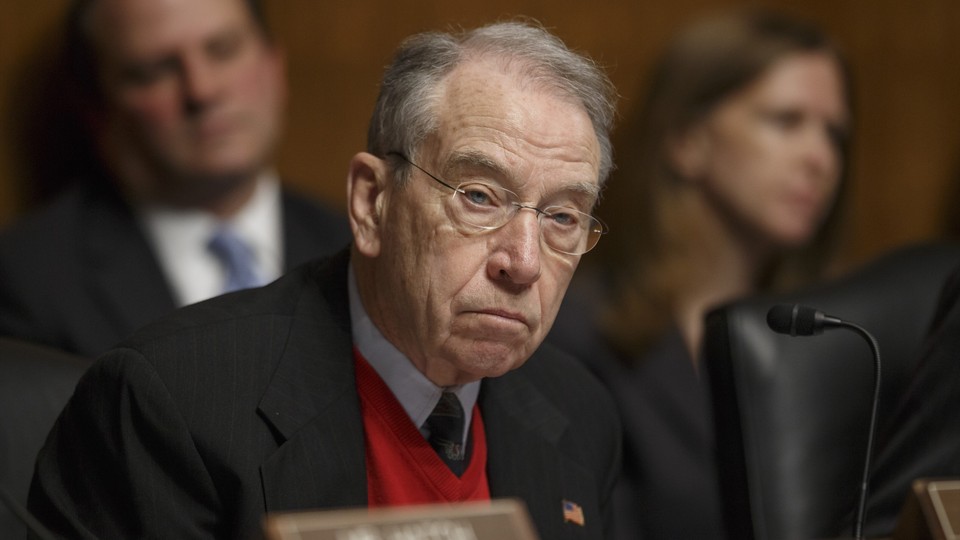 Criminal-justice reform, so the theory goes, is one of the few areas where Congress could reach a bipartisan deal in 2016. That theory however, is about to be tested.
A Senate panel is diving into one of the most controversial parts of criminal-justice reform Wednesday, in a hearing that should provide clues about whether a compromise is possible.
The Judiciary Committee will explore efforts to expand the types of crimes for which prosecutors must show that defendants knew their conduct was illegal, a topic known as "mens rea" (or "guilty mind").
The public hearing on the "adequacy of criminal intent standards in federal prosecutions" will unfold amid private Capitol Hill negotiations over the topic, which could affect prosecution of white-collar and corporate crime.
It's a sticking point in what's already an uncertain effort to reform criminal-justice policy, one of the few areas where a deal between the White House and Capitol Hill remains an election-year possibility.
Senate Majority Leader Mitch McConnell has not yet agreed to bring legislation to the floor, but his counterpart, House Speaker Paul Ryan, has been open about wanting it on this year's agenda, and President Obama also expressed hope in last week's State of the Union speech.
The Judiciary Committee already cleared bipartisan criminal-justice-reform legislation last fall that would ease harsh mandatory-minimum sentences for certain nonviolent drug offenses, and reduce prison terms of some inmates who take part in programs that cut risk of recidivism. But it does not expand mens rea.
Legislation has also cleared a committee in the House. But House Judiciary Committee Chairman Bob Goodlatte has drawn a line in the sand by arguing that any criminal-justice package must also include mens rea provisions to gain traction.
The collection of criminal-justice bills approved by Goodlatte's committee with bipartisan backing include one measure with this language: "If the offense consists of conduct that a reasonable person in the same or similar circumstances would not know, or would not have reason to believe, was unlawful, the Government must prove that the defendant knew, or had reason to believe, the conduct was unlawful."
Political divides over the issue threaten to unravel the bipartisan reform push. But Sen. Dick Durbin, the Senate's No. 2 Democrat and a cosponsor of the bipartisan sentencing-reform bill, said negotiations are ongoing.
"Chairman Goodlatte has staked [out] his position that it needs to be included; many of us feel on our side that it complicates the bill and it should be considered separately. I hope we can find some common ground," Durbin told reporters in the Capitol Tuesday evening. "We haven't reached an agreement yet.
"These negotiations started weeks ago when the president called us all in the White House and the attorney general agreed to work with Chairman Goodlatte and Democrats as well on trying to find something that we can both agree on," Durbin added, referring to a meeting Obama hosted in early December with lawmakers working on the issue.
A spokeswoman for Ryan demurred when asked about mens rea. "Speaker Ryan personally believes that we should take a hard look at reforming our criminal-justice system, but ultimately, it will be up to the conference to decide the path forward," said spokeswoman AshLee Strong.
Finding a compromise on mens rea could be difficult.
A number of Democrats and progressive activists fear that mens rea would sap prosecutors' power to tackle white-col­lar crimes on fin­an­cial fraud, en­vir­on­ment­al and work­er pro­tec­tions, food safety, and more.
The group Public Citizen, whose president Robert Weissman will testify Wednesday, released a statement on the eve of the hearing warning that "corporate interests are attempting to add measures to the reform legislation that would make it much harder to prosecute companies and executives that swindle the public, endanger their workers, poison the environment or otherwise threaten consumers."
The Justice Department has similarly expressed concern that defendants could escape prosecution by claiming ignorance of the law. And in testimony prepared for Wednesday's hearing, a senior department official warned that a "default" mens rea requirement would "frustrate" law enforcement, making it tougher to prosecute crimes ranging from child pornography to corporate fraud to assaulting and killing federal officers.
For instance, the testimony from Assistant Attorney General Leslie Caldwell notes: "Federal statutes prohibiting a wide range of white collar crimes protect the public from fraudulent conduct by corporations and their officers, directors, and employees. Applying a default mens rea to these statutes might insulate culpable individuals, especially senior corporate executives, who deliberately close their eyes to what otherwise would be obvious to them."
Senate Republicans have different views about whether to push for mens rea. Sen. John Cornyn, the chamber's No. 2 Republican and sponsor of the bipartisan sentencing-reform bill, isn't taking a hard line. He supports mens rea language but said last month that "I don't want to kill this bill over that."
But Republican Sen. Orrin Hatch said mens rea is vital.
"If you don't put mens rea in there, you are allowing irresponsible prosecutors to indict people without any basis other than rumor," he said in the Capitol Tuesday evening.
Asked Tuesday in the Capitol if inclusion of mens rea is needed to steer a bill through the full Senate, Hatch replied: "I think it is. Well, we could pass it separately, but I think it is necessary. I think any anticrime bill that doesn't have mens rea in it is a deficient bill."
Senate Judiciary Committee Chairman Chuck Grassley, a lead backer of the bill that cleared his committee last year without mens rea, told reporters Tuesday that the point of Wednesday's hearing is to "get some understanding among people of what the problem is and how it fits in with the bill.
"I don't have any idea how it fits into the floor consideration of the bill," Grassley said. "But it is something that has been expressed to me that is very essential that we try to work something out, both within the Senate and then eventually between the Senate and the House."
Grassley is approaching the hearing with caution. He said Tuesday that he's "very concerned" that the effort to address mens rea could jeopardize the wider criminal-justice-reform package.
And while Goodlatte has taken a tough line, not all advocates of mens rea agree it needs to be part of the current effort—including the Koch brothers. The billionaire conservative activists are part of the criminal-justice-reform push, and while they say mens rea should be broadened, they don't want the dispute to upend the wider negotiations.
"We support the Senate Judiciary criminal justice reform bill that does not have mens rea reform. We also support the House Judiciary bill that has mens rea reform and was supported by Democrats ... and Republicans in the House," said Mark Holden, general counsel for Koch Industries, in an email.
"As I have said several times, we want to see comprehensive federal criminal justice reform passed as soon as possible, and we will support a bill that does not have mens rea reform," he said.