Ryan, McConnell Lead in Different Directions
The Hill's top two Republicans have divergent goals this election year.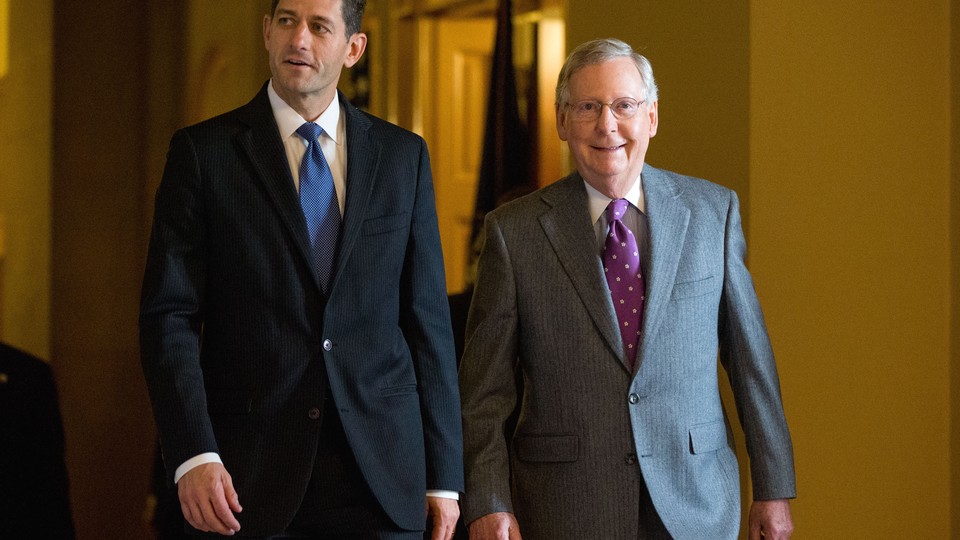 House and Senate Republicans travel to Baltimore this week for a bicameral party powwow, with new GOP House leadership for the first time in almost a decade. But heading into the end-of-week retreat and an election year, both chambers have very different visions of what they can and should accomplish in 2016, thanks in part to the stark differences between their two leaders.
New House Speaker Paul Ryan is an ideas man, a wonk whose ambitious policy vision has redefined the party and given GOP members a platform to run on. But while Ryan had to be cajoled into running for speaker—his congressional career has always had a self-imposed expiration date on it—Senate Majority Leader Mitch McConnell is an institutionalist, a man whose dream of running the Senate, once fulfilled, turned to making it run properly.
As the two men discuss their plans for 2016, an election year in which any serious policy proposals will be difficult to pass through a hesitant, ballot-minded Congress, the contrast couldn't be more stark. Ryan has said repeatedly that his first year as speaker will be marked by major policy proposals, of the kind he's used to making himself. Ryan's House will be an incubator for Republican ideas, giving members running for president and for Congress something to point to as they describe where the party hopes to take the country, and he said he is eager to start that conversation immediately.
"What I want to accomplish at our retreat is the beginnings of the conversation of assembling an agenda to take to the country, and the launching of a process under which we put that agenda together," Ryan told reporters Tuesday.
McConnell, on the other hand, has focused on returning to regular order, passing 12 appropriations bills to keep the government's doors open, alongside a few bills that share broad bipartisan support. McConnell's plan is, as he likes to say, to get the Senate "back to work." When asked by ABC's George Stephanopoulos on Sunday what one major bill he could send to the president this year, McConnell turned immediately to appropriations, admitting that his goals weren't exactly as exciting to voters as Ryan's.
"I think … this may be a little bit boring to the public, but we haven't passed every single bill that runs the government, the appropriation[s] bill, since 1994," McConnell said Sunday, calling it a part of Senate Republicans' "continuing effort to end dysfunction in Congress."
The differences, in part, reflect the opportunities and the limitations of the chamber each man leads. The House, with its ability to act quickly, has often served as a petri dish for ideas, while the slower Senate is hamstrung by its complex debate rules and the power given to the minority party. And while House GOP leadership aides caution that Ryan has promised only to propose ideas, not pass them, doing even that could put the Senate in a squeeze.
McConnell in 2016 has further concerns: the needs of his three GOP senators who are presidential candidates as well as those of the five Republican senators running for reelection in states that President Obama won twice. Big ideas could give them something to run on, but as Ryan learned through the Democrats' lambasting of his budget plan in the 2010 and 2012 elections, they can also create new targets on the backs of vulnerable members.
If in fact many crucial House ideas are the victims of Senate inaction rather than President Obama's veto pen, the upper chamber's failure to take up those central issues could make it difficult for the party to prove to voters they should hand them the keys to the White House too.
Still, National Republican Congressional Committee Chairman Greg Walden said, Senate inactivity in and of itself is something Republicans will cite to make the case to voters that they should elect a Republican president. That is because while the House has limited political risk this election cycle, the Senate is vulnerable, and McConnell could blame his own chamber's timidity on an unsympathetic president.
"They would have a bigger incentive to move forward if we had a Republican president," Walden said. "If you know you're going to make big change and it's going to become law, it's often worth the risk. If you aren't sure it's going to become law, then it's OK to maybe talk about it, but do you really want to go all the way out if you know it's not going to become law? It's sort of the rule of politics regardless of where you are."
But many in the House GOP are not so forgiving. Several outspoken conservatives have taken to bashing McConnell whenever possible, and a prospective sense of pessimism has spread even to some leadership-allied Republicans.
"The problem is McConnell's life ambition was the be majority leader. He's achieved that. He's going to spend the rest of his career trying to hold onto that," said one such member, speaking anonymously to be more candid. "Paul's life ambition is about making America better through policy change. Paul is looking at the horizon, McConnell is watching his back. That's the crux of the clash."
Making the case for a Republican triumvirate in 2017 will be difficult if two corners of the triangle spend the election year quarreling. But Republican senators say they're not concerned about the disparate priorities and the lower-stakes goals for the Senate in 2016. The upper chamber needs to walk before it can run, especially since it has spent much of the last few years at a crawl.
"We're not saying we're not interested in doing big things," Senate Majority Whip John Cornyn said Tuesday. But first, the Senate needs to get itself in order by passing individual spending bills, a goal House leaders say they share.
Sen. Lamar Alexander, a close McConnell ally, blamed any split on the difference in rules between the two chambers, noting that the Senate has "a slower process and we have to operate in a more bipartisan way." But, he argued that the two chambers can actually "work very well together," pointing to last year's compromise on No Child Left Behind, which he spearheaded in the Senate.
"I like what Paul Ryan is doing. I like his focus on the future, his focus on big ideas, and we'll work in parallel with that as much as possible," Alexander said.
"You can't have one without the other," Senate President Pro Tem Orrin Hatch said Monday of the divide between Ryan's push for policy and McConnell's for regular order. But he reiterated what became a repetitive warning at last year's joint Republican retreat just after the party took over the Senate: The upper chamber has limitations.
"They're two very different bodies, with two very different sets of rules. But you know, a lot depends upon what the art of the doable dictates," Hatch said.