Rubio Makes the Most of His Final Debate Opportunity
Gaining in the polls, the Florida senator delivers a compelling closing argument before the Iowa caucuses.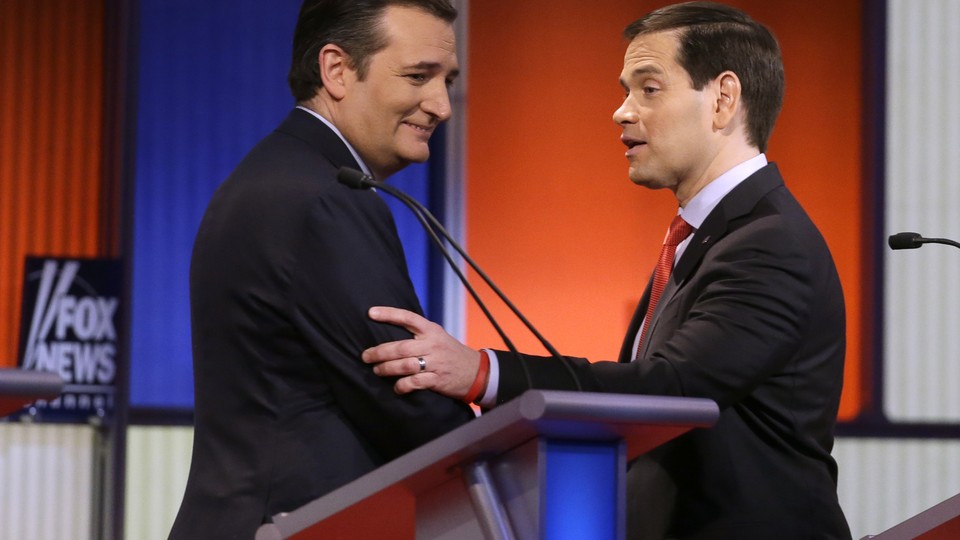 DES MOINES, Iowa—Marco Rubio still comes across as overly rehearsed. The senator doesn't offer his lines with the same bluster as Ted Cruz or Chris Christie. But with a disciplined delivery, bite-sized testimonials of his Christian faith, and an articulation of a muscular foreign policy vision that matches the angst of voters, he found himself well-positioned for a strong finish in the Iowa caucuses. In the final GOP debate before Iowa voters cast their ballots, Rubio proved that he's a consensus candidate in a splintered party whose leaders are desperately looking for any kind of unity.
Whether his polished performance is enough to propel him into second place is unclear. He struggled to explain his evolving positions on immigration reform, a central issue for conservative voters that has long been a thorn in his side. But a lengthy discussion of immigration proved that none of the GOP candidates on the stage are purists on the issue: Bush's views are still to the left of the GOP electorate, and Cruz underscored his own inconsistencies on the issue.
Rubio also benefited from a bit of good luck. Donald Trump's absence let the candidates focus on policy issues, notably national security, which played to Rubio's strengths. By a sizable margin, Rubio tallied the most time talking in this debate. Meanwhile, Cruz was so overeager to have a made-for-TV moment that he overplayed his hand. From imitating Trump in the debate's opening sequence to threatening to leave the stage if he wasn't given time to address a question, he drew attention to his least endearing qualities.
The debate itself was anticlimactic without Trump on the stage. It took nearly an hour for the candidates to draw sharp contrasts with each other—on the subject of immigration. No one took the opportunity to go after the front-runner, divorcing the debate of its drama. In absentia, Trump came out of the debate unscathed, a win for him. That's not good for Cruz—and if you buy the Rubio campaign's thinking, it offers Rubio a chance to emerge as the most credible alternative to Trump.
To that end, Rubio touted his electability against Hillary Clinton and regularly invoked the Democratic front-runner (and President Obama) in many of his answers. He joked that Clinton could end up pardoning herself if she's elected president. His final Iowa ad is a pitch for his own electability.
Rubio's establishment rivals all had solid performances. Jeb Bush demonstrated why he has the chops to be commander-in-chief, even if he often lacks charisma. He effectively challenged Rubio on his leadership on immigration and was one of the few Republicans to criticize Trump. Chris Christie continued to be a commanding presence. Even Ohio Gov. John Kasich, stressing his pragmatic approach to governing, was able to remind moderate New Hampshire voters of what makes him unique.
But all of those candidates are polling in the single digits in Iowa, and it's becoming increasingly difficult to see a plausible path for them to capture the GOP nomination. Christie, the Republican governor with the most upside, has been barraged with a slew of attack ads in New Hampshire and was on the defensive after spending minimal time in New Jersey after a damaging blizzard hit last week. Rubio, as my Cook Political Report colleague David Wasserman wrote, offers the party the best chance for Republicans looking to nominate an electable standard-bearer.
Indeed, Rubio has a lot more on the line in Iowa than his campaign wants to acknowledge. His staff is trying to tamp down expectations, all but ruling out the possibility of a second-place finish. The reality is that a strong showing in Iowa—20 percent or more of the caucus vote—would provide Rubio with the critical momentum to break away from the establishment pack that is now bunched together in New Hampshire.  A disappointing result will only underscore that he's a candidate that looks good on paper, with potential that wasn't realized.
Rubio's debate performance went a long way toward making the first option more likely. He's been gaining ground in Iowa with a more optimistic message emphasizing his electability. Despite being hammered with millions of dollars worth of negative attacks, his favorability ratings are still the strongest in the field. He came into the Iowa debate needing a strong closing argument. It wasn't a flawless performance, but it's probably enough for him to finish with a flourish.