What the Latest Obamacare Repeal Is Really About
Republicans are passing a doomed bill to prove to voters they can do it for real next year.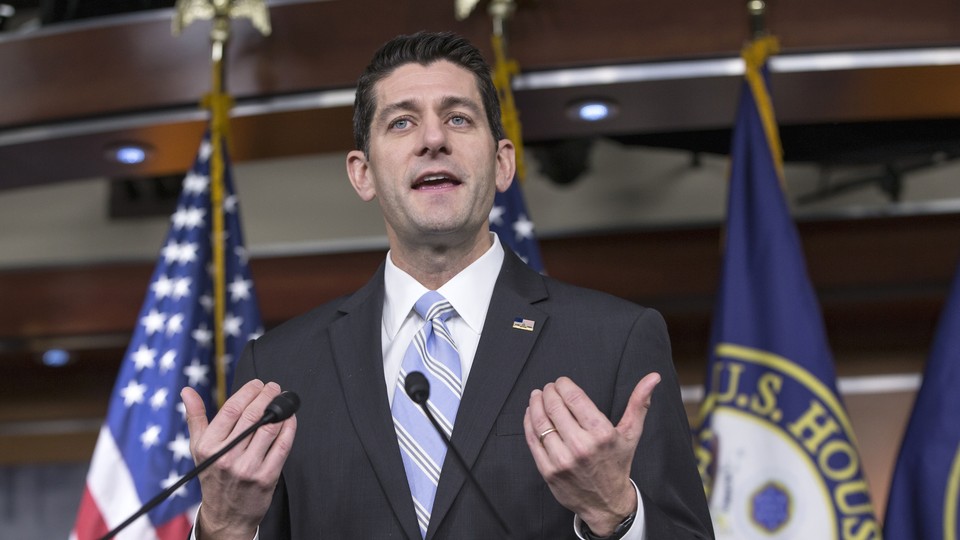 Sometime in the next few days, or even hours, President Obama will happily veto the first bill passed by Congress in 2016, a nearly-full repeal of the Affordable Care Act. Perhaps he'll flash a big grin for the cameras when he does it, or maybe a mocking eye-roll. He could even emulate Bill Clinton and bring a brass band out to the Rose Garden for a veto ceremony.
Republicans will be celebrating all the same. The House could have sent Obama the health-care repeal more than a month ago, after it passed the Senate, but Speaker Paul Ryan didn't want the moment to be lost in the flurry of other, more consequential legislation that Congress approved at the end of the year. He wanted it to happen in 2016 because it fits neatly into Ryan's vision of the year: one long teaser for the November election and the conservative dream of a Republican president in 2017.
After all, Republicans didn't push through a doomed repeal of Obamacare because they're delusional; they did it to keep a long-delayed promise to their conservative base, and more importantly, to prove that after dozens of failed tries, they actually could. "How long have we been at this—five years?" Ryan told reporters on Thursday. "Getting past the Senate Democrats has always been the issue, and finally, we cracked the code."
The key to cracking that code was devising legislation that could scrap as much of Obamacare as possible while using special budget rules to circumvent the 60-vote, filibuster-proof threshold in the Senate. A bare majority of Republicans passed the bill in December, marking the first time that the Senate has approved legislation gutting the health-care law. Republicans have virtually no hope of winning 60 seats in November—they'll be happy to keep the majority at all given the electoral landscape. But the mere fact that they have used the chamber's reconciliation rules to repeal much of Obamacare now sets a precedent that they hope to repeat in the future. "We have now demonstrated that, if we elect a Republican president, we can use this same path to repeal Obamacare without 60 votes in the Senate," Ryan said. "This is critical."
The flip side is that Republicans have given up their oft-stated desire to rip out Obamacare "root and branch." The bill Congress has sent to the president does not repeal every word of the Affordable Care Act, and some of the important—and most popular—provisions remain intact under the legislation, including the prohibition on insurance companies discriminating against people with pre-existing conditions, and the requirement that insurers allow adult children to stay on their parents' plans through age 26. Doing more would require 60 votes in the Senate.
Not surprisingly, Democrats saw little of the same significance in the GOP's latest move on Obamacare. When a reporter asked Josh Earnest, the White House press secretary, what Republicans had accomplished by finally placing a repeal bill on the president's desk, he replied: "Nothing."
There are, to be sure, plenty of caveats to the GOP's grand plans. Supporting a measure that has no chance of becoming law is a consequence-free vote for lawmakers. Will those same Republicans really vote on legislation that strips health insurance for millions of people if they knew it would actually happen, particularly if they didn't have a replacement law ready to go at the same time? That's a much different dynamic.
Still, Ryan has said he is determined to make 2016 "a year of ideas," and he wants to use the House to show voters how a fully Republican government might function. To that end, he wants to temporarily transform the GOP's relatively safe and deeply conservative majority into a think tank, churning out policies for the party's presidential nominee to adopt, in whole or in part. "If we want a mandate to do big things, if we want a mandate from our fellow Americans to fix this country's problems and get us back on the right track, we're going to have to offer a real agenda to the country," Ryan said.
That begins with developing—and uniting around—the always-soon-but-never-quite-ready replacement plan for Obamacare, which has become the unicorn of Republican congressional policy. Ryan also wants to develop proposals for tax reform and overhauling poverty programs, among other issues—a tall task in the famously fractious House GOP. Even the speaker flinched on Thursday when reporters asked whether Republicans would actually vote on these measures this year.
But by finally passing a repeal measure through both chambers of Congress, the party regained a small measure of the credibility they've lost in the last few years. To celebrate, dozens of Republicans crammed into the ornate Rayburn Room for an "enrollment ceremony" in which Ryan signed his name to the repeal bill before sending it to Obama. It was a highly unusual event to hold for legislation bound for a veto, but for Republicans it was really something else: a dress rehearsal for a real signing ceremony they dream of holding at the White House next year.