A Chance to Make a Big Impression Before the Voting Starts
The Republican contenders gather tonight for one of the final debates before the Iowa caucuses.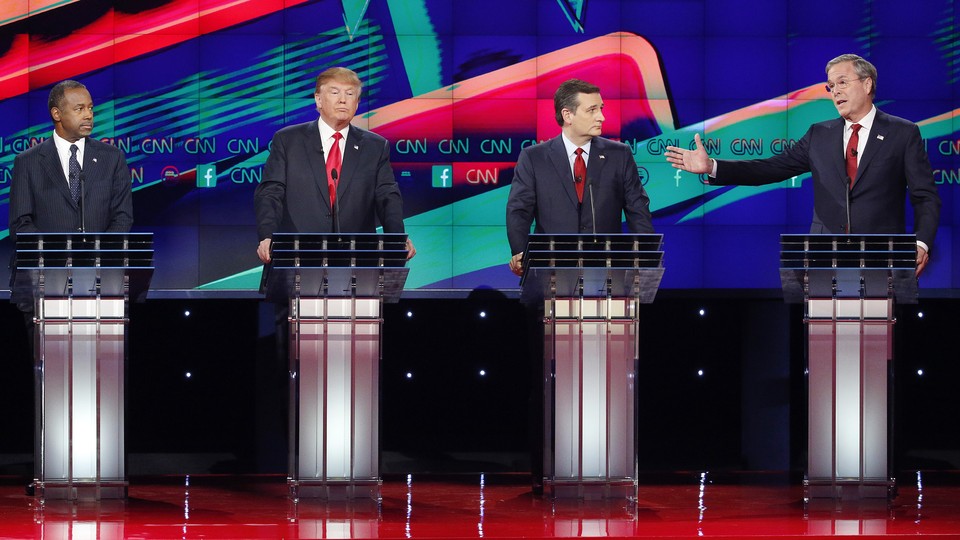 Has the Republican primary become—[gulp]—boring?
As the GOP presidential contenders gather to debate Thursday night for one of the last times before the Iowa caucuses, the colorful assortment of candidates find themselves in an unusual position: For the first time in the race, the Republican primary is looking pretty static.
Over on the Democratic side, Bernie Sanders is putting a real scare into Hillary Clinton, threatening to overtake the prohibitive favorite in the first two nominating contests. Yet the dynamic in the GOP race is little changed from the last time the candidates debated a month ago. Donald Trump and Ted Cruz are jockeying for the top spot in Iowa, Marco Rubio is stuck in the low double digits across the board, and lower-tier hopefuls Chris Christie, Jeb Bush, and John Kasich are trying to "beat expectations" when voters finally start to cast their ballots.
Before the December debate, the big question was whether there would be fireworks between Trump and Cruz, who had just surged into first place in Iowa polling. That dog didn't bite, but as the caucuses draw closer, the two candidates are again flirting with an all-out rhetorical war. Trump has conspicuously drawn attention to questions about whether Cruz's birth in Canada precludes him from the presidency (it almost certainly doesn't), and Cruz has responded by jabbing at Trump's own "foreign" vulnerability with heartland Republican voters: his "New York values."
Has Trump's Canadian campaign worked? It's possible. Polls out of Iowa over the last couple weeks have shown a margin-of-error race as Trump has, at the very least, contained Cruz's rise. Still, Cruz has been wary to go after the frontrunner aggressively, and whether that changes Thursday night in Charleston is reason alone to watch.
Both Cruz and Rubio might also have to confront potentially damaging stories that popped up over the last couple of days. For Cruz, it was a New York Times report that he financed his Senate campaign in 2012 with up to $750,000 in loans from Goldman Sachs—his wife's employer—which he failed to properly disclose in FEC filings. And on Thursday morning, CNN reported that a lawyer and longtime friend working for Rubio in 2013 inserted provisions into the Senate Gang of Eight's immigration bill that could have helped clients he represented. Cruz acknowledged that there may have been an oversight in his federal disclosure, but both he and Rubio have denied doing anything substantively improper.
One thing that will be different Thursday from December's GOP debate is the number of candidates on the prime-time stage. Rand Paul failed to qualify for the main debate (televised by Fox Business Network) at 9 p.m., and after protesting Fox's decision to exclude him, he is refusing to participate in the undercard round at 6 p.m. "By any reasonable criteria Senator Paul has a top tier campaign," his campaign said. "He will not let the media decide the tiers of this race and will instead take his message directly to the voters of New Hampshire and Iowa."
After advancing from "happy hour" to prime-time last summer, Carly Fiorina has fallen back off the main stage; she does plan to participate in the earlier debate, along with Mike Huckabee and Rick Santorum. (George Pataki dropped out over the holidays.) Ben Carson remains on the main stage despite plunging into the single digits from his brief lead in the race during the fall. But his campaign has been going in one direction for months now—down. After Carson lost three of his top staffers in a New Year's exodus, his finance chairman quit hours before the debate.
It's probably too late for the bottom three, and maybe Carson, to reverse their sagging fortunes. And it's hard to see at this point how anything that Donald Trump says will affect his standing in the polls—the race's most unpredictable candidate has somehow been the steadiest. But Thursday night is an important moment for Cruz to reclaim his momentum, and for Rubio, Kasich, Christie, or Bush to seize some of their own. The next debate—and only one in Iowa—will take place on January 28, just a few days before the caucuses, and likely too late to change many minds. With the Iowa caucuses just three weeks away, this may be the last chance for many of these candidates to make a big impression. And if nothing else, a Hail Mary or two could make the debate itself engaging.