Rand Paul's Bigger Problem Back Home
The Kentucky senator is languishing in the presidential polls, and he now has a new challenger for his Senate seat.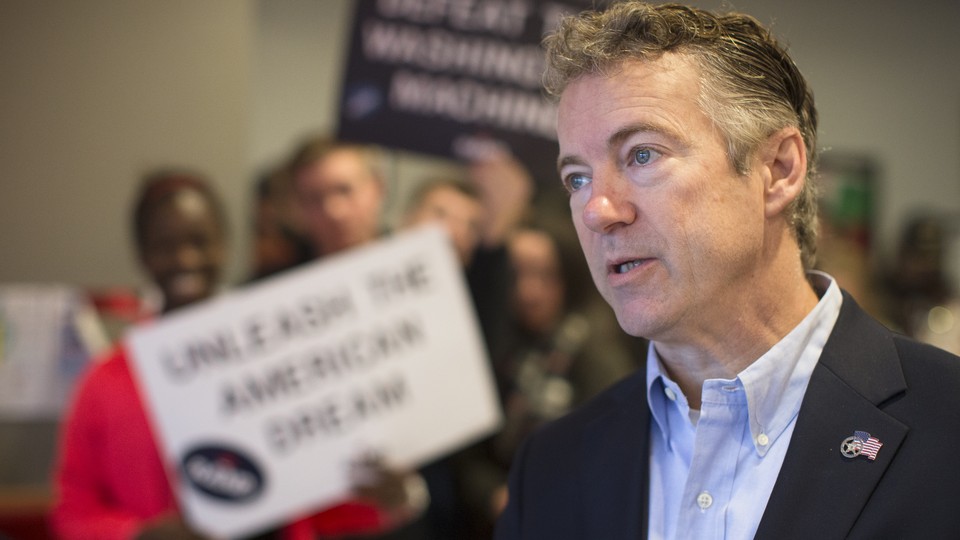 The voters may be calling Rand Paul home pretty soon.
His campaign for president has not gone as planned: Once treated as a top-tier candidate, he's been stuck in the low single-digits in the polls for months. That he even made it onto the main debate stage Thursday night after being excluded from the last one was the best news he'd received since last summer. And as of this week, Paul officially has a serious challenger in his parallel race to represent Kentucky in the Senate past 2016.
That opponent is Jim Gray, a Democrat and the mayor of Lexington who previously ran his family's construction company headquartered in the city. Gray announced his bid on Tuesday, filing papers just before the state's election deadline. He also is openly gay, adding a significant cultural twist to a statewide race that'll take place a year after a Kentucky county clerk named Kim Davis went to jail for refusing to give marriage licenses to same-sex couples in defiance of the Supreme Court.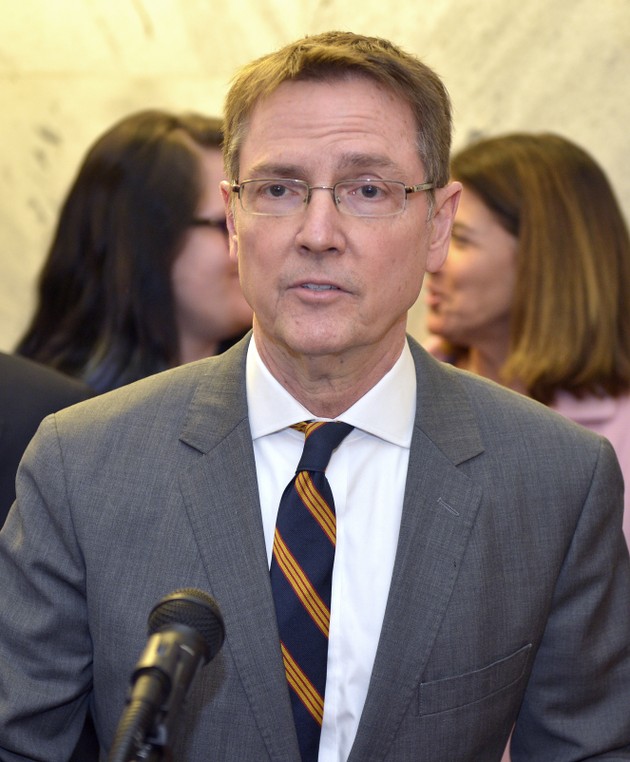 Gray launched his campaign by touting his record both in business and as mayor, and by accusing Paul of being an ineffective senator distracted by his national ambitions. "Senator Paul confuses talking with getting results," he said in his announcement video. "He offers ideas that will weaken our country at home and abroad. And he puts himself and his own ambitions above Kentucky."
Paul is the only Republican presidential candidate who is simultaneously running a campaign to keep a job in his own state, and he had to offer to pay for Kentucky's GOP presidential caucus himself just to get around a state law forbidding candidates from appearing on the same ballot for different offices. (Senator Marco Rubio decided to forgo a re-election bid in Florida to focus on his White House bid.) The strategy for Democrats is straightforward: Remind Kentucky voters that their first-term senator began looking for a promotion as soon as they sent him to Washington, and then got humiliated in the process.
The problem for Democrats, and in turn for Gray, is that Kentucky has been a valley of broken dreams for them in recent years. The party spent millions in 2014 trying to unseat Mitch McConnell before he could become Senate majority leader, and despite a wretched approval rating in Kentucky, McConnell trounced Alison Lundergan Grimes by more than 15 points. Democrats thought they had an even better opportunity in the governor's race last year after Republicans nominated Matt Bevin, the Tea Party conservative who had been shellacked by McConnell in the Senate primary a year earlier. But even though Democrat Jack Conway led almost all pre-election polls, Bevin won the race by nine points.
On the federal level, Kentucky is simply a red state. As Republican strategist Scott Jennings noted, a Democrat running for president or Senate hasn't won 50 percent of the vote in Kentucky since 1992. Voter registration numbers have been trending Republican for years, and President Obama has been particularly unpopular in the state. "You could build a compelling body of evidence that indicates it's going to be really, really difficult for a Democrat to win a Senate race here," Jennings said. And while presidential election years are generally better for Democrats in blue and purple states because of higher turnout, that is not expected to be the case in Kentucky with either Hillary Clinton or Bernie Sanders on the ballot. "That's another anchor tied around the ankle of every Democrat running," Jennings said.
With recent history in mind, Democrats aren't raising expectations too high. Nationally, the party is focused on a handful of other GOP-held Senate seats where its prospects are more promising, including Wisconsin, Illinois, Pennsylvania, Ohio, and New Hampshire. Representative John Yarmuth, the only Democrat remaining in Kentucky's congressional delegation, said Gray was probably the party's strongest option but still only put his odds of winning at around 30 percent.
Yarmuth said that unlike Grimes or Conway, Gray won't struggle to try to appeal both to core Democratic voters as well as the many Kentuckians put off by the Obama administration's policies. "He is definitely a more progressive candidate," Yarmuth said. "He won't try to hedge his positions, like Jack Conway tried to do, and Alison. He'll be a much more authentic candidate." In her race against McConnell, Grimes was roundly criticized for refusing to say if she voted for President Obama. Gray has already said he did.
The big question, of course, is whether Gray's sexual orientation will become an issue in the race. Given Paul's libertarianism, neither Democrats nor Republicans expect it to be central, but in a state where Davis drew so much attention to her cause, it'll surely come up. Gray should have an easier time driving up the margins in liberal areas like Louisville and Lexington, where he remains quite popular after five years in office. "He'll certainly energize the Democratic base," Yarmuth said. He acknowledged, however, that Gray might be in a stronger position had he gotten into the race late last year.
Paul is understandably focused on his presidential campaign, but his advisers have pushed back on the suggestion that he is vulnerable at home. "As Senator Rand Paul prepares for re-election, he hopes voters will remember his tireless work to balance the budget, his fight against President Obama's war on coal, his fight against Obamacare, and that Senator Paul has returned to the taxpayer over $2 million from his office budget," senior adviser Doug Stafford said in a statement. In an op/ed published in the Lexington Herald Leader earlier this month, Paul said that even as he had been running for president, "I've done my job every step of the way." While Rubio has been criticized for missing votes in the Senate, Paul noted—without mentioning his rival—that he had a 95 percent attendance record.
"We don't yet know where that will take me," he said of his presidential run, "but as others look at running for Senate against me, I want to remind them, and you, that I have done my job well, done it with Kentucky in mind, and done it exactly how I said I would do it." Unless Paul makes a late surge as voting starts, it's unlikely his presidential campaign will take him to the White House. Will Gray's entry into the Senate draw him back to Kentucky? His campaign insists Paul is in the presidential race "for the long haul," but as he well knows, his relatively safe Senate seat could become shakier the longer he stays away.