Can Clinton Stop Her Slide?
The final Democratic debate before votes are cast in Iowa and New Hampshire comes as the race between Hillary and Bernie gets tighter.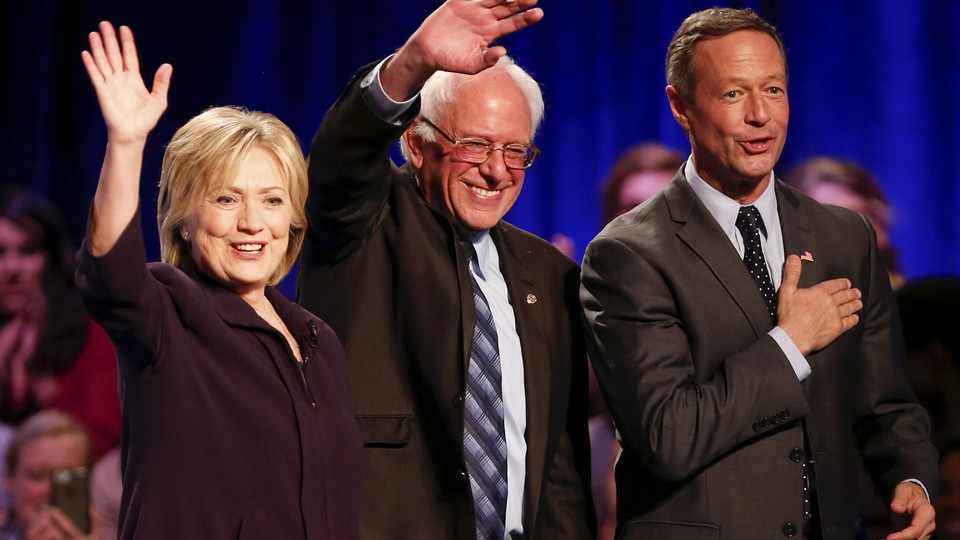 Don't tell anyone, but there's a Democratic primary debate tonight.
The Democratic National Committee has understandably been mocked for suspiciously scheduling most of the party's debates during times when few people are likely to be watching. The last two were on Saturday nights, and this one—in South Carolina and airing on NBC at 9 p.m.—comes in the middle of a holiday weekend.
It's a shame, because the race between Hillary Clinton and Bernie Sanders is actually getting interesting—or as Clinton has been saying, it's the "get real period" of the primary. Sanders is closing the gap with Clinton both in national polling and in Iowa while maintaining his lead in New Hampshire. The increasingly plausible prospect that Clinton could lose the first two early-voting states has prompted her campaign to challenge Sanders more aggressively on the issues. She has picked a fight with him over one of his core issues, Wall Street reform, and she has stepped up attacks on his gun record. And in Clinton's most unusual move, her campaign deployed Chelsea Clinton to criticize Sanders's support of a single-payer health-care plan from the right, arguing that it would mean gutting Obamacare and kicking people off their insurance.
Sanders, in turn, has drawn a sharper contrast as well. While the Vermont senator has vowed not to run attack ads, he filmed a commercial implicitly criticizing Clinton over her ties to Wall Street. "There are two Democratic visions for regulating Wall Street," he says in the ad. "One says it's okay to take millions from big banks and then tell them what to do." Even though Clinton's name wasn't mentioned, her campaign accused Sanders of running an "attack ad" and breaking his pledge against negative campaigning. Meanwhile, Martin O'Malley was probably just miffed that he was left out of the whole kerfuffle.
Speaking of the former Maryland governor, he will be in Sunday night's debate, having just barely cleared NBC's threshold for inclusion. That came as a bit of a surprise to NBC's own Jimmy Fallon, who had Clinton on his show Thursday and was under the impression that only she and Sanders would be debating—until Clinton rather awkwardly reminded him that O'Malley would be there, too. It has been clear for a while now that O'Malley probably won't win the Democratic nomination, but as my colleague Nora Kelly noted, the tightening of the race between Clinton and Sanders actually makes O'Malley more relevant in Iowa, where because of the complicated caucus format, his voters could help break a tie.
For Clinton, however, the start of 2016 has been a nightmarish flashback to this time eight years ago, when Barack Obama's victory in Iowa gave him the momentum to upend her bid for the Democratic nomination. The most concerning numbers for Clinton are not those that show a closer head-to-head race with Sanders; they're the ones that have Sanders, who is six years older than Clinton, drawing more support among younger voters and performing better in hypothetical match-ups with Republicans. For all the talk about how a self-described Democratic socialist could never win a general election, the polling snapshot makes Sanders look like he could be the party's best bet in the fall. Clinton's struggle has sent Democratic bigwigs into a fairly predictable tizzy as they worry that despite the general-election polling, he'd be a far weaker candidate than Clinton. "I'm deeply concerned that in November swing voters are not going to vote for a socialist," Representative Steve Israel, the retiring former Democratic campaign chairman, told The Washington Post.
As she did eight years ago, Clinton has put up a strong front. Her campaign always expected a close race, she's said, and she told Fallon on The Tonight Show that her much bigger lead for much of last year was "artificial." But the campaign's more aggressive posture toward Sanders speaks even louder. Clinton hasn't hesitated to go after Sanders in the first three Democratic debates—will she punch even harder on Sunday night? And will she continue to go after him on the issues, or will she shift to an electability argument? Whatever the strategy, it'll be the last opportunity for Clinton and Sanders to confront each other before both the Iowa and New Hampshire contests. The debate might be buried in the middle of a three-day weekend, but it should be one to watch.