President Obama Unveils Gun-Control Measures in Emotional Address
The president on Tuesday teared up as he announced actions to tighten gun restrictions.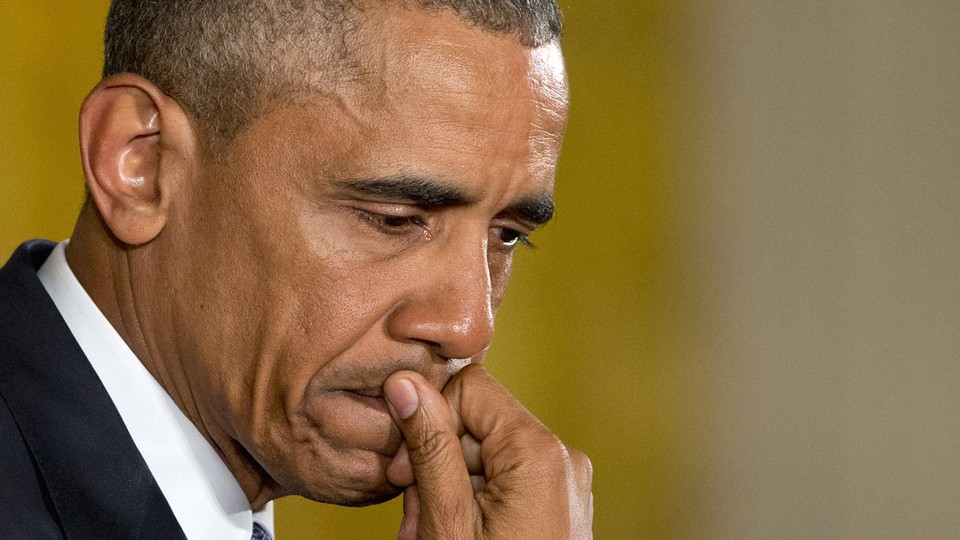 President Obama paused, and wiped a tear from his cheek.
"Every time I think about those kids, it gets me mad," he said of the 20 children gunned down at an elementary school in Newtown, Connecticut, in 2012. He wiped another tear. More followed, falling down his face as he recounted the gun deaths that on Tuesday moved him to unveil a slate of actions to tighten gun-control restrictions across the country.
Spurred by a Congress that refuses to pass the laws on guns that he desperately seeks, he acted alone. "Once Congress gets on board with common-sense gun-safety measures, we can reduce gun violence a whole lot more. But we also can't wait," Obama said. "Until we have a Congress that is in line with a majority of Americans, there are actions within my legal authority that we can take to help reduce gun violence to reduce more lives. Actions that protect our rights, and our kids."
The centerpiece of the limited package of gun-control measures is a push to narrow the so-called gun-show loophole, which allows merchants to sell millions of guns online and at gun shows under the cover of hobbyists or private collectors. Under Obama's actions, the administration will clarify existing law that anyone running a business that sells guns must get a license and conduct background checks.
Though the White House released the actions Monday night, Obama's remarks Tuesday from the East Room gave the president a chance to bring his message of gun control directly to the American public. And he urged them to follow his lead.
"If we love our kids and care about their prospects, and if we love this country, and care about the future, and we can find the courage to vote, we can find the courage to get mobilized and organized. We can find the courage to cut through all of the noise and do what a sensible country would do," he said. "If we do, we will leave be behind a nation that is stronger than the one that we inherited."
Under the actions, the background check system will also ramp up: The FBI plans to process background checks around the clock and hire hundreds of staff to handle the requests. Gun dealers must also notify the Bureau of Alcohol, Tobacco, Firearms, and Explosives if their guns are lost or stolen in transit. Among other measures, Obama has asked for $500 million to increase access to mental-health care, funding for additional agents and investigators at the ATF, and U.S. attorney's offices to prevent perpetrators of domestic violence from getting a weapon.
Obama acknowledged that a serious shift in reducing the country's culture of gun violence would be slow going. But that doesn't make it any less crucial.
"It won't happen overnight. It won't happen in this Congress. it won't happen in my presidency. But a lot of things don't happen overnight," he said, citing women's suffrage, civil rights, and same-sex marriage as decades-long battles that eventually came to fruition. "Just because it is hard, that is no excuse not to try."
Obama scoffed at suggestions that he doesn't believe in the Second Amendment, reminding skeptics that as a constitutional-law professor, he knew the ins and outs of the Bill of Rights. And, sounding a touch annoyed, he maintained that his new measures are "not a plot to take away everybody's guns."
"Second Amendment rights are important. But there are other rights that we care about as well. And we have to be able to balance them. Because our right to worship freely and safely, that right was denied to Christians in Charleston, South Carolina, and that was denied Jews in Kansas City, and that was denied Muslims in Chapel Hill, and Sikhs in Oak Creek. They had rights, too," he said, ticking off high-profile mass shootings over the past few years.
"Our right to peaceful assembly, that right was robbed from moviegoers in Aurora and Lafayette," he continued. "Our inalienable right to life and liberty and the pursuit of happiness, those rights were stripped from college kids in Blacksburg and Santa Barbara and from high-schoolers in Columbine. And from first-graders in Newtown."