An Indictment for the Planned Parenthood Sting Videomakers
A grand jury called to investigate the women's-health organization opted to charge anti-abortion activists who sought to undermine it instead.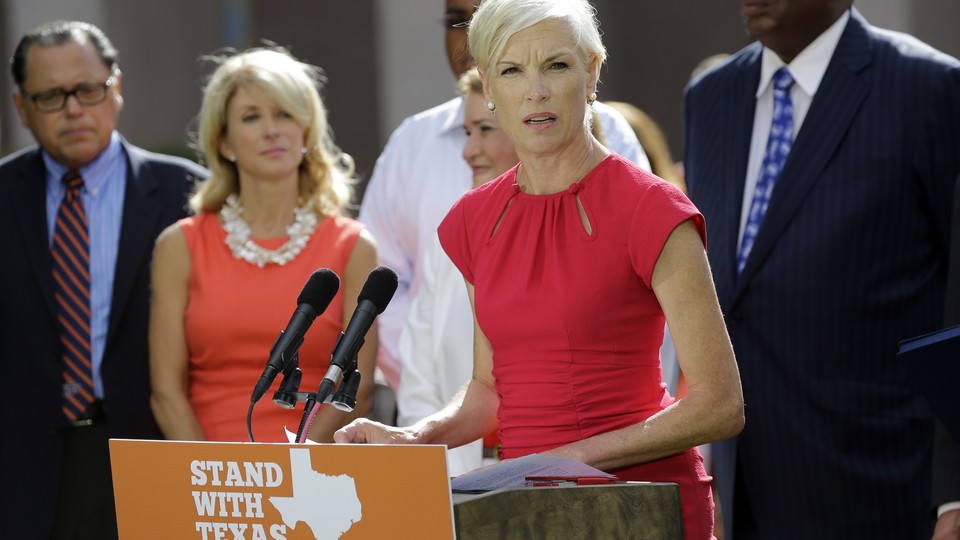 In a surprise turn, a grand jury in Texas that was convened to investigate allegations that Planned Parenthood illegally sold fetal tissue decided instead to indict activists who made sting videos to criticize the organization.
Beginning in July, anti-abortion activists David Daleiden and Sandra Merritt of the Center for Medical Progress released several videos taken with hidden cameras that caught Planned Parenthood officials discussing the use of tissue from aborted fetuses. They made the videos by posing as middlemen for medical researchers seeking fetal tissue. The videos sought, among other things, to prove that Planned Parenthood sold fetal tissue. Federal law allows medical providers to accept donation for processing tissue, but not to profit from it.
The fifth installment in that series of videos was shot in Houston. In the footage, Melissa Farrell of Planned Parenthood Gulf Coast says that the group's research department "contributes so much to the bottom line," but she also describes money exchanged for tissue as a donation. After two months of investigation, the grand jury in Houston decided not to charge Planned Parenthood or any staffers, but instead to indict Daleiden and Merritt for tampering with government records. That's a second-degree felony that could carry up to 20 years in prison. Daleiden also received a misdemeanor indictment under a law that prohibits buying or selling human organs.
"We were called upon to investigate allegations of criminal conduct by Planned Parenthood Gulf Coast," Harris County District Attorney Devon Anderson, a Republican, said in a statement. "As I stated at the outset of this investigation, we must go where the evidence leads us. All the evidence uncovered in the course of this investigation was presented to the grand jury. I respect their decision on this difficult case."
Conservatives are already reacting with dismay and shock at the indictments. But as I wrote when the first video was published, it was most effective as agitprop—playing to people's visceral disgust with abortion. The image of Deborah Nucatola, Planned Parenthood's senior director of medical services, discussing organ harvesting cavalierly over lunch was off-putting, even to abortion supporters. But the case that Planned Parenthood had actually broken any laws was tenuous. Nucatola noted, for example, that the law prohibited trafficking of organs: "This is not—nobody should be 'selling' tissue."
Planned Parenthood immediately cried foul on the videos. It alleged that the clips were misleadingly edited—a charge the Center for Medical Progress cleverly defused by posting the full raw footage. But Planned Parenthood also accused the activists of using fake government IDs, creating a fake organization, and inappropriately recording people without their consent as part of the sting. Anderson has not revealed the specifics of the indictment, but it appears that the grand jury believed Daleiden and Merritt committed some violation of laws involving government documents.
A grand-jury indictment is not the same as a criminal conviction. The burden of proof is much lower, and grand juries are generally willing to indict, although the switch from investigating Planned Parenthood to indicting the CMP workers came as a surprise. Planned Parenthood also isn't totally off the hook. While the grand jury cleared the organization, Texas's attorney general and the state's Health and Human Services Commission are still investigating the group.