Donald Trump Finds a Foil in Paul Ryan
As the Republican frontrunner feeds off divisiveness, the new House speaker pushes a message of optimism.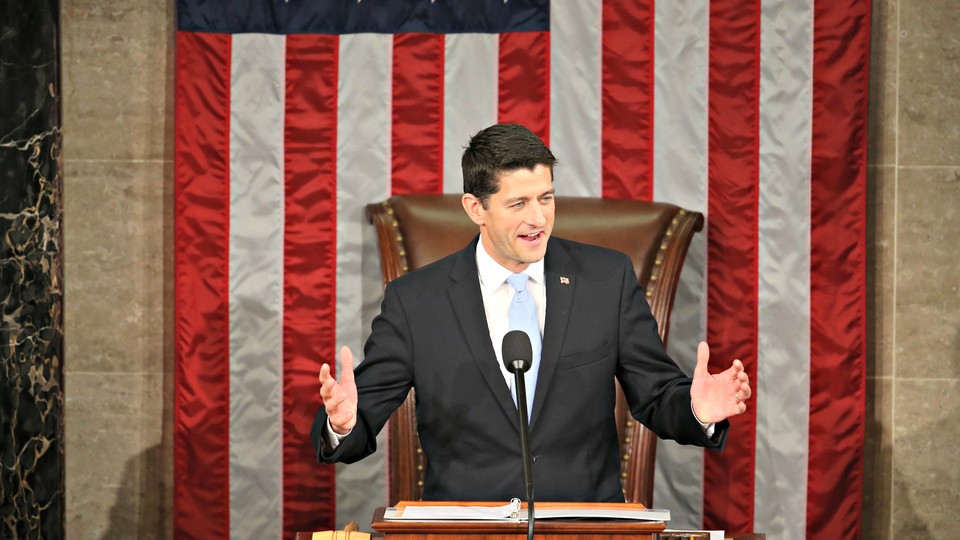 COLUMBIA, S.C.—Back-to-back events last week­end in this crit­ic­al early-primary state signaled that two of the Re­pub­lic­an Party's most dy­nam­ic fig­ures are on a col­li­sion course.
On Fri­day night in Rock Hill, about 80 miles north of here, Don­ald Trump roused a rauc­ous over­flow crowd with im­pas­sioned pop­u­list at­tacks against a dizzy­ing array of tar­gets. The next morn­ing in Columbia, House Speak­er Paul Ry­an wowed a re­served but still over­flow crowd at a for­um on con­ser­vat­ive think­ing about poverty with a dizzy­ing ar­ray of policy pro­pos­als and his im­pas­sioned insistence that the party must ad­dress the prob­lems of the poor.
Ry­an has avoided dir­ect con­flict with Trump, apart from con­demning the billionaire's pro­pos­al to tem­por­ar­ily bar Muslims from en­ter­ing the U.S. But with Jeb Bush fal­ter­ing in the pres­id­en­tial race, and Marco Ru­bio mov­ing to­ward a dark­er mes­sage, Ry­an emerged from Sat­urday's for­um as the na­tion­al Republican lead­er of­fer­ing the sun­ni­est con­trast to Trump's bel­li­ger­ent vis­ion of the party's fu­ture.
While Trump presents a brist­ling and in­su­lar nationalism targeted squarely at the anxi­et­ies of whites who feel most economically marginalized and cul­tur­ally ec­lipsed, Ry­an on Saturday ar­gued for an in­clus­ive con­ser­vat­ism that widens the GOP co­ali­tion with re­sponses to the chal­lenges fa­cing all com­munit­ies.
"This is a struggle for the soul of ... the party," said Ar­thur Brooks, the poly­math pres­id­ent of the conservative Amer­ic­an En­ter­prise In­sti­tute and a Ry­an ally. (That con­flict be­came even more vivid after South Car­o­lina Governor Nikki Haley, who was in­vited partly by Ry­an, used her re­sponse to President Obama's State of the Uni­on this week to poin­tedly re­buke Trump.)
The Columbia for­um was sponsored by the Jack Kemp Found­a­tion, which hon­ors the late Re­pub­lic­an House mem­ber who helped design Ron­ald Re­agan's sup­ply-side tax cuts, but be­came best known for push­ing his party to court voters of col­or with con­ser­vat­ive re­sponses to ex­pand­ing op­por­tun­ity. At the event, Ry­an (who con­siders Kemp his ment­or) and South Car­o­lina Re­pub­lic­an Senator Tim Scott led GOP pres­id­en­tial con­tenders Bush, Ru­bio, John Kasich, Chris Christie, Ben Car­son, and Mike Hucka­bee through de­tailed dis­cus­sions of their ideas to re­duce poverty and in­vig­or­ate the eco­nomy. The tone was more PBS than Fox News Chan­nel. Oth­er than a Christie con­dem­na­tion of teach­ers' uni­ons, no one raised their voice.
The ideas the group de­bated in­cluded con­vert­ing more fed­er­al anti-poverty programs in­to state block grants; ex­pand­ing the Earned In­come Tax Cred­it that sup­ports the work­ing poor, pro­mot­ing charter schools, crim­in­al-justice re­form, and re­think­ing treat­ment for drug ad­dicts. Phrases such as "out­come-based meas­ures" and "middle-skilled jobs" drew know­ing nods.
Demo­crats find much to cri­ti­cize in these spe­cif­ic pro­pos­als. Ad­voc­ates for the poor ar­gue that Ry­an's plans to block-grant anti-poverty pro­grams such as food stamps would pro­duce large spend­ing cuts. They note that his de­term­in­a­tion to re­peal Pres­id­ent Obama's health-care law would with­draw cov­er­age from millions of work­ing poor Amer­ic­ans.
But Re­pub­lic­an will­ing­ness to en­gage on prob­lems like poverty and crim­in­al-justice re­form at least provides the basis for bi­par­tis­an de­bate and ne­go­ti­ation. Polit­ic­ally, the for­um re­flec­ted the be­lief of many con­ser­vat­ive policy intellectuals that the party can win back the White House only by prov­ing it has con­crete re­sponses that ex­tend bey­ond tax cuts to the eco­nom­ic chal­lenges most Amer­ic­ans face. "Con­ser­vat­ives are bring­ing their 'A-game' to fight­ing poverty," Ry­an de­clared at one point. Later he ad­ded: "What you are learn­ing today is we are not just an op­pos­i­tion party, we are a pro­pos­i­tion party."
But that hasn't been re­motely true in the GOP pres­id­en­tial race. None of the ideas dis­cussed at the for­um have mattered much in the con­test. At Trump's appearance in Rock Hill, the loudest ap­plause came for things he said he would fight, in­clud­ing the Com­mon Core edu­ca­tion­al stand­ards, new gun-con­trol measures, im­ports from Ja­pan or China, un­doc­u­mented im­mig­rants from Mexico, and, poin­tedly, the budget agree­ment that Ry­an ne­go­ti­ated with Obama. Trump drew a prim­al roar from the crowd when he prom­ised to re­peal Obama's health-care law.
Trump's suc­cess un­der­scores the ex­tent to which the top pri­or­ity for many Republican voters is now fun­da­ment­ally neg­at­ive: stop­ping a Demo­crat­ic agenda that they be­lieve is com­bin­ing with demo­graph­ic change to ir­re­vers­ibly change the coun­try. ("Demo­crats are just buy­ing votes and we are headed to­ward socialism," one man back­ing Trump told me.) As the GOP con­sult­ant Alex Castellanos notes, Trump has soared partly be­cause he is "ant­ag­on­iz­ing every adversary of the Re­pub­lic­an base. And in do­ing that, he's ce­men­ted him­self as the lead­er of our quest."
Trump's con­ser­vat­ive pop­u­lism puts him cross­wise with Ry­an on sev­er­al spe­cif­ic policies—from trade and im­mig­ra­tion to con­strain­ing en­ti­tle­ment spend­ing for seni­ors (which Ry­an sup­ports and Trump op­poses). Their more fun­da­ment­al difference is that Trump is lead­ing the GOP to­ward a European-style ra­cial nationalism that re­lies primar­ily on mar­shal­ing griev­ances among ali­en­ated whites, while Ry­an says Re­pub­lic­ans must de­vise a prob­lem-solv­ing con­ser­vat­ism that can com­pete in all com­munit­ies.
Ry­an's de­term­in­a­tion to shrink gov­ern­ment of­ten makes him a po­lar­iz­ing fig­ure in his own right. But if Trump con­tin­ues to steam­roll his rivals through the primar­ies, Ry­an may un­avoid­ably be­come the counter-Trump: the ral­ly­ing point for Re­pub­lic­ans who be­lieve the GOP must or­gan­ize more around hope than fear.
---
This post appears courtesy of National Journal.