Outlook: Obama and the GOP Ponder the Possible
The president meets with Republican leaders this week as the Senate works on an energy bill.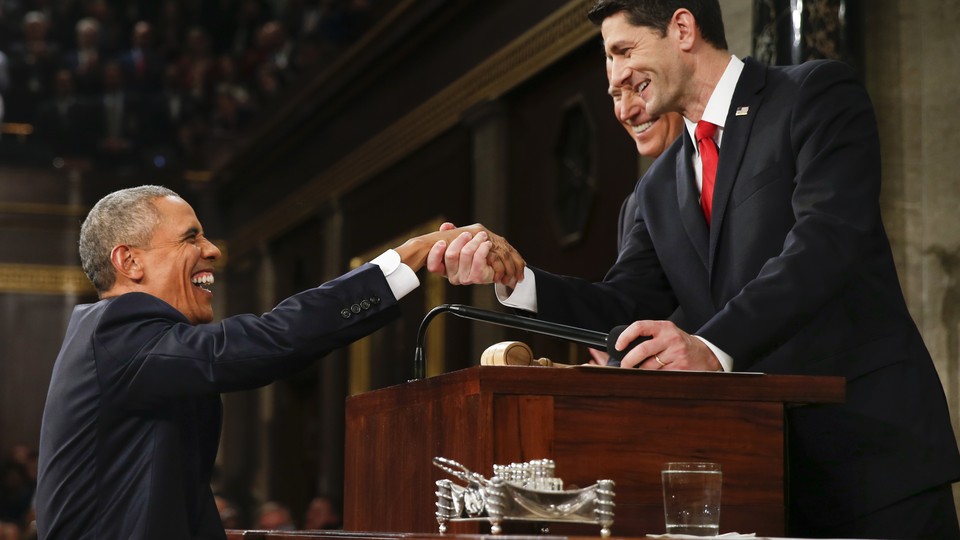 This week will help determine whether the White House and the GOP-led Congress can accomplish anything big in 2016.
President Obama will meet with Paul Ryan on Tuesday for their first sit-down since Ryan became House speaker.
Senate Majority Leader Mitch McConnell will be there too (even though it's not, the White House said, the long hoped-for "bourbon summit" between Obama and the Senate leader from Kentucky).
The list of big-ticket items ripe for legislative cooperation in 2016 is small, especially as the presidential election draws closer.
Obama is pushing Congress to approve the sweeping Trans-Pacific Partnership trade deal, but McConnell has signaled that the pact won't come to the floor until after November's elections.
There's a chance that Congress and the White House could thread the needle on a package of major changes to the criminal-justice system. Bipartisan bills to soften harsh mandatory-minimum sentencing policies and aid prisoners' reentry into society are moving through both chambers, but face big hurdles—and McConnell hasn't committed to a floor debate.
There could be common ground on energy-policy legislation that's on the Senate floor this week, although that bill is attracting amendments that split the parties (more on that below).
But while Obama will huddle with top Republicans on Tuesday, the House is also pushing ahead with bills and votes that lay bare collisions with the White House.
Here are a few things that will happen on Capitol Hill while everyone digests the aftermath of Monday's Iowa caucuses:
Republicans will try to override Obama's veto of legislation that would dismantle Obamacare, a vote doomed to failure that will nonetheless provide Republicans another opportunity to politically attack the health care law.
The House will also vote on Iran sanctions legislation—the bill that reflects GOP claims that the Obama administration has been dangerously accommodating to Iranian officials.
But Democrats call the bill, which would make it much harder to waive sanctions, a transparent attempt to scuttle the Obama administration's nuclear deal with Iran. The White House has already said it would veto the bill if it ever reached Obama's desk.
Look for members to be on time for this vote, which is a redo of an earlier effort. The House tried to vote on the measure on Jan. 13. But Ryan is a stickler for punctuality, and gaveled the 15-minute vote closed even though less than 300 members had showed up.
Back to criminal-justice reform for a moment: Advocates hope to build momentum Monday, when GOP Rep. Jim Sensenbrenner and Democrat Bobby Scott host a discussion with members of the Charles Colson Task Force on Fed­er­al Cor­rec­tions. That's a congressionally created group that just released a wide set of reform proposals.
Sen. Mike Lee, a tea-party favorite who has a emerged as a major force behind the bipartisan effort, is slated to attend.
ENERGY
The Senate is on the verge of moving its first major piece of energy legislation since the George W. Bush administration—assuming a lengthy amendment debate doesn't sink the bill.
Two of the biggest priorities from both parties—lifting the crude-oil export ban and extending tax credits for renewable energy—got dealt with in the omnibus package, which has left this energy bill to deal with nitty-gritty material on energy infrastructure, increasing efficiency, and updating the electrical grid. But members are hoping to use the open amendment process to deal with major energy debates, even as sponsors try to ward away any poison-pill amendments.
And that means that, like the debate on last year's Keystone XL bill (which was conducted under the threat of a veto), members have a lengthy list of amendments, covering President Obama's power-plant regulations, the renewable-fuel standard, climate change, and everything in between.
Democrats are putting their weight behind an amendment that would offer federal assistance to the citizens of Flint, Michigan as they deal with lead contamination in the city's drinking water. Michigan Democrats Gary Peters and Debbie Stabenow have a proposal that would offer up to $400 million in matching funds to address the crisis and force the federal government to notify communities of lead testing. Republicans, however, haven't gotten behind the amendment and may balk at the extra spending, even while Democrats make the case that it should be considered emergency funding.
Republican John Thune said he was concerned that allowing the Flint amendment would open up the bill to other senators' causes, and already, California's Barbara Boxer and Dianne Feinstein are hoping to address a major environmental problem in their state. Their amendment would force the Energy Department to respond to the massive methane leak in the Aliso Canyon.
One thing that isn't likely is an attempt to force Republicans to state their stance on the reality of climate change; Sen. Brian Schatz told reporters last week that Democrats weren't looking to replay that stunt and would instead try to advance the climate debate.
On the Republican side, members have amendments meant to curtail the administration's energy regulations, with language to undo several major regulations and to lift some restrictions on hydraulic fracturing. But such amendments could kill the bill's Democratic support (it passed the Energy and Natural Resources Committee on an 18-4 vote) and lead to a veto threat, which the White House has so far avoided.
The Flint water crisis will be the focus of a House Oversight Committee hearing Wednesday, but the absence of a witness could overshadow the entire hearing. Michigan Democratic Rep. Brenda Lawrence has loudly complained that the committee isn't calling Gov. Rick Snyder to testify, saying that his omission will make the hearing less "thorough and meaningful."
Republicans on the House Science, Space, and Technology committee will call several high-profile critics of President Obama's climate agenda, including representatives from the U.S. Chamber of Commerce and the Heritage Foundation, for a Tuesday hearing on the United Nations climate deal.
The Senate Environment and Public Works Committee is set to consider a controversial Interior Department proposal that would place limits on coal producers operating near streams. The Wednesday hearing will look at how the stream-protection rule would interact with the Endangered Species Act and the Clean Water Act.
HEALTH
Add the House Oversight and Government Reform Committee to the ever-growing list of public antagonists with Martin Shkreli. The panel subpoenaed the former CEO of Turing Pharmaceuticals, known as "pharma bro," to testify at a hearing Thursday to review drug prices, but its request was first met with the social-media sass that's become expected of Shkreli.
On Jan. 20, Shkreli tweeted, "House busy whining to healthcare reporters about me appearing for their chit chat next week. Haven't decided yet. Should I? @RepCummings." Less than an hour later, he tweeted a picture of the subpoena, writing, "Found this letter. Looks important."
But his attendance doesn't mean that lawmakers—and other vocal critics of Shkreli's decision to drastically hike the price of a life-saving drug—would get the showdown they'd like. He plans to remain silent at the hearing if he is required to attend, Reuters reported.
TECH
The House Energy and Commerce Committee's Communications and Technology Subcommittee will hold a hearing Tuesday morning to examine the status of FirstNet, the planned nationwide communications network for first responders. The 9/11 Commission Report concluded that communications failures between firefighters and police officers hampered the response to the terror attacks, but the high-speed data network proposed to address those problems is still years away from completion. The FirstNet board released its long-awaited request for applications from telecom companies to build the network just a few weeks ago.
The House Judiciary Committee will hold a classified hearing Tuesday to discuss the Foreign Intelligence Surveillance Act. Leaks from Edward Snowden revealed that the National Security Agency has been using Section 702 of FISA, which will be up for reauthorization next year, for a sweeping Internet-surveillance program. Privacy groups have been lobbying Congress to restrict the NSA's powers under the law and sent a letter to the Judiciary Committee last week expressing dismay that Tuesday's hearing will be closed to the public.
WHITE HOUSE
Obama's long-awaited meeting with Ryan and McConnell will come Tuesday. On Wednesday, in a clear riposte to the anti-Muslim rhetoric in the Republican campaign, Obama will travel to Baltimore to visit the mosque at that city's Islamic Society. He will then make remarks to members of Baltimore's Muslim community. On Thursday, the president will speak at the National Prayer Breakfast. Later that day, he will meet Colombian President Juan Manuel Santos at what the White House calls a "defining moment" in an effort to strike a historic peace agreement with the Revolutionary Armed Forces of Colombia (FARC) insurgency.
---
Rachel Roubein, Brendan Sasso, and George E. Condon Jr. contributed to this article