Outlook: House to Flex Muscles Against Iran, North Korea
The chamber will push a pair of foreign policy bills as President Obama delivers his State of the Union address and Republicans prepare for their retreat.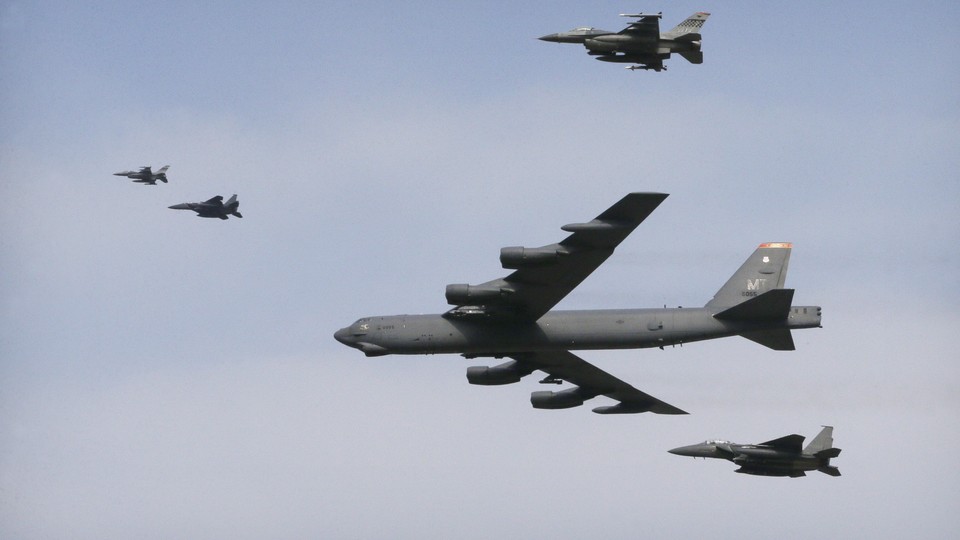 The House will flex its muscles this week toward North Korea and Iran this week with bills that will provide Republicans a political platform to attack President Obama's foreign policy.
The House action comes adjacent to Obama's final State of the Union address on Tuesday night. And the next day, Capitol Hill Republicans will head to Baltimore for their annual retreat.
The House is slated to pass a bill Monday that toughens sanctions against North Korea. The votes comes on the heels of North Korea's disputed claim that it successfully tested a hydrogen bomb, although the bill predates that event.
It enables the seizure of assets of people aiding North Korea's nuclear program, human-rights abuses, and other illicit activities, and goes after banks that are aiding the Pyongyang regime.
Democrats back the measure. House Democratic Leader Nancy Pelosi predicts it will have "strong bipartisan support."
But Republicans are already using the bill—and a separate measure on Iran—to attack Obama. House Majority Leader Kevin McCarthy, in a statement late last week announcing the votes, accused the Obama administration of a "weak and inadequate" response to North Korea and Iran.
A second bill that's far more controversial, slated for a vote Wednesday, would make it much tougher for the Obama administration to waive certain sanctions against Iran.
Democrats call it a clear effort to unravel to nuclear deal under which Iran is getting sanctions relief in return for freezing its nuclear-enrichment program.
McCarthy, however, touted the bill ahead of the vote. "This bill will stop the administration from offering sanctions relief to individuals or banks unless we are certain they do not support terror, the Iranian Revolutionary Guard, Iran's ballistic-missile program, or its conventional-weapons program," he said in a statement.
While the North Korea bill has support across the aisle, the GOP retreat comes as House GOP leadership is setting up 2016 as a year to provide a sharp political contrast with Democrats ahead of choosing a new president.
Speaker Paul Ryan said last week that 2016 would be a "year of ideas," adding: "My basic premise for taking this job is making sure that we offer the country a clear choice for the direction that we want to lead."
Here's what else is on tap this week:
ENERGY
The Obama administration's controversial rule redefining its Clean Water Act jurisdiction will reappear on the House floor, with a vote planned on a resolution of disapproval for the Waters of the United States rule. The measure, which already passed the Senate in a 53-44 vote, is sure to face a presidential veto. The House is also set to bring up a bill that would block the administration's attempts to regulate mountaintop removal mining.
The House Science Committee will vote Tuesday on a bipartisan bill that would support federal research and development into advanced nuclear-reactor technology in an attempt to help the private sector better develop nuclear power.
HEALTH
The much-promised Obamacare repeal bill has been sent to the president's desk, where Obama promptly vetoed it. But this week, members will turn to the next step: crafting a plan to replace the health care bill. At the GOP retreat in Baltimore, members' ideas will be solicited and a process and timeline for hammering out a replacement will be discussed, AshLee Strong, a spokeswoman for Ryan, told National Journal last week.
Additionally, the Senate Health, Education, Labor, and Pensions Committee will hold a hearing Tuesday to vote on the nomination of Dr. Robert Califf to head the Food and Drug Administration. In a November hearing, Califf faced some tough questions from liberals, such as on his relationship with the pharmaceutical industry from Sen. Elizabeth Warren and whether he supports importing prescription drugs from Canada and other major industrialized countries from Sen. Bernie Sanders.
TECHNOLOGY
The House Energy and Commerce Committee's Communications Subcommittee will hold a hearing Tuesday morning to consider four communications bills. Two of the bills would limit the Federal Communications Commission's net-neutrality rules: one by permanently exempting small businesses from disclosure requirements and the other by barring the agency from regulating Internet-service prices. The panel will also consider bills aimed at protecting amateur-radio operators and combatting spam text messages.
The Federal Trade Commission will hold a conference on Thursday to discuss privacy and data-security issues. The agency's chairwoman, Edith Ramirez, will give opening remarks, followed by discussions featuring other agency officials and academics.
WHITE HOUSE
President Obama will give his seventh and final State of the Union address on Tuesday at 9 p.m. EST. Aides say it will be "nontraditional," in that the lame-duck president won't urge Congress to send a slew of bills to his desk. Instead, he'll take a "big-picture approach to some of the challenges and opportunities that we face as a country," a senior White House Official said last month.
The president will hew to tradition in his post-State of the Union itinerary, however: On Wednesday, he'll head to Omaha, Nebraska, and then to Baton Rouge, Louisiana, to push his vision for the country in the years ahead. After participating in a town hall in Baton Rouge on Thursday, he'll return to Washington.
---
Jason Plautz, Brendan Sasso, Rebecca Nelson, and Rachel Roubein contributed to this article