O'Malley on the Bubble for Next Debate
The former Maryland governor's polling numbers barely meet the criteria for inclusion in the Jan. 17 Democratic face-off.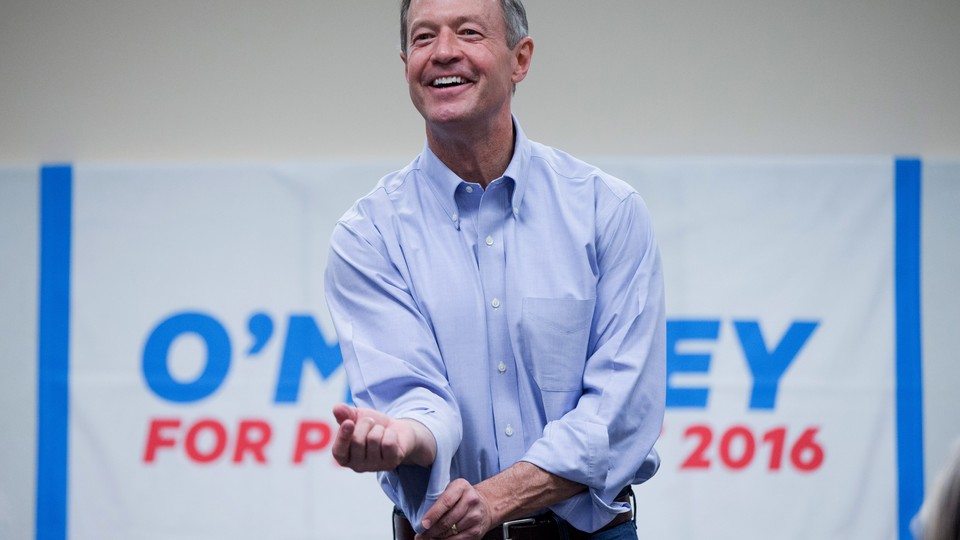 Could Martin O'Malley be the odd man out at next week's Democratic debate in South Carolina?
Newly released criteria from NBC News, which is hosting the debate, suggests he's right on the cusp of the required polling numbers to participate in the Jan. 17 gathering in Charleston, South Carolina—but the Democratic National Committee said it expects all three candidates to appear on stage.
NBC's requirements say that in order to appear in the debate, a candidate must average at least 5 percent in the five most recent polls either nationally or in Iowa, New Hampshire, or South Carolina.
Based on current polling, O'Malley would only barely make the cut. His numbers in recent polls are well below 5 percent nationally, as well as in New Hampshire and South Carolina.
In Iowa, where the former Maryland governor's campaign has focused the majority of its resources, he's right on the edge: The five most recent polls that meet NBC's standards have O'Malley at an average of exactly 5 percent. If his support dropped between now and debate day, that could jeopardize his position on stage depending on how willing NBC is to round up.
O'Malley's campaign did not immediately respond to a request for comment, but the DNC indicated that O'Malley, along with leading Democrats Hillary Clinton and Bernie Sanders, would be included in the debate. "We expect all three of our major candidates on stage next Sunday in South Carolina," DNC communications director Luis Miranda told National Journal.