Will O'Malley Backers Deliver Iowa to Bernie Sanders?
The former Maryland governor just qualified for the next debate, but that's not why he's suddenly relevant.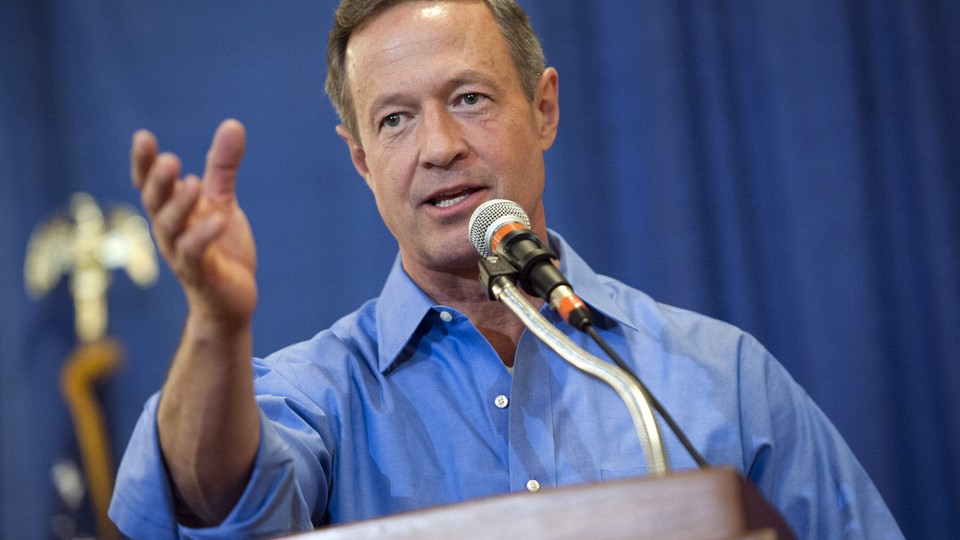 The race in Iowa is an effective tie between Hillary Clinton and Bernie Sanders—putting Martin O'Malley in a position to determine its outcome.
The former Maryland governor's support in Iowa is the only reason he's appearing in Sunday's Democratic debate. After days of uncertainty as to whether or not he'd qualify, NBC News announced Thursday that he'd make the stage. But while that's good for O'Malley, who's struggled to gain the public's attention since his campaign launched in late May, it doesn't mean he's a competitive candidate. What he could be, though, is influential. When O'Malley's backers show up to caucus on February 1, they could tip the race: not to O'Malley, but to their second choice.
It all comes down to the math. When voters arrive at each of the roughly 1,700 caucus meetings, they sort themselves into groups backing different candidates. Candidates need the support of 15 percent of those assembled. At any precinct where they fail to clear that hurdle, they'll be given the option to back one of O'Malley's rivals. (They can also simply go home, or try to convince Clinton and Sanders supporters to join their camp, instead.)
As it stands, O'Malley seems unlikely to find enough support in very many precincts. Though he qualified for the debate stage by NBC News's standards, in two more recent polls O'Malley only received 4 percent support from likely Democratic caucus-goers. His rivals, meanwhile, are neck-and-neck: A Quinnipiac University poll released Tuesday shows Sanders with 49 percent and Clinton at 44, a turnaround from a December poll that showed Clinton at 51 percent and Sanders at 40. And one from Bloomberg Politics and The Des Moines Register released Thursday shows Clinton as the first-choice candidate for 42 percent, with Sanders at 40.
That's not to say any of those numbers couldn't change over the next three weeks. Both surveys indicate that voters are feeling flexible. (Forty percent of those surveyed in Thursday's poll said they could be "persuaded" to join another camp; Tuesday's poll had that figure at 20 percent.) But still: It's a near-impossibility that O'Malley would ever make enough gains to be viable come caucus time.
That leaves O'Malley's supporters with a potentially game-changing choice, if the race remains this tight. If, after the first ballot, they break decisively toward either Sanders or Clinton, they could deliver the crucial first state.
It's not entirely clear who their second choice would actually be, though. Recent analysis from liberal Public Policy Polling suggests it'd be Sanders. "In Iowa we find his supporters would prefer Sanders over Clinton 43/20," their findings read. It's an intriguing finding, even if the sample size is small. But for a candidate who's complained of power imbalances in the Democratic primary, O'Malley could find himself in a very powerful position indeed.