Obama's Delicate Dance on Immigration
The DHS raids have thrown a wrench in the immigration message, and everyone's left with a different impression of what Obama is trying to do on immigration.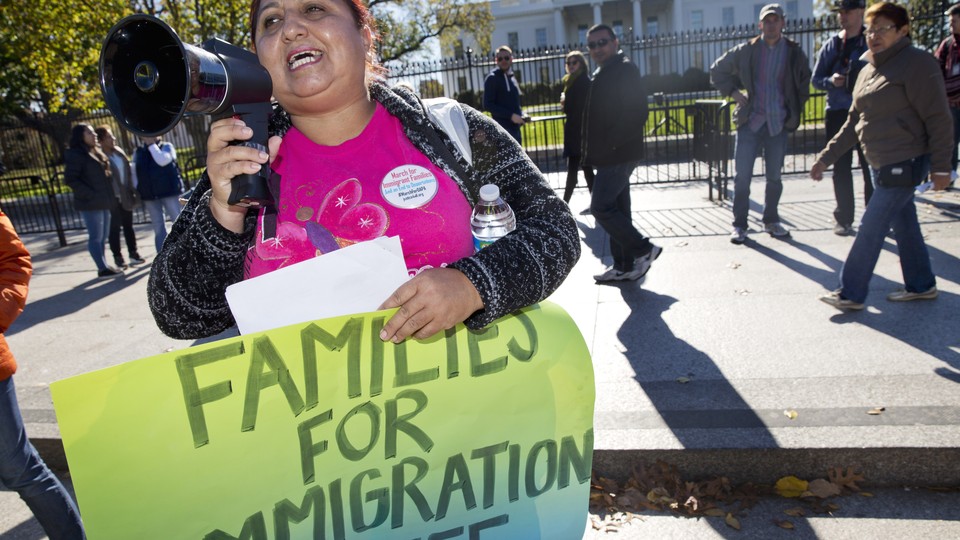 Federal agents took 121 undocumented immigrants into custody in a series of raids this weekend in Georgia, Texas, and North Carolina, sending a complicated message to both sides of the issue—and revealing President Obama's delicate dance on immigration.
The raids, according to Department of Homeland Security Secretary Jeh Johnson, targeted families who had come to the U.S. in the last year and a half. "Our borders are not open to illegal migration," Johnson said in a statement Monday. And he promised that they would continue "as appropriate."
The action is decisive, yet small-scale—of the 11 million undocumented immigrants in the country, .001 percent were taken into custody. And it was relatively quiet: Word first leaked in a Washington Post report in late December—just before Christmas—that they were being planned, and they largely went under the radar. The size and timing of the raids yielded little consensus on what message President Obama hopes to send with his actions.
Pro-immigration advocates take the timing to mean that Obama is dodging publicity, perhaps trying to minimize the inevitable backlash from fellow Democrats and other activists. (Democratic presidential frontrunner Hillary Clinton, for example, has "real concerns" about the raids, her campaign said.)
Anti-illegal immigration groups, on the other hand, contend the president wants to prove his mettle on enforcing immigration law, but aren't convinced there's any real substance to the actions. And some are simply confused as to what he's doing entirely.
Obama has long spoken to the virtues of immigration. In a strident defense of immigrants last month, he implicitly rebuked xenophobic rhetoric from Donald Trump, urging Americans not to repeat the country's history of prejudice.
"The president has remained pretty consistent that our spirit as a nation, that we've always been a nation of immigrants, and that to be American is to embrace all of the dreams and the passion that immigrants bring," says Ryan Eller, the executive director of pro-immigrant group Define American.
That's why the DHS raids—which Eller called "shocking, immoral and shortsighted"—have been so mystifying to him.
"If you wait to announce something publicly, or at least it doesn't get uncovered until Christmas eve, then it's probably something that you're not trying to talk a lot about in public," Eller says. "It's really baffling to me, to be honest."
Meanwhile, those who advocate for tougher immigration policy see the exact opposite: Rather than something the administration is trying to hide, it's entirely for show. Ira Mehlman, a spokesman for the Federation for American Immigration Reform, says the raids are aimed at trying "to convince the American public that they're doing something that they're not really doing."
Mehlman calls it a "kabuki dance" between pro- and anti- immigration activists. "I think it was announced in order to generate some kind of response from the advocates for the illegal aliens to provide the president with cover for doing the absolute minimum when it comes to enforcement."
Yet another theory, from Define American's Eller, is that the raids could give Obama a foundation to uphold his controversial ex­ec­ut­ive or­der providing temporary deportation relief to 5 mil­lion un­doc­u­mented im­mig­rants should it go before the Supreme Court. DHS' deportation priorities, as laid out in a November 2014 memo, include those who came to the U.S. after Jan. 1, 2014, and the raids are, in part, targeting those individuals. Eller speculates that the administration is "playing politics" to prove that it's enforcing those priorities—and therefore have a better shot at upholding the rest of his order.
The White House hasn't given much clarity on its message. Press Secretary Josh Earnest told reporters Monday that although the administration is "quite serious when it comes to enforcing our immigration laws," the deportation priorities are focused on "felons, not families," along with those who recently crossed the border. While the latter have been the target of the raids, so too have families.
That divergence has left even some allies of the president confused as to what message the president is trying to send. Angela Kelley, an immigration expert at the liberal Center for American Progress, says it's confounding. Contrary to the administration of President Bush, raids aren't a tactic Obama has much employed.
"It's a head scratcher," Kelley says. "All of the sudden, the notion that this administration is knocking on doors early in the morning and rousing women and kids out of beds is not the direction that we had seen it going for so many years."