Obama Steers Climate Battle "Upstream" With New Coal Policy
Restrictions on coal development highlight the growing fight over keeping fossil fuels in the ground.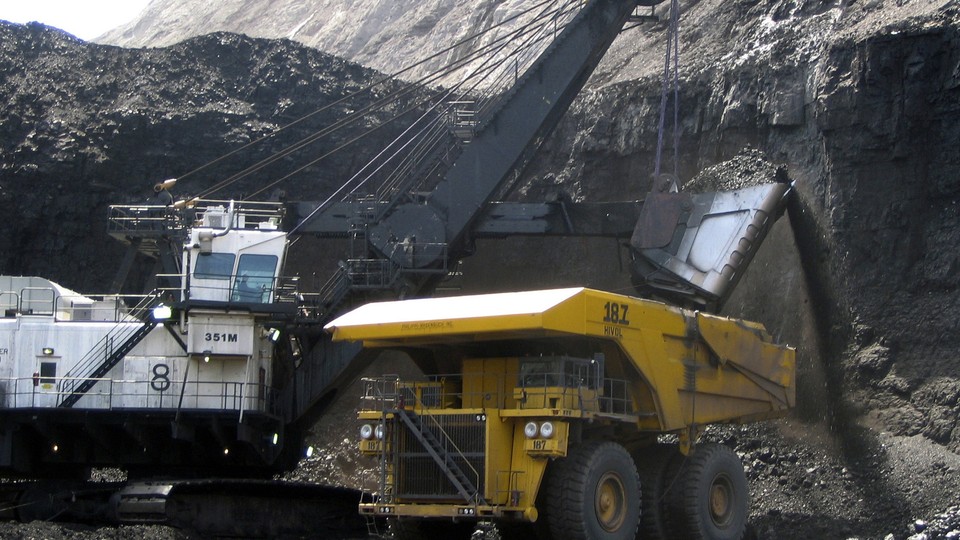 The Obama administration has halted new leases for coal mining on federal lands as it launches a multi-year review of the program, which critics have long called a taxpayer rip-off and a threat to the climate.
The order announced Friday by the Interior Department—which manages federal lands that account for 40 percent of U.S. coal production—is part of an evolution of White House policy on climate change.
With its decision to reject the Keystone pipeline and now the coal policy, the White House is increasingly looking directly at the source of fossil fuels, not just the way they're consumed (or avoided) in the economy.
Obama's biggest steps on climate policy have been much tougher mileage rules for cars and trucks, stronger energy-efficiency standards for appliances, loan guarantees and other programs to boost deployment of green power sources, and most recently, sweeping EPA mandates to stem carbon pollution from power plants.
Those policies are centered on using less energy in transportation and buildings, and hastening the transformation of the country's electricity system away from coal. In other words, tackling climate change by changing the demand for energy, and favoring cleaner sources than coal and oil.
But environmentalists in recent years have stepped up their organizing around another idea: preventing extraction of coal, oil, and gas directly; that is, targeting the "upstream" part of energy development too.
They're animated by analyses that have concluded that huge amounts of fossil fuels globally must remain untapped in order to prevent the most dangerous levels of global warming.
A widely circulated paper in the journal Nature last year estimates that worldwide, a third of all oil reserves, half of natural-gas reserves, and 80 percent of coal reserves should remain unburned in the coming decades in order to hold the rise in global temperatures to 2 degrees Celsius above pre-industrial levels.
In recent months, Obama has appeared increasingly willing to embrace the environmental movement's "keep it in the ground" mantra, at least when it comes to the most carbon-heavy fossil fuels.
Here's what Obama said last fall when rejecting the Keystone XL pipeline, the culmination of a battle over activists' efforts to stymie growth of carbon-intensive oil sands production in Canada.
"Ultimately, if we're going to prevent large parts of this Earth from becoming not only inhospitable but uninhabitable in our lifetimes, we're going to have to keep some fossil fuels in the ground rather than burn them and release more dangerous pollution into the sky," Obama said at the time.
The administration didn't throw that kind of rhetorical red meat to activists on Friday as it announced that it will stop selling or processing new coal leases during the multi-year review of the management of coal on federal lands.
Officials emphasized that the new policy will not hinder coal production anytime soon, noting that companies have already leased enough coal reserves to sustain current production levels from federal lands for 20 years.
"Even as our nation transitions to a clean-energy future, coal will continue to be an important domestic energy source in the years ahead," Interior Secretary Sally Jewell told reporters Friday.
But it's nonetheless an overt move by the Obama administration to consider the climatic effects of producing the huge deposits of fossil fuels that underlie federal lands. The in-depth review of the coal program, which Interior said will be the first in 30 years, will consider "how best to assess the climate impacts" of continued coal production on federal lands and use of that resource.
It's also exploring several other aspects of the program, such as the return to taxpayers under a system that allows producers to pay royalties as low as 2 percent in some cases; how to make it more competitive; and decisions around when and where to lease.
The extent to which Obama's willing to embrace "keep it in the ground" also animates a battle over offshore drilling that's unfolding as his presidency nears its end.
Interior is in the midst of crafting plans for offshore oil-and-gas lease sales held between 2017 and 2022. A draft of the plan would auction drilling rights in Arctic waters of Alaska's northern coast, and also includes lease sales for waters off the coasts of Mid-Atlantic and South Atlantic states.
But environmentalists are pressing the administration to jettison any leasing in the Arctic and abandon plans to open the Atlantic coast.
Already, Obama has canceled plans to sell oil-and-gas drilling leases in Arctic waters in 2016 and 2017 and rejected efforts by companies to extend the life of existing Arctic leases, but that came after Royal Dutch Shell had already thrown in the towel on efforts to search for oil there.
The latest move on coal is inflaming the ongoing political fight with Republicans over climate and energy policy.
"The president's policies have already ravaged coal country, destroying jobs and people's way of life, and this will increase that suffering," House Speaker Paul Ryan said in response to the new coal policy.
GOP Sen. John Barrasso of Wyoming said the move "effectively hands a pink slip to the thousands of people in Wyoming and across the West employed in coal production." The Powder River Basin region of Wyoming and Montana accounts for more than 85 percent of the coal production from federal lands, according to Interior.
Environmentalists cheered the move. Rhea Suh, a former senior Interior Department official who is now president of the Natural Resources Defense Council, praised the administration for "Aligning the use of America's public lands with our obligation to protect future generations from the dangers of climate change."
And some environmentalists saw explicit White House backing for their "keep it in the ground" rallying cry, even as they pressed for more aggressive measures.
"It's a positive step forward to see this 'keep it in the ground' principle being applied to more government decision making, but the clock is ticking. The administration needs to move quickly towards ending all new coal, oil and gas development on public lands and financing a just transition towards 100 percent renewable energy," said Jason Kowalski, policy director with the group 350.org.
The review and freeze on new coal-mining leases is projected to last three years, though Interior expects to release an interim report by the end of Obama's presidency. But whether the effort outlives Obama's tenure remains to be seen.
GOP White House candidates have attacked Obama's climate initiatives and vowed to unwind policies that they contend are hostile to fossil fuels.
On the Democratic side, Bernie Sanders is already all-in on "keep it in the ground"—he is promoting legislation that would bar any new oil, gas, and coal leases on federal lands and waters. On Friday he applauded Obama for taking "bold action to slow the worst effects of climate change."
Hillary Clinton also signaled support for Obama's new policy and review on Friday. John Podesta, her campaign chairman, called it "great work" on Twitter and added, "coal is a key energy source and we need to get it right."
"It's time to reform our federal coal program to protect the environment & ensure taxpayers get their fair share of revenues," he said.
Both Democratic candidates also called attention to their proposals to help workers in coal-mining communities with job training, education, and other programs as the nation becomes less reliant on coal.