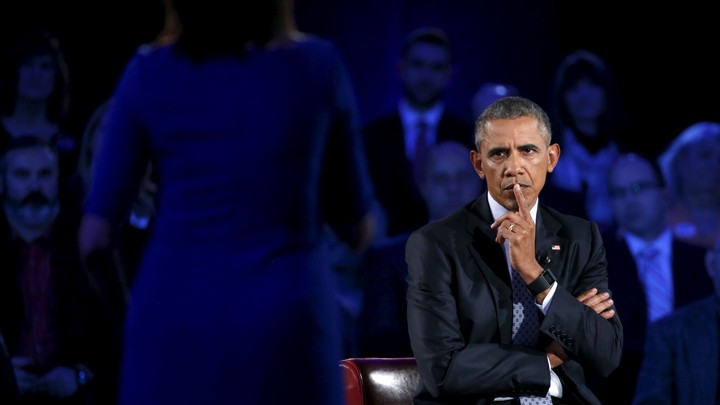 In an op-ed in The New York Times on Thursday, President Obama vowed to not "campaign for, vote for or support any candidate, even in my own party, who does not support common-sense gun reform." At a town hall event hosted by CNN that night, he explained why.
"Yeah, I meant what I said," Obama said when asked about the op-ed by moderator Anderson Cooper. "And the reason I said that is this: The majority of people in this country are a lot more sensible than what you see in Washington." Obama singled out the National Rifle Association as one of the "loudest, shrillest voices" against gun control and told the audience "[that] the way we break the deadlock on this issue is when the NRA doesn't have a stranglehold on Congress in this debate." To that end, the president said, "I want to throw my shoulders behind those who want to solve problems, and not those who want to get high scores from an interest group."
Thursday's town hall at George Mason University in Fairfax, Virginia, came two days after the president signed an executive order to strengthen background-check processes for firearm purchases. My colleague Russell Berman noted on Wednesday that despite Obama's touting and his critics' complaints, the modest measures fall far short of universal background checks and won't change much. And as my colleague Clare Foran noted earlier this week, Tuesday's orders weren't Obama's first attempt to curb gun violence through presidential power. His administration also unveiled 23 executive actions in the wake of Sandy Hook shooting in 2012.
But his actions and words this week cap a significant evolution on the issue for Obama, who largely avoided gun control as a policy priority during his first term. Now his electoral support of current and future mayors, governors, members of Congress, and presidents hinges upon it.
The turning point came in December 2012, one month after his reelection, when a gunman stormed Sandy Hook Elementary School and killed 20 young children and six educators, shocking the nation and changing the political atmosphere on gun rights. "We can't tolerate this anymore," Obama told an interfaith prayer service in Newtown, Connecticut, two days later. "These tragedies must end. And to end them, we must change." At Thursday's town hall, he referred to the Sandy Hook massacre as one of the worst days of his presidency.
With the political weight of a reelection race gone, Obama threw his support behind a bipartisan gun-control proposal drafted by Senators Joe Manchin, a Democrat from West Virginia, and Pat Toomey, a Republican from Pennsylvania in Sandy Hook's aftermath. Their amendment would have required background checks on all commercial gun sales. The proposal that drew overwhelming public support from Americans as well as intense opposition from the NRA and other gun-rights groups. The measure failed to overcome a Senate filibuster in the spring of 2013.
But Sandy Hook's shadow lingered over Obama. The president became steadily more outspoken about the need for new gun regulations with each new mass shooting. "This is a political choice that we make to allow this to happen every few months in America," he told reporters after a shooting at an Oregon community college in October. "We collectively are answerable to those families who lose their loved ones because of our inaction." After two shooters reportedly inspired by ISIS killed 14 people at an office party in San Bernardino last month, the president called for a ban on gun purchases by suspected terrorists on the TSA's No-Fly List. And at Tuesday's White House event, Obama again grew visibly emotional when he mentioned the shooting deaths of young children.
"People are dying," Obama said then. "And the constant excuses for inaction no longer do, no longer suffice. That is why we are here today. Not to debate the last mass shooting, but to do something to prevent the next one."
At Thursday's town hall, he echoed that sense of urgency. Stronger background checks, Obama told the audience, which included victims of gun-related violence and their families, "may be able to save a whole bunch of families from the grief that some of the people in this audience have gone through." Gun-rights advocates were also present in the audience and criticized the president's proposals at length.
"Part of the reason this ends up being such a difficult issue is people occupy different realities," he told the audience. The most intense moment came when Mark Kelly, a former astronaut whose wife, former Representative Gabrielle Giffords, survived a shooting in 2011, sarcastically asked the president about fears of gun confiscation. As Obama began to describe "this notion of a conspiracy," Cooper interrupted.
"Is it really fair to call that a conspiracy?" he asked. "I'm sorry, Cooper, yes, it's fair to call it a conspiracy," Obama replied testily. "What are you saying? Are you suggesting that the notion that we are creating a plot to take everybody's guns away so that we can impose martial law is a conspiracy? Yes, that is a conspiracy."
The NRA, which received the lion's share of Obama's ire, declined an invitation to take part in the town hall. A spokesman told CNN it saw "no reason to participate in a public relations spectacle orchestrated by the White House." The powerful lobbying organization chimed in nonetheless by livetweeting the event, arguing at one point that "a president who compliments Australia's gun control model does not respect the [Second Amendment]."
We want to hear what you think about this article. Submit a letter to the editor or write to letters@theatlantic.com.
Matt Ford
is a former associate editor at
The Atlantic
.