Obama's New Year's Resolution on Gun Violence
The president said Friday he will meet with the U.S. attorney general to consider executive action on firearms.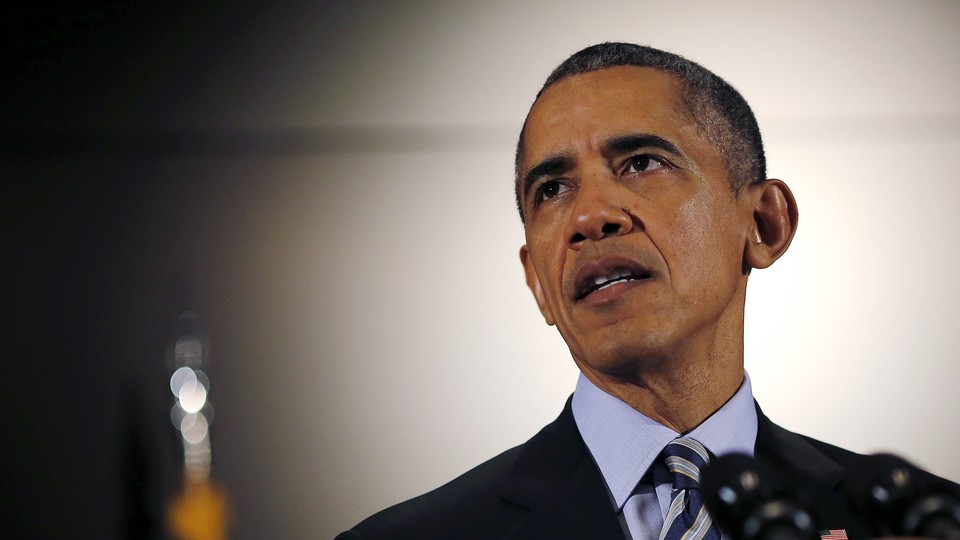 President Obama said Friday that he would meet with Attorney General Loretta Lynch on Monday "to discuss our options" on executive action for stricter gun regulation.
The president said in his weekly radio address that his New Year's resolution is "to move forward on our unfinished business as much as I can." He asked citizens to help him fight an "epidemic of gun violence" and a "gun lobby [that] is loud and well organized."
"I get too many letters from parents and teachers and kids to sit around and do nothing," Obama said. "I get letters from responsible gun owners who grieve with us every time these tragedies happen."
Obama said he asked his staff several months ago to look into executive action on guns. CNN reported Thursday that the president was expected to announce "in the coming days" action that would expand background checks on gun purchases, just before his final State of the Union address on January 12.
Reports of looming executive action began circulating last month after a husband and wife shot and killed 14 people at a holiday office party in San Bernardino, California. Current legislation, Obama said then, makes it "just too easy" for individuals to acquire firearms.
"It's going to be important for all of us, including our legislatures, to see what we can do to make sure that when individuals decide that they want to do somebody harm, we're making it a little harder for them to do it," he said at the time.
Here's what the president could do, as my colleague Adrienne LaFrance reported in December:
Federal regulations already require professional gun dealers to be licensed by the Bureau of Alcohol, Tobacco, Firearms, and Explosives. But the law doesn't clearly define what it means to be in the business of selling guns. Some sellers use the ambiguity of the current law to advertise the fact that they don't require background checks, which makes it easy for people to purchase weapons without any scrutiny. Officials have identified, and in some cases convicted, individuals selling tens of thousands of dollars worth of guns per year without a license because they don't consider themselves to be in the gun-selling business. …

Obama could use executive power to clarify the existing law—perhaps by adding a set number of guns sold, or the amount of money that a person can pull in from gun sales—and determine what constitutes being in the firearms business. Doing so would require more sellers to be licensed.
Requiring more sellers to be licensed would mean more oversight for gun dealers, which could mean more buyers would be subject to background checks.
About this time three years ago—in the wake of the shooting in Newtown, Connecticut, that killed 20 children and six women—Obama announced 23 executive initiatives related to gun violence. In the months after the massacre, lawmakers in Congress introduced proposals that would expand background checks for gun purchases and regulate assault weapons. Both were defeated in spring 2013.
According to an October Gallup poll, 86 percent of Americans support the idea of laws that would require universal background checks for gun buyers. But Americans are split on whether such regulation would reduce the number of mass shootings in the country.