Obama Acts to Curb Gun Violence
The administration unveils a set of unilateral moves aimed at closing loopholes in the current background-check system.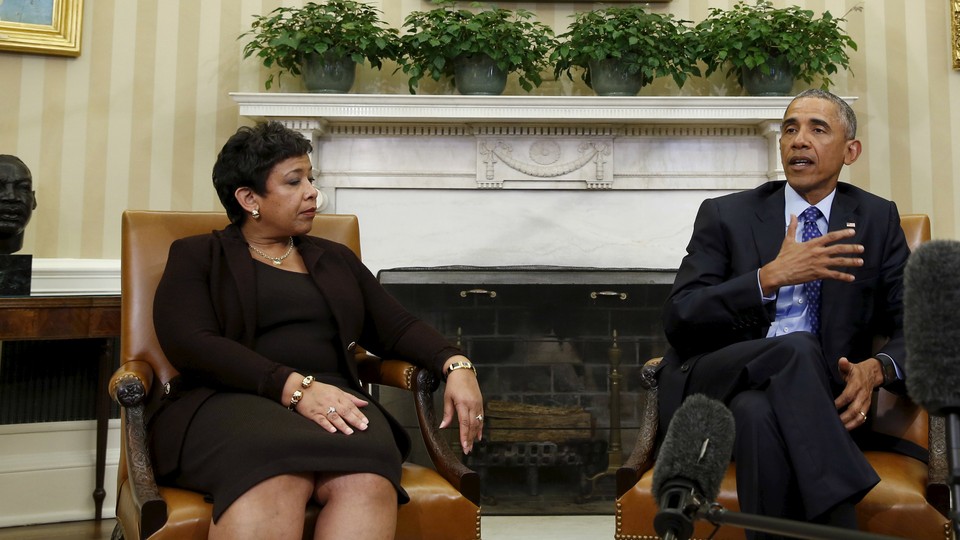 President Obama will outline a series of executive actions on Tuesday to curb gun violence as he acts on his own to accomplish what he could not persuade Congress to do.
The centerpiece of the executive action is a set of criteria designed to more clearly define who qualifies as a gun dealer, federal officials announced on Monday evening. Licensed firearms dealers must carry out background checks of potential buyers. But, as my colleague Adrienne LaFrance points out, the ambiguity of existing law allows some sellers "to advertise the fact that they don't require background checks, which makes it easy for people to purchase weapons without any scrutiny." The administration attempts to end that ambiguity by offering new guidance, a move that could significantly expand the use of background checks.
"What I asked my team to do is see what more we could do to strengthen our enforcement and prevent guns from falling into the wrong hands to make sure that criminals, people who are mentally unstable, those who could pose a danger to themselves or others are less likely to get them," Obama said on Monday afternoon.
Facing opposition from congressional Republicans, Obama has moved to enact major policy change through executive action. Such actions are vulnerable to being overturned by Congress or by future presidents, and thus less likely to stick than legislation. But the president has faced heightened pressure in recent months to impose stricter gun-control measures. A string of deadly mass shootings like the one that took place at an Oregon community college in October, and the terrorist attack in San Bernardino, California, in December, have reignited debate over national security and gun violence.
Democratic frontrunner Hillary Clinton, meanwhile, has promised executive action to curb gun violence if Congress fails to act, a stand that implicitly charged the administration with not doing everything in its power to address the issue.
Obama met with Attorney General Loretta Lynch and FBI Director James Comey on Monday to discuss the recommendations. The president is slated to deliver a speech from the East Room of the White House on Tuesday formally announcing the executive actions, which the administration has advertised as common-sense measures to keep guns out of the wrong hands.
Lynch, along with White House senior advisor Valerie Jarrett, announced on Monday that the administration intends to set aside millions of dollars to improve mental-health treatment, take steps to improve tracking of illegal gun sales online, and strengthen its national criminal background check system. As part of that effort, the FBI will expand its staff to expedite background checks. The administration is promising that background checks will be processed 24 hours a day, seven days a week. It intends to remove barriers that may make it difficult for states to submit mental-health information to the national background-check system. It will also sponsor research into gun-safety technology.
Several Republican White House hopefuls have already promised to undo the executive actions. On Saturday, Donald Trump said he would "unsign" the decrees. "There's an assault on the Second Amendment. You know Obama's going to do an executive order and really knock the hell out of it," Trump said at a rally. "I will unsign that so fast."
Efforts to implement some of the president's new executive actions could hit a snag in Congress. Congressional Republicans, for example, may be able to block a proposal to set aside $500 million to expand mental-health treatment. The actions are also likely to face court challenges, despite the administration's insistence that everything is within the president's authority.
Despite these obstacles, the president is forging ahead. Obama is expected to speak out against gun violence during his State of the Union address next week. The president will also speak on gun violence Thursday at a televised town-hall event at George Mason University.
Federal officials emphasized on Monday that where people sell guns should not determine whether someone counts as a gun dealer, nor will dealers  be identified by a threshold number of guns sold. Officials indicated that criteria such as whether a person routinely sells guns for profit should instead be taken into account. "The president will make clear no matter where you conduct your business, from a gun store, at a gun show, or over the Internet, if you're in the business of selling firearms, you must get a license and conduct background checks," Jarrett said.
It's not the first time the president has taken executive action related to firearms. After a shooting at Sandy Hook Elementary School in Newtown Connecticut in 2012, the administration unveiled 23 executive actions aimed at reducing gun violence.
A majority of Americans support background checks for guns sold online or at gun shows, according to a Quinnipiac University poll released in December. But fears over terrorism have elevated concerns over safety and national security and sparked pushback against gun control. The same poll found that 50 percent of Americans oppose stricter gun laws.