Obama's Emotional Speech on Gun Control
The president announced new measures that would tighten regulations on firearms purchases.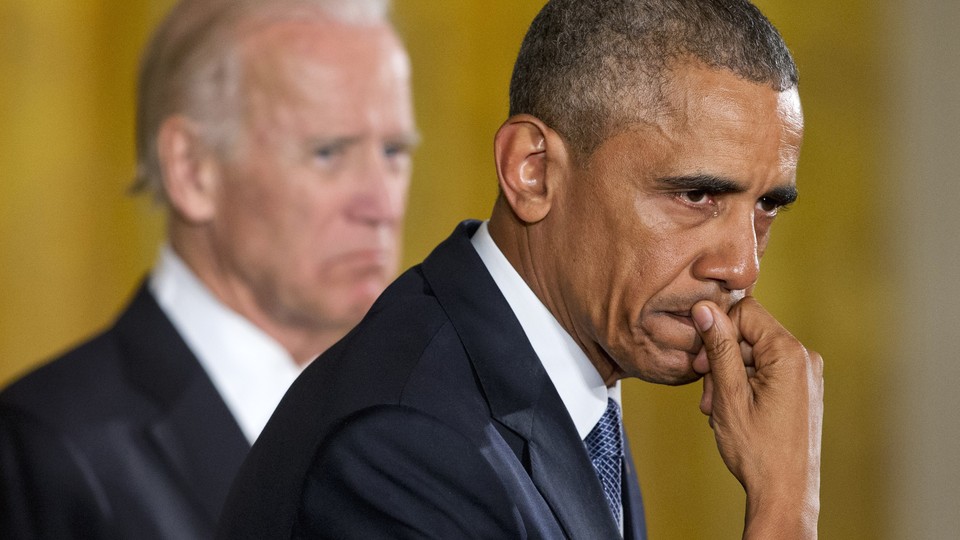 President Obama announced Tuesday new measures that he said would curb gun violence across the country.
"People are dying," the president said. "And the constant excuses for inaction no longer do, no longer suffice. That is why we are here today. Not to debate the last mass shooting, but to do something to prevent the next one."
Obama said his executive action would leverage existing law that requires all licensed gun sellers to carry out background checks of potential buyers. The president wants to make "anybody in the business of selling firearms" register as a licensed dealer. Such criteria would mean more oversight, particularly for people selling guns over the Internet, which could mean more buyers would be subject to background checks.
Obama said the FBI will hire more employees to work on the national background-check system; White House officials have promised that checks will be processed 24 hours a day, seven days a week. The administration will also improve the process by which states submit mental-health records to the system, and fund research of gun-safety technology, he said.
"If we have the technology to unlock your phone without the right fingerprint, why can't we do the same for our guns?" Obama said Tuesday. "If a child can't open up a bottle of aspirin, we should make sure that they can't pull the trigger on a gun."
The president spoke in the East Room of the White House, flanked by families of gun-violence victims, as well as gun-control activists. He spoke for more than half an hour, referencing places whose names have become synonymous with tragedy: Tucson, Aurora, Newtown, Charleston, San Bernardino.
Obama grew emotional as he recalled the deaths of 20 children at a Connecticut elementary school at the hands of a gunman in 2012.
"Our unalienable right to life and liberty and the pursuit of happiness were stripped from college kids in Blacksburg and Santa Barbara, and from high schoolers in Columbine, and from first-graders in Newtown. First-graders. And from every family who never imagined that their loved one would be taken from their lives by a bullet of a gun," Obama said, pausing to wipe away tears. "Every time I think about those kids, it gets me mad. And by the way, it happens on the streets of Chicago everyday."
Watch the full speech:
Obama compared the push for greater gun control in the United States to the movements that abolished slavery, gave women the right to vote, and granted equal rights to LGBT people. "It won't happen in this Congress, it won't happen in my presidency," he said. "But a lot of things don't happen overnight."
Obama criticized Republicans and gun-control opponents who say the president is disregarding the Second Amendment, injecting some sarcasm into a mostly solemn speech. "I taught constitutional law," he said. "I know a little bit about this."
The president was introduced by Mark Barden, whose son Daniel was killed in Newtown. In the wake of that shooting, Obama announced 23 executive initiatives related to gun violence. In the months after the massacre, a bipartisan proposal to expand background checks for gun purchases, far more than Obama's latest measure would, was introduced in Congress. The proposal was defeated in the Senate in spring 2013.
"The gun lobby may be holding Congress hostage right now, but they can't hold America hostage," Obama said Tuesday.
According to an October Gallup poll, 86 percent of Americans support the idea of laws that would require universal background checks for gun buyers. But Americans are split on whether such regulation would reduce the number of mass shootings in the nations.
Obama will hold a town hall-style meeting on gun violence on Thursday in Fairfax, Virginia. A week from now, he will deliver his final State of the Union address before a joint session of Congress, where he is expected to raise the issue again.