Obama Acts Alone on Gun Control
Despite congressional opposition, the president is expanding background checks and ramping up the enforcement of gun laws.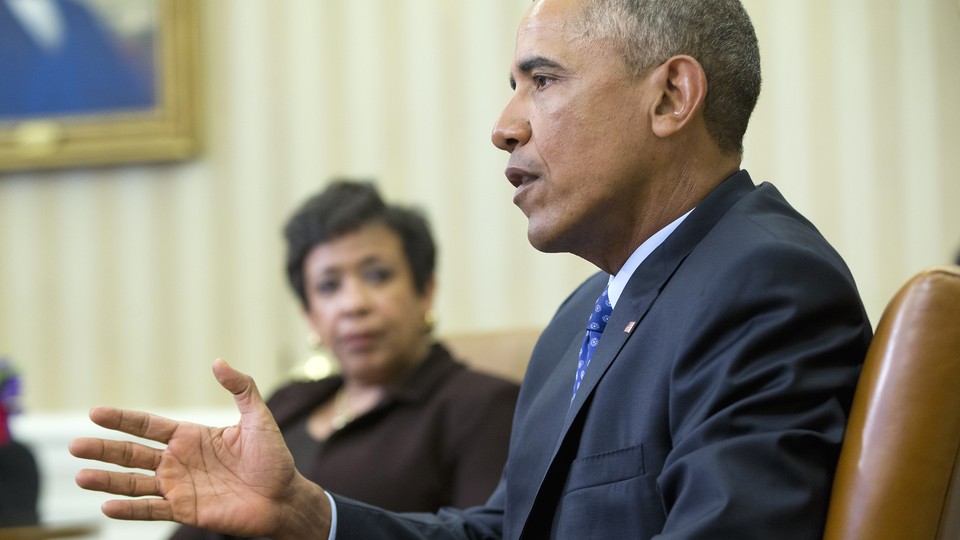 President Obama on Monday proposed actions to tighten gun-control restrictions, including ramping up background checks and the enforcement of existing gun laws.
"Although we have to be very clear that this is not going to solve every violent crime in this country—it's not going to prevent every mass shooting, it's not going to keep every gun out of the hands of a criminal—it will potentially save lives and spare families the pain and the extraordinary loss that they've suffered as a consequence of a firearm getting in the hands of the wrong people," the president told reporters after meeting with Attorney General Loretta Lynch Monday afternoon.
But his long-anticipated move failed to carry the weight many expected. Rather than completely closing the gun-show loophole—which allows millions of guns to be sold sans background checks online or at conventions—the administration will clarify the existing law that anyone in the business of selling guns must get a license and conduct background checks. Lynch described the measure as a "clarification" of what's already on the books.
"This guidance gathers existing case law and existing cases that have been litigated in the past so that in one place, there is clear definitive standards set forth for anyone who seeks to sell a firearm, so they can know, surely and certainly, if they are required to register or not," Lynch said. "It's our hope that this will improve compliance, but it's also our hope that this will provide clear notice to those individuals who seek to hide behind the exceptions of collectors or personal sellers, when they are in fact actually selling guns for profit."
The actions, which the president will officially announce in an address to the nation from the White House Tuesday morning, will ramp up the background-check system. The FBI will move to process background checks 24/7 and hire more than 200 new staff to help process the requests.
Obama will also direct agencies to crack down on gun purchases through a trust or corporation, ensure that dealers notify law enforcement if guns are lost or stolen in transit, and track illegal online gun sales.
It's the president's latest move to circumvent a skeptical Congress that has vowed to fight any unilateral action by the executive branch. Earlier Monday, before the measures were announced, House Speaker Paul Ryan broadly denounced what he called Obama's "dangerous level of executive overreach.
"The president is at minimum subverting the legislative branch, and potentially overturning its will," Ryan said in a statement. "No president should be able to reverse legislative failure by executive fiat, not even incrementally. The American people deserve a president who will respect their constitutional rights—all of them."
Even so, the White House has made clear that it expects Congress to aid the president's cause. Next year, Obama's budget will include funding for 200 new Bureau of Alcohol, Tobacco, Firearms, and Explosives agents and investigators to enhance enforcement of existing laws, the White House announced Monday. The administration has also proposed $500 million to increase access to mental-health care.
"We'll be making a strong case," said White House senior adviser Valerie Jarrett. "We'll be taking that case directly to the American people, and we'll be calling on Congress to support it."
Obama will bring that case to the American people in prime time Thursday in a town-hall meeting broadcast live on CNN.