Narrower Agenda Brings a Calmer Hill GOP
House Republicans have fewer internal splits than a year ago, but they differ with their Senate counterparts on the policy front.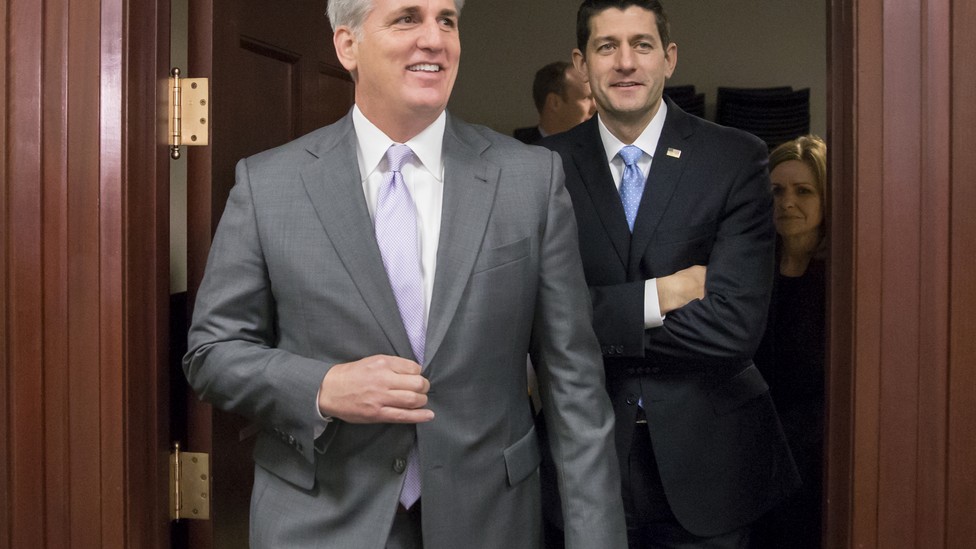 BALTIMORE—This time last year, Republicans were at each other's throats, arguing amongst themselves at a retreat in Hershey, Pennsylvania about abortion, whether to punish party dissidents, and even whether to depose the House speaker.
This year, at least so far, the main point of contention seems to be how vigorously to try to dismantle Obamacare.
The bitter taste of the Hershey retreat, and prior ones over the past half-decade, seems to have dissipated with new leadership in the House. If the feeling here is any indication, Republican leaders may be onto a formula that could do away with the party's penchant for forming a circular firing squad, and instead finally train their shots at the opposing party.
"This is a much better retreat from the last time we were together," said Kevin McCarthy, who was House majority leader during both occasions.
Yet while this year's ideas retreat has not been marred by infighting, differences are coming to the surface between House and Senate Republicans about how to manage legislation and the party image heading into a presidential year. That left several members and staffers attending the retreat with the impression that the only reason the party is not yet fighting is because there is nothing yet to fight about.
"There is a sense of renewal," remarked one House Republican, speaking on background to discuss the party's private discussions. But, the member added, "We haven't seen it in practice."
For all the good feelings—McCarthy joked that Republicans would hold hands together while watching Thursday night's presidential debate—the two chambers seemed to be on very different pages in terms of their plans for 2016. While House leaders and rank-and-file members discussed plans to release major policy proposals over the next year, Senate leadership strayed little from their focus on passing 12 appropriations spending bills, and doing not much else.
The contrast was on stark display during a session with McCarthy and Senate Majority Whip John Cornyn and reporters Thursday. In discussing their plans for next year, particularly in the wake of their successful effort to send a repeal of the Affordable Care Act to President Obama's desk this month, McCarthy emphasized the importance of the GOP providing its own alternative plan, referencing comments House Speaker Paul Ryan made last year vowing to at least outline a Republican health care proposal this year.
"We want to get one as soon as possible," McCarthy said, of a health care alternative. "I think it's very positive for us to do that, show the alternative, especially with what the American public has seen about Obamacare."
But just seconds later, Cornyn said that individual Republican members had already released various health care plans and that he didn't see the point in coalescing around a single alternative until a member of their party occupied the White House. "Until we are in a position of getting a president who will actually sign it—as we've seen on the repeal of Obamacare the president's going to veto it—it's really more of a hypothetical," Cornyn said. "But the principles are very clear, it's affordability, it's affordability, it's access. All the things that you've heard us talk about ever since the Obamacare debate."
In a follow-up interview, Cornyn doubled-down, saying that in releasing a half-dozen disparate health care plans, Republicans had already outlined their thoughts on the issue for voters. "I would suggest we've told them time and time and time again," Cornyn said. "We've not been in a circumstance where we've had a president who would sign anything. So we really haven't come to the point where we have to unify around a particular bill."
Asked whether voters deserved an agreed-upon outline of what the party would do to replace the Affordable Care Act before electing a Republican president to support it, Cornyn said:  "Well, if they elect a Republican president then they will see it."
In a sense, the comment flies in the face of the very message leaders are trying to give their members behind closed doors. During a Wednesday evening session, a group of GOP pollsters told members that voters trust Democrats on health-care issues by more than a dozen points, even though the health care law is unpopular. The implication was that Republicans need to propose an alternative to Obamacare in order to win the public's trust on the issue, rather than merely pledging to repeal the law.
Ryan's desire to craft a legislative fix to Obamacare is borne in part of his desire to craft a legislative agenda that any GOP candidate can embrace. But Republicans here have not been eager to embrace their candidate leading in the polls, Donald Trump.
Ryan and McConnell both said they will back any winning candidate. But the pollsters told members there is no reason to be too quick to embrace Trump: They noted that his support only accounts for one half of one quarter of the electorate (that is, half of the GOP base). That leaves more than 80 percent of GOP voters undecided, so the landscape can change drastically over the next few months.
Ryan also told his members in a private session leading off the retreat that he wants to craft an agenda that can help GOP candidates in Democratic-leaning districts as well as Republican strongholds, remarking that the party needs to be able to protect both Reps. Mike Coffman and Mike Conaway.
As the senators left the retreat Thursday evening, House members will turn to their own discussion points Friday morning, with a few sessions planned about how to craft congressional reforms and build legislative agenda from the bottom up.