Mike Pence Touts Religious Freedom in Indiana State of the State
The Republican governor walked a careful line on LGBT civil rights but emphasized the need for any new legislation to protect religious liberty above all.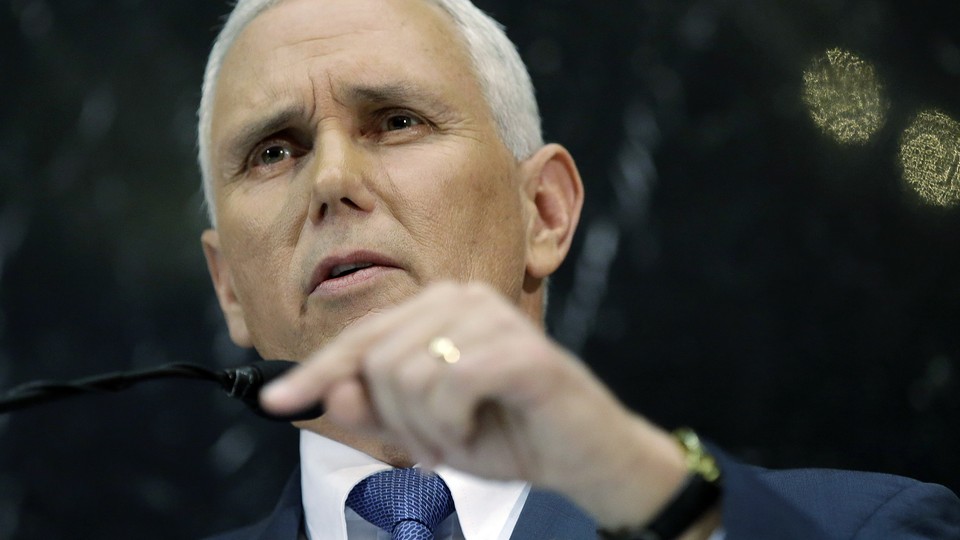 Indiana Gov. Mike Pence declined to explicitly say Tuesday during his State of the State address whether lawmakers should add civil-rights protections for gays to state law, ensuring that the debate will continue as he seeks a second term.
Instead, Pence warned legislators to protect religious freedom, saying, "I will not support any bill that diminishes the religious freedom of Hoosiers or that interferes with the constitutional rights of our citizens to live out their beliefs in worship, service, or work."
Pence's signature last year on the Religious Freedom Restoration Act—a bill opponents feared would allow religiously affiliated businesses to discriminate against gays and lesbians—and the uproar that followed immediately impacted any hopes he had of running for president.
It's now at the center of Pence's reelection, as he finds himself among Democrats' top targets.
Democrats, business coalitions, and LGBT advocacy groups are seeking the adoption of new LGBT protections at the state level, something Pence's likely Democratic opponent, former state House Speaker John Gregg, has been particularly vocal about.
The Republican-controlled legislature, and now Pence, have been lukewarm to the idea of adding additional protections after Pence added a measure to clarify that the law does not allow businesses to discriminate. On Tuesday, Gregg campaign manager Tim Henderson called Pence a "national embarrassment" because of his unwillingness to stake out a clear position.
In response to the continued backlash, Indiana Republicans introduced a draft bill late last year that attempted to balance LGBT rights with calls for protections for religious expression, but Pence declined to weigh in on the matter until Tuesday. Even then, he left it until the very end of his speech, and began his final comments with a reminder that "jobs, the economy, schools, roads and confronting drug abuse" are his top priorities for the upcoming legislative session.
Pence kept his message relatively vague, and implied that the Indiana constitution offers sufficient protection for LGBT residents as it is currently written, when it states that "all people are created equal." Pence acknowledged how fraught the topic was for advocates on both sides, and he said he believes that "no one should be harassed or mistreated because of who they are, who they love, or what they believe."
But he also emphasized the state constitution's protection of "the right to worship Almighty God ... according to the dictates of [our] own consciences" and the provision that "No law shall, in any case whatever, control the free exercise and enjoyment of religious opinions, nor interfere with the rights of conscience."
Pence concluded by saying he would consider any bill the legislature sends him, indicating he won't play an active role in shaping it.
Indiana Democratic Party spokesman Drew Anderson criticized Pence's speech, saying in a statement: "Hoosiers deserve a governor who won't put their ideology ahead of the state's overall well-being. That person is John Gregg."