Meet the Senate Candidate Who's Swearing Off Fundraising
Rep. David Jolly is introducing legislation that would bar members of Congress from directly soliciting donations.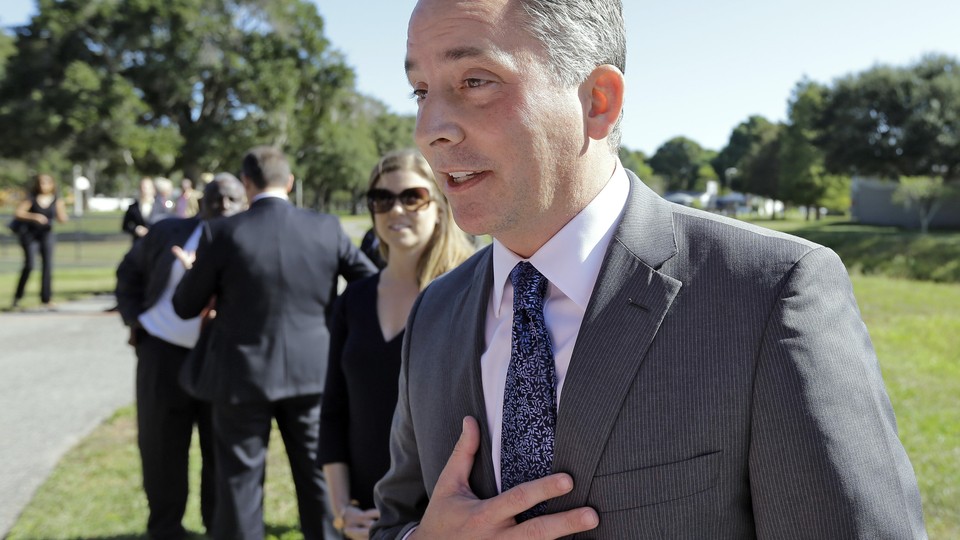 Six months into his Senate bid, David Jolly is throwing in the towel on fundraising.
As of Tuesday, the second-term congressman from Florida says he's leaving campaign resources up to his political team and will cease to personally solicit donations.
The highly unusual move—in the middle of a marquee Senate race—comes as Jolly prepares to roll out legislation that would bar all members of Congress from personally asking for campaign contributions. It's an effort to put Congress back to work on pressing issues such as national security.
"Our nation is under siege by ISIS, and yet … I'm expected to be fighting for your safety from a fundraising-call suite at party headquarters. I won't do it," Jolly wrote in a New York Times op-ed Tuesday.
In an interview last week with National Journal, Jolly said that with just one year left in the House, he'll devote all of his legislative and organizational resources to this new legislation, deemed the Stop Act.
By swearing off call suites, he'll get to spend his remaining days in the House actually legislating. Jolly's time in Congress was cut short by a redistricting decision last year that added more Democrats to his swing House district, pushing him to give up the seat he won in a 2013 special and seek the Senate seat left vacant by Marco Rubio's bid for president.
"The most important thing is, we can't have a part-time Congress in a full-time world," Jolly said in the interview. "I'm introducing this because it reflects my practice and conviction since the time I got to office; I put the job first and I put fundraising second."
By willingly hampering his personal fundraising, Jolly piles on to a growing list of candidates this cycle who have acknowledged that their personal fundraising will play a relatively minor role compared to that of super PACs and outside groups.
On the presidential side, former Florida Gov. Jeb Bush set campaign finance precedent this cycle by delaying his official entry to the race so that he could legally raise money for a super PAC that would do most of the heavy lifting in his campaign. When Bush's supporting group, Right to Rise, last reported its finances in June, it had raised just more than $100 million, compared to the Bush campaign's $8 million.
That strategy has already been replicated in Florida's Senate race by Lt. Gov. Carlos Lopez-Cantera.
"Arguably, we are already in an environment where the candidate has become less consequential to the overall campaign finance activity, because of the outside groups," Jolly said.
"Whether it's good or bad ... I think you will see a lot of organizations get into Florida. There are some already in there ... hitting me in support of another candidate," he added.
Jolly's main primary threat in the Senate race, Rep. Ron DeSantis, has the backing of national conservative groups such as the Club for Growth and Senate Conservatives Fund, which have pledged to spend heavily. Of the leading Senate candidates on both sides of the aisle—DeSantis, Lopez-Cantera, and Democratic Rep. Patrick Murphy—all have personal super PACs supporting their candidacies.
In the interview, Jolly said he'd recently learned of an outside group forming to support his own candidacy, and had been asked to attend a fundraiser for it in the coming month. Doing so, as well as attending fundraisers hosted by his campaign, are all fine under Jolly's new legislation.
"The prohibition is on direct solicitation, so I can still attend fundraisers. The issue is I can't be involved in directly soliciting contributions or attendees," he said. "We will have, as we do today, a professional fundraiser to make sure our campaign has the resources."
As a handful of presidential candidates have found this cycle, relying on super PACs to fund a campaign comes with some risks. Not only can they not coordinate with the campaign itself, but the money can't be used to cover certain organizational expenses, such as staff salaries. Outside groups also pay a higher rate for TV ads than candidates do, which is generally their most significant role.
Jolly is hopeful that despite limiting his fundraising capability, championing a politically popular legislative change will help draw in new donors to his campaign. Much like the STOCK Act, passed several years ago to stop insider trading in Congress, Jolly said recent testimonials from exiting members of Congress have raised the issue to the public's concern.
In particular, retiring Rep. Steve Israel raised eyebrows earlier this month with an op-ed confessing he'd spent 42,000 hours making fundraising calls while chairing the Democratic Congressional Campaign Committee.
"[This issue] speaks to the frustration of every American, whatever your priority is," Jolly said. "... You're frustrated because you see a Congress that's not getting things done. I guarantee you, we will be in a stronger position financially and electorally as a result of doing the right thing."