Medicare Will Now Pay Doctors to Talk to Their Patients About Death
The "death panels" controversy has ended with a (productive) whimper.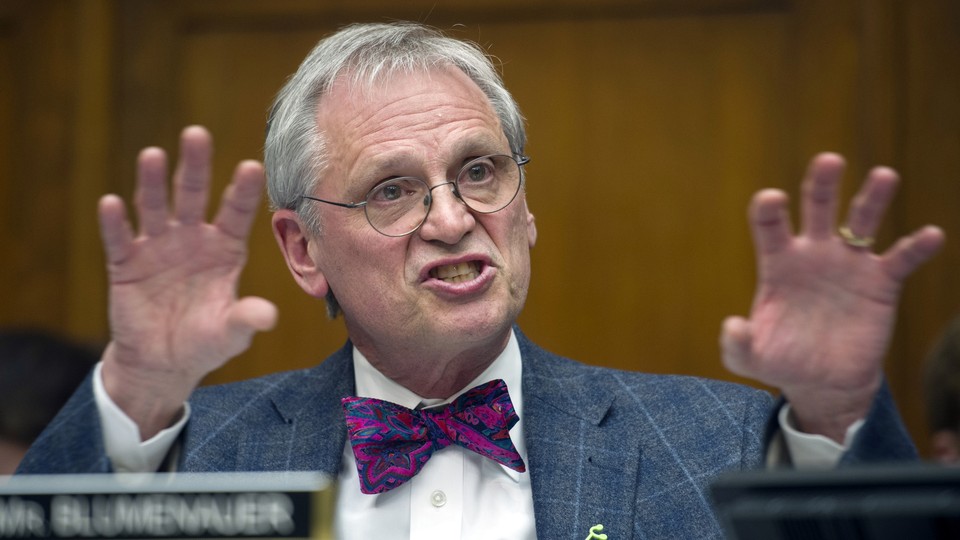 Health care experts have long wanted doctors to talk to their patients about death. Starting this year, the federal government will pay doctors to do it.
That's thanks to a Jan. 1 change to the Medicare program that will reimburse physicians for having advance care planning conversations with elderly patients, crafting a personal guidebook of sorts for a doctor to know just how aggressively (or minimally) a patient would like to be treated.
Advocates have been pushing the concept for years. Yet, looking forward, some hope this will lead to even more changes down the road, such as a method of standardization, interoperability of electronic health records, and training on these conversations for every medical student.
"It's a signal," said Diane Meier, director of the Center to Advance Palliative Care. "This decision by [the Centers for Medicare and Medicaid Services] to enable clinicians to be able to be paid for having these conversations is a kind of social signal that the government thinks that doctor-patient communication is important enough to pay for it."
The CMS rule finalized in 2015 had found a staunch advocate in Democratic Rep. Earl Blumenauer of Oregon, who says he often brought the issue up around high-ranking administration officials. He introduced a bill on the subject year after year—after former Alaska Gov. Sarah Palin said the proposal amounted to setting up "death panels" during the Affordable Care Act debate. Her comments started an uproar, and the language wasn't in the bill that made it to President Obama's desk.
But on New Year's Day, it became official: Medicare began covering advance care planning conversations. And Blumenauer said in a December interview that he plans to introduce legislation this year to help ensure that patients' directives are available to their own physicians (by making sure their electronic records follow them from hospital to hospital) and to train personnel in how to have these conversations—because, Blumenauer said, "there are still some professionals who may not be quite comfortable and experienced with it."
When Ira Byock, chief medical officer and founder of the Institute for Human Caring, gives lectures at medical schools or continuing education conferences, he says, he is frequently asked if he can cover advance care planning conversations in his talk. These conversations aren't happening often enough in medical schools, he says, but adds that the new Medicaid rule could change that: "I think this is actually going to help us influence medical training so that these are again seen as discrete services that require discrete, explicit training."
The rule could help serve as an extra push for changes in a medical school's curriculum if advance care planning conversations aren't already being taught, says John Prescott, the Association of American Medical Colleges chief academic officer. Virtually every medical school already goes over how to discuss end-of-life planning, such as palliative care and hospice. But the frequency of advance care planning—where the conversation may be with relatively healthy individuals who haven't thought much about the kind of care that's right for them—is harder to know. "While we know it's going on," Prescott said, "we don't have as complete data to know the exact extent of that."
Learning how to talk to patients is a critical component of medical school, one that students become well trained in over time by going on rotations and watching working physicians have frank conversations with their patients, Prescott says. Yet specific training would still have its benefits.
"The student would help gain a perspective that they may not have … as a relatively healthy mid-20s individual," Prescott says. "What this training does is help prepare the student to think differently, to be prepared when a patient asks for advice along the way, when a family member asks for advice along the way. The students would be in a better position to help give the answers."
The Accreditation Council for Graduate Medical Education requires residents to be well-equipped for any potentially difficult conversation with patients and families. The accrediting body doesn't mandate advance care planning because it doesn't get that specific with its communication requirement, says spokeswoman Emily Vasiliou.
With the new rule comes a need for another conversation, one on the standardization of advance care planning discussions, Meier says. "We need some way of defining: What does it mean to do a good job? What counts for a quality conversation?" she says.
Yet this change in the Medicare rule is a big step forward, Meier says, encouraging professionals to talk about medicine in a different way—not just how to treat but how to find out what patients want in their care, which is important for patients and their families.
"Anybody that's ever gone through the experience of a loved one dying without a directive would appreciate why you ought to recommend that everyone get one and make their own determination while they're of sound mind and body," Republican Sen. Johnny Isakson of Georgia, who had introduced legislation with Democratic Sen. Mark Warner of Virginia on care planning for those with a serious illness, said in a December interview. "Anything we can do to foster the kind of education they need to make those kind of decisions I think is a good thing."