McCrory Unveils Reelection Campaign Team
The list is highlighted by top GOP strategists Chris LaCivita, Fred Davis.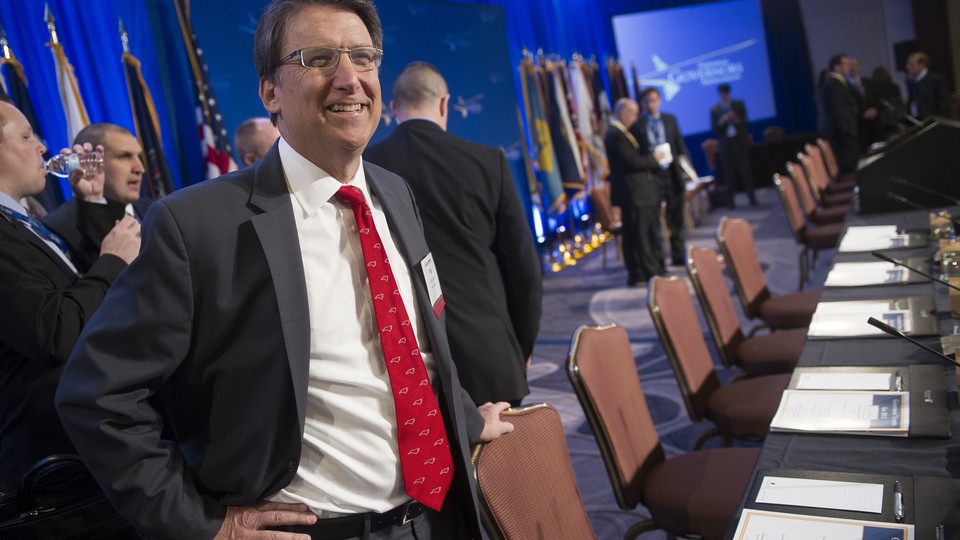 North Carolina Gov. Pat McCrory announced Thursday the campaign team that will guide his reelection effort this year as he seeks a second term, and the list includes some big names. Chief among them are Republican strategist Chris LaCivita, who has recently been involved with the presidential bid of Sen. Rand Paul, and top GOP ad-maker Fred Davis.
McCrory is the most vulnerable governor up for reelection in 2016, with a challenge from Democrat Roy Cooper, the state attorney general. Cooper has served as attorney general for 15 years and is expected to be a formidable opponent. Public polls consistently show the pair running neck-and-neck.
LaCivita is a top Republican consultant and former strategist at the National Republican Senatorial Committee. The Virginia-based former Marine has recently worked for Republican Ken Cuccinelli in the 2013 Virginia gubernatorial race and resuscitated Sen. Pat Roberts's Kansas reelection campaign in 2014. Davis, who returns as the media consultant, is also currently working for the super PAC supporting Ohio Gov. John Kasich's presidential bid.
Russell Peck will serve as campaign manager, returning to the same role he held on McCrory's 2012 campaign. Deputy campaign managers are Billy Constangy, who will focus on finance, and Ricky Diaz, who will head communications. Ryan Terrill is political director, and Targeted Victory will handle digital strategy.
McCrory's first term was defined early on by conservatives in the state legislature who pushed laws impacting abortion access, education funding, voting rights, and unemployment benefits—the kind of priorities that give Democrats hope they can defeat him in this swing state.
McCrory formally announced his intention to seek a second term in December. Cooper has been hinting at his intention to challenge McCrory since early in the governor's first term.
The race has already attracted national attention in its early stages. Hillary Clinton's campaign criticized McCrory this week over a new abortion law that went into effect this month requiring doctors to send records of late-term abortions to state health officials. North Carolina was also the first gubernatorial contest of the 2016 cycle to see a TV ad from Americans for Prosperity. The group ran a positive ad in October praising McCrory for cutting taxes.
CORRECTION: The original version of this story mistakenly included Chris LaCivita among those who also worked on McCrory's 2012 campaign.