Louisiana Embraces Obamacare
The state's new Democratic governor signed an executive order to expand Medicaid. Now, the work begins.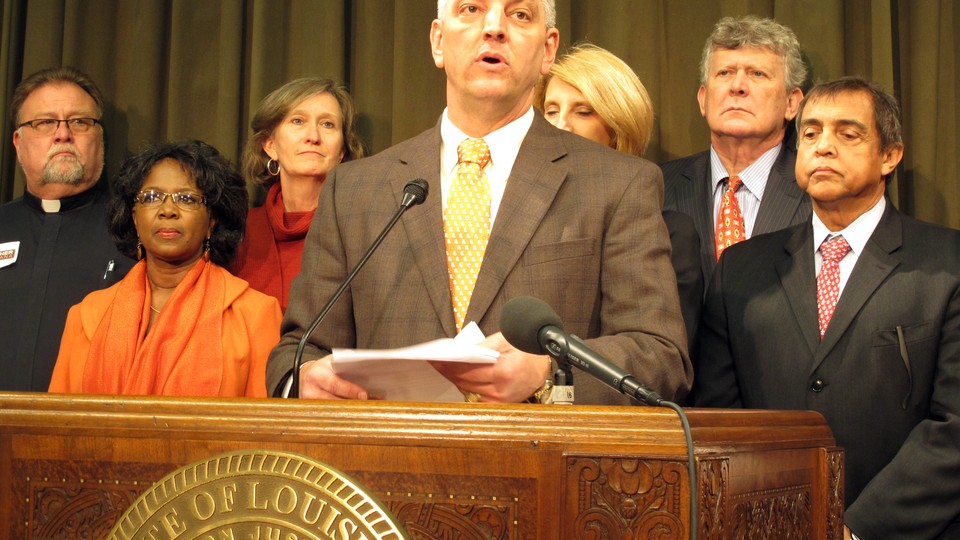 While he was running for governor of Louisiana, Democrat John Bel Edwards pledged to expand Medicaid on his first day in office under the Affordable Care Act. Earlier this month, he followed through, and told voters in his inaugural address that their tax dollars "should not be going to one of the 30 other states that have expanded Medicaid, when we are one of the states that expansion will help the most." Now, state officials are getting to work, ramping up plans to set up the infrastructure and outreach necessary to get citizens signed up. But with a bottomless deficit to contend with and cultural shifts in the health-care field still necessary, they've got their hands full.
Louisiana's new Department of Health and Hospitals secretary, Rebekah Gee, calls her home "an island in a sea of Southern states," whose only neighbor with Medicaid expansion is Arkansas. (There, like in Kentucky, the governor is seeking approval from the federal government to make changes to the state's program.) Before Edwards's executive order, roughly 1.4 million Louisianans were covered through Medicaid, and the state anticipates an additional 300,000 will be enrolled come July 1 under the expansion. There are two other "populations" that could register as well, the state's interim Medicaid director, Jen Steele, notes: Those who already have insurance but fall within the qualifying income and age range under Medicaid expansion—they could choose to switch—and the so-called woodwork population, who have long been qualified to receive funds but haven't yet signed up.
Gee said health-care challenges in Louisiana go beyond enrolling more people, whose coverage costs the federal government will pay this year. She described those problems with urgency in her voice: one northern city with a facility whose infant-mortality rate is "double many developing countries"; a statewide high HIV rate; high syphilis and STI rates; infants with neonatal abstinence syndrome, also known as neonatal withdrawal; and drug use. She paints a picture of Louisiana as a state rich with cultural tradition, but cripplingly poor, and she's putting out a "call to arms" for "nontraditional partners and stakeholders," like foundations, to help combat the state's health-care troubles.
Louisiana's needs, when taken together, help illuminate why Edwards's Republican opponent in the election, U.S. Senator David Vitter, wouldn't rule out supporting an expansion—with conditions—in their knock-down, drag-out contest. (And as one Medicaid supporter notes, it may've helped that polls of Louisianans showed a "simple majority" of those surveyed favored it, too—and that Louisiana's deficit is linked to the state's steep Medicaid payments.) That's not to say that Vitter was following in the footsteps of the Republican he hoped to succeed, two-term executive Bobby Jindal, who opposed it to the bitter end. He frequently cited the costs to the state and his opposition to government-run health care to explain his resistance. Even after Edwards's election, Jindal wouldn't concede that expansion was in the works. He pushed back on calls from legislators to help prepare the health department for expansion ahead of Edwards' inauguration.
It's not yet known how the Republican-dominated legislature will respond to Edwards' executive order. The Baton Rouge Advocate reported last month that Republican lawmakers are showing "more willingness" to cooperate with expansion, though they've historically opposed it. They're not the only detractors expansion has seen. Dawn Starns, Louisiana state director for the National Federation of Independent Business, said business owners question why the state is choosing to expand Medicaid at a time when it's facing huge budget deficits. "For us, this is a conversation about state budgeting and money, this is not a conversation about access to health care or … whether people deserve it or not," Starns said.
Gee emphasized that Louisiana needs to come up with creative ways to find funds for health care, and not only when it comes to Medicaid. According to a new administration assessment, the state is working with a $750 million deficit through the end of the current fiscal year, and a $1.9 billion deficit for the next, which begins July 1.
Louisiana health department officials have gone as far as to ask hospitals, clinics and other entities for donations to cover the state's portion of this year's administrative costs for expansion, roughly $2.8 million, including salaries for 248 new enrollment workers. (The federal government, too, will kick in funds for these costs in 2016 and beyond.) The state is also asking hospitals and other facilities to donate office space for those state employees. Starns said health-care providers' donations to cover costs are "great" in the short term, but that business owners are concerned about state spending over the long haul.
Gee said patients who show up to emergency rooms, for example, can more easily be signed up if state workers are embedded in hospitals, allowing patients to receive "services where they already are." The Louisiana Hospital Association is on board with the state's plans, as are other health-care entities the state has reached out to, Gee said. "We all believe in Medicaid expansion," she said. "And that this is a time of dire need. We would not be asking for donations if we didn't need them. [We're] doing this so we don't have to cut important services to our families."
In terms of spending on health-care coverage under expansion, the federal government is footing the bill through the end of this year. After that, Louisiana will need to start contributing, to the tune of 10 percent of the costs by 2020. (After 2020, the state and federal cost-sharing stays at the same level.) Starting in 2017, the state's expansion costs will be covered by the hospitals and by health-insurance tax premiums, said Amelia Burns, press secretary for the Louisiana Department of Health and Hospitals, in an email.
A significant challenge in Louisiana is getting Medicaid patients access to the right providers. In broad strokes, it's tougher for those on Medicaid to find health-care providers, depending on where they live in the state, and it takes them longer to do so. Plus, rich and poor have traditionally been separated into different facilities with differing qualities of care, Gee said. Burns said the agency is communicating with providers "to be sure everyone is working at the top of their abilities," and that expansion "will start the ball rolling" toward a more equitable health-care system. "The department's hope is that expansion will break down the silos of care where you go one place for care if you are fortunate enough to afford health insurance and another place if you aren't," Burns said.
The barriers to care are especially high when it comes to patients seeking specialists, said Jim Tran, a neurosurgeon-lawyer who teaches a course on the Affordable Care Act at Tulane University School of Medicine in New Orleans. (Tran also works pro-bono as a certified application counselor under the ACA.)
Medicaid patients may have access to primary care, but when those providers try to refer patients to specialists like cardiologists or orthopedic surgeons, Tran said, it's a different story. Specialists in his home parish don't often take Medicaid, forcing patients to go to a different parish, the state capital of Baton Rouge, or New Orleans to get care. Even if individuals obtain coverage, "they don't have providers to care for them," Tran said.
Jonathan Chapman, the interim executive director of the Louisiana Primary Care Association, said his group's health centers—which provide primary, preventative, dental, and behavioral health care to roughly 300,000 Louisianans, regardless of patients' insurance status—began preparing for expansion a couple of years ago, as momentum for the program grew.
Though the LPCA champions the state's plan—its centers are offering space and personnel while expansion is being rolled out—Chapman, too, acknowledges Louisiana's "specialty network" is not "quite ready" for the explosion in patients. Expanding Medicaid "gives people the right to health care under an insurance program but it doesn't … create more providers." If state officials want expansion to live up to the potential they see in it—the potential to transform health-care outcomes for low-income residents, the potential to give them, in Edwards's words "a fighting chance for a better life"—that will need to be remedied.