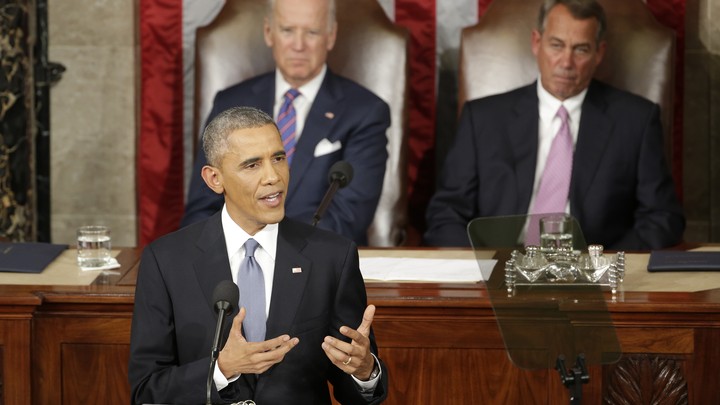 When President Obama delivers his State of the Union address on Tuesday night, he'll be doing away with the litany of policy proposals and will instead be laying out his vision for the country. But viewers only have to look up to the First Lady's box to get a glimpse of what that might entail.
A Syrian refugee, a Mexican immigrant, and the plaintiff of the landmark same-sex marriage case are among the guests invited to the president's address. The lineup of 23 individuals indicate the broader themes the president is likely to touch on during his address, such as gun control, criminal-justice reform, and immigration, and serve to punctuate his last year and his initiatives. It's a tradition that dates back to the Reagan administration, and that continues to hold a similar purpose. The White House noted on Sunday that the list represents "who we are as Americans: inclusive and compassionate, innovative and courageous."
Among those invited are Lisa Jaster, Oscar Vazquez, and Jim Obergefell. Jaster is the first female Army Reserve officer to graduate from Ranger school. Last year, the Army Ranger School had its first three female graduate since the ban on women serving combat roles was lifted.
Vazquez came to the U.S. illegally as a child and later earned his bachelor's degree in engineering. After graduating, he decided to go back to Mexico and then re-enter the U.S. legally. Upon his return, he enlisted in the army and served one tour in Afghanistan. He has since earned his citizenship. Obergefell became a household name as the plaintiff in the same-sex marriage case that brought about its legalization.
Other guests are there less to celebrate what the administration regards as triumphs, and more to highlight Obama's ambitions for his final year in office. The president will continue his push for gun control. After a series of mass shootings—most recently, in San Bernardino—Obama announced a set of executive actions in an effort to curb gun violence. He hosted a town hall event on the topic, fielding questions from supporters and opponents. A few of the White House guest's at the State of the Union represent his initiative: Connecticut Governor Dannel Malloy, a supporter of gun control, Ryan Reyes, whose partner was one of the victims in the San Bernardino shooting, and a vacant seat for the victims of gun violence.
Obama will also be sending a message to Congress by inviting Refaai Hamo, a Syrian refugee who came to public notice after being profiled on the blog Humans of New York. Hamo, a scientist and Syrian refugee, left his country after a missile tore through his home, and was eventually granted asylum in the U.S. He currently lives in Michigan.
Last week, congressional Republicans renewed calls to suspend the refugee program from Syria and Iraq after the arrest of two refugees on terrorism-related charges. The Obama administration has said it will take in 10,000 refugees this year. Officials have argued that halting the program would send the wrong message.
As my colleague Russell Berman noted, Tuesday night's State of the Union address will highlight the administration's accomplishments, in an effort to bolster the Democrats running on his record in 2016. But it's also the start of a "long goodbye." And for that, Edith Childs of Greenwood, South Carolina, who famously chanted "Fired up! Ready to go!" when then-Senator Barack Obama was campaigning in 2007, will find herself in the First Lady's box for the president's seventh and final State of the Union.
We want to hear what you think about this article. Submit a letter to the editor or write to letters@theatlantic.com.