LAPD Chief: Charge the Cop Who Shot an Unarmed Man in the Back
The highly suspicious killing of Brendon Glenn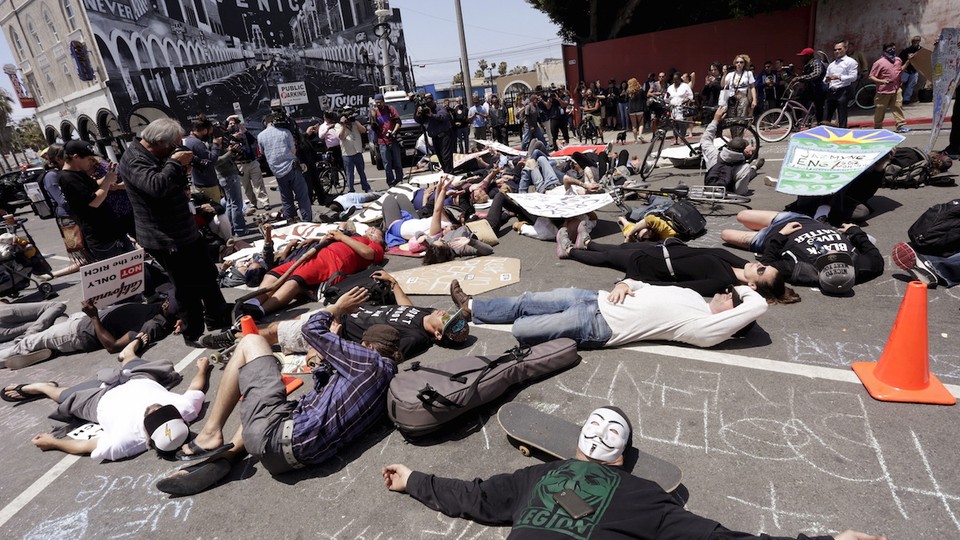 Last year, police officers in the United States killed no fewer than 1,134 people. 210 of those killings were in California. 41 killings were in Los Angles County. 19 were in the city of Los Angeles. And at least two were in Venice Beach, the neighborhood where I live.
Will one of those Venice killings result in a murder trial?
While a Los Angeles Police Department officer hasn't been charged in an on-duty killing in more than 15 years, it suddenly seems likely that it may happen. On Monday, L.A. police chief Charlie Beck, who typically defends his force, publicly announced that Officer Clifford Proctor, 50, should face charges in the May killing of a 29-year-old homeless man.
Officer Proctor is black. So was the homeless man.
Last spring, on the night in question, police were called to a street near the Venice boardwalk, a high-crime area where restaurant and bar patrons, tourists, and street vendors coexist with a large, relatively aggressive homeless population. The request to deal with a homeless man harassing people would've been routine.
The homeless man was reportedly upset, and had been drinking since early that day. Officer Proctor and his partner talked to him, then returned to their car. Soon after, they saw that same man struggling with a bouncer outside a bar and approached to detain or arrest him, according to the Los Angeles Police Department. A struggle ensued and they appeared to have him restrained on the ground.
In Proctor's telling, he saw the homeless man reach for his partner's gun and shot the man dead. But the partner told investigators that he perceived no such threat.
Investigators soon found surveillance video of Brendon Glenn being killed.
Here's how Beck described to newspaper reporters what the LAPD discovered in their investigation, according to the Los Angeles Times: "Brendon Glenn was on his stomach, attempting to push himself off the ground, when Officer Clifford Proctor stepped back and fired twice, hitting the 29-year-old in the back."
Absent video, criminal charges almost certainly wouldn't have been filed. Today, multiple people who've seen the video say nothing happened that warranted a killing.
But Larry Hanna, the attorney who represents Proctor, said there are moments in the video when the hands of the man who was shot are not visible, and declared, "When an officer is making a split-second decision and he sees somebody going for his partner's gun ... the officer's perception is very crucial here."
District Attorney Jackie Lacey, who has been withholding the video of the incident from the public, will ultimately decide whether to file criminal charges in the case.
Here's the full statement released by Los Angeles Mayor Eric Garcetti:
As the District Attorney reviews this case, my hope is that Chief Beck's recommendation is considered with the utmost gravity and that anyone found to have broken the law is held accountable. No one is above the law, and whenever use-of-force crosses the line, it is our obligation to make sure that that principle is upheld. Our officers perform heroic work every day, work that often goes unheralded. But accountability is fundamental to the trust that needs to exist between our officers and the people they serve—and maintaining that trust is essential to keeping our neighborhoods safe.
In contrast, the local police union criticized Beck for his statement, arguing that he should have refrained from saying anything at all to the district attorney's office. Having collected dues from all police officers, the union is obligated to defend a cop who shot an unarmed homeless man in the back as surely as any other police officer. The light punishments that misbehaving officers typically receive due to the power of police unions arguably played a part in this killing–– one could argue that Proctor shouldn't have been on the force at all given his past.
Here's a newspaper account of a D.A. memo from 2012:
Proctor and another officer from the LAPD's Pacific Division responded to a report that someone had committed vandalism and violated a restraining order ... At the home, officers spoke with Richard Smith, who said he had seen another man, Salvatori Avini, pull the wooden gate to Smith's driveway with his hands, breaking it off its hinges. Proctor verified that Smith had a restraining order against Avini, and arrested Avini on suspicion of violating that order and vandalism ...

When a detective reviewed Proctor's report ... she noticed the arrest cover sheet included the names of two witnesses but no statements from them. She followed up with Proctor, who told her the witnesses were tow truck drivers who said they had damaged the gate to Smith's property.

When the detective asked why Proctor didn't include those statements, the officer replied it was because they conflicted with what the victim had reported... Proctor initially claimed a sergeant had directed him to leave the statements out of the report but later retracted that statement  ... The detective pointed out that he still could have arrested Avini for allegedly violating a restraining order. The D.A. memo said Proctor responded: "That's a misdemeanor. I wanted him for a felony."
Of course, what looks to me like a clear sign that someone can't be trusted with the extraordinary power vested in police officers was, for many actual police officers, a transgression that seemed far too minor to warrant dismissal from the force.
Now a man is dead by Proctor's hand. And that man is survived by a grandmother, mother, sister, and baby daughter. A nonprofit worker here in Venice wrote this about him back in May:
It is without doubt that Brendon had his flaws (as many of us do) but without further doubt, I can assure you he was a remarkably loving father and son.  He spoke with his mom every day on the phone (most days several times) and Skyped with his three year old son every Sunday. Brendon had phoned his mom moments prior to the shooting. I cannot tell you how absolutely devastated the family is.

His sister will graduate from school as a licensed Social Worker today.   Her words, "I don't know how I will do this without him.  Brendon has always been at all of my graduations."  Brendon's mom and grandma were planning on coming to Venice with his son to surprise him and bringing him home for this.  She is committed to walking with her class ...
Brendon Glenn, rest in peace.