Kildee Stays Ahead of the Headlines
The Michigan lawmaker—and possible governor candidate—was talking about the Flint water crisis and U.S. hostages in Iran before much of the world noticed.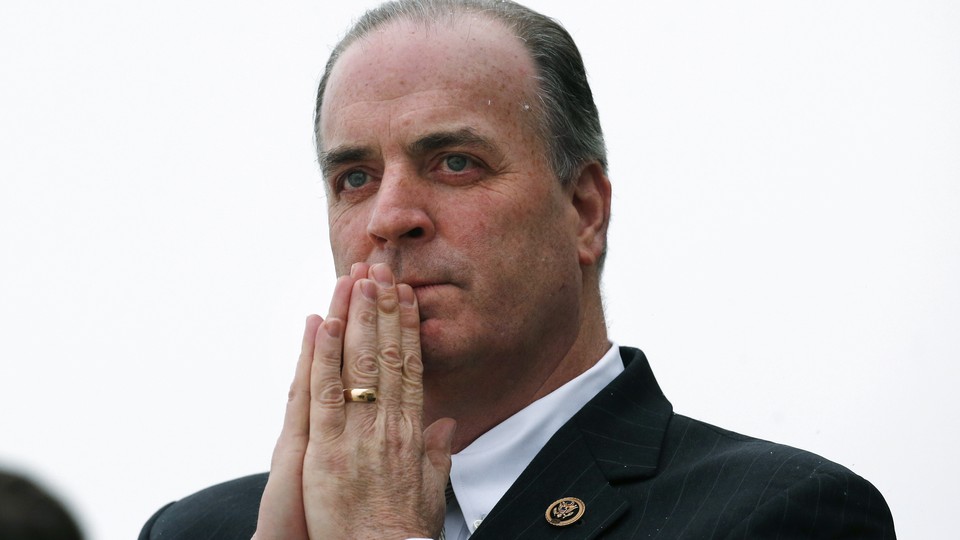 Amid a flurry of cable-news hits and press releases last week, Rep. Dan Kildee made some time to talk—and even if he weren't among the House's most media-savvy members, Kildee would have been in some demand.
President Obama had just declared a federal emergency in Flint, Kildee's hometown, where lead-poisoned water has become a huge public health crisis. Meanwhile, the second-term Democrat traveled to Germany to greet Amir Hekmati, a constituent of Kildee's who was among the prisoners released by Iran. And while both stories dominated national news last week, Kildee has been talking about both issues long before many people were paying attention.
"Being a voice for people is something that I've always taken seriously," Kildee said. "Sometimes nobody's listening but a few people. Sometimes it seems like the whole world ends up listening. … We are supposed to represent our people. That's not just casting votes, that's being their voice."
As a sophomore member of the minority caucus, Kildee has embraced his role as an advocate—acknowledging that speaking up is sometimes the only alternative when a deadlocked Congress can't pass legislation. That activism has paid off, to the point where House colleagues see a bright future for him in the chamber, and insiders back home view him as a top-tier candidate for Michigan governor.
In the House, he's quickly made a name for himself, heading the Democratic Congressional Campaign Committee's "Frontline" efforts to protect vulnerable incumbents. He also serves as a regional whip and helps coordinate caucus members' speeches on the House floor.
"He sees his own role as an advocate, and in addition to it, what you see is his stick-to-it-iveness," said Minority Whip Steny Hoyer. "He doesn't just get in and get out. … Once he takes on a project and believes that project is important, he stays on it until it's solved."
Rep. Jared Huffman of California, whose former constituent Jason Rezaian was also among those released by Iran, said Kildee's longtime tenacity in advocating for Hekmati provided a template for him when Rezaian was imprisoned. "What impresses me most about Dan is that he arrived here on Day One focused like a laser beam on getting Amir Hekmati out of prison in Iran," he said. "I would call it an obsession, but that has a negative connotation. … Every caucus gathering with the president, every time we had a chance to talk with Secretary [of State John] Kerry or anyone in the administration, Dan was beating the drum for Amir."
Kildee said his work for Hekmati proved rewarding. "[Meeting Hekmati] was one of the best moments I've had in public office," he said. "We can't always get the legislation through that we like, but we have the ability to help people. We have a platform that we can use to help people. … To be able to see him reunited with his family, it's all worth it."
Back home, Kildee's friends say he was raising the alarm over Flint's water even as state officials downplayed concerns. The city, while under state-appointed emergency management, had switched to Flint River water as a cost-saving measure. Without proper treatment, water pipes leached lead into the supply. Despite citizens' complaints about the water's color and taste, officials appointed by Gov. Rick Snyder said the concerns were overblown. In his State of the State address last week, Snyder apologized for the response. "I'm sorry and I will fix it," he said. "... Government failed you at the federal, state, and local level."
Emails released by Snyder show that his former chief of staff, Dennis Muchmore, working to coordinate a response to the problem in September, referred to Kildee's advocacy as a "press hound routine."
Kildee doesn't see it that way. "When you hear something that is outrageous, you have an obligation to speak up and try to provide some contrast. … Like with Flint water, you've got to articulate what people are feeling to put those who are in a position to actually do something about it, put them in a position where they know we're paying attention to what they're doing."
Genesee County Treasurer Deb Cherry has known Kildee for more than 30 years, preceding their time in local government together, and she's not surprised by his approach. "He enjoys this. He doesn't love the fact that there's an emergency in Flint, but he's taken a really strong advocacy role," she said. "He's very good at shaping his message in a way that gets good press coverage. All through his career he's been good at that. It has served him and it has served his community."
Of course, it's also a political given that speaking up forcefully—whether on TV or the House floor—can come with profile-burnishing rewards, and Kildee's stock is certainly on the rise. "It's kind of a remarkable confluence of events," said Susan Demas, the publisher of Inside Michigan Politics, a well-sourced newsletter in the state. "He has been the most prominent advocate for both causes, and he's really rocketed to national prominence."
Kildee, Demas noted, has long been touted as a potential 2018 gubernatorial candidate, and recent events have done nothing to dispel those rumors. "There's not much doubt that he's extremely interested in running," she said. "Given all these events, at this point, he has to be the Democratic front-runner."
State Senate Minority Leader Jim Ananich, a fellow Flint native, has known Kildee since he volunteered for the campaign of his uncle, former Rep. Dale Kildee, in 1998. He described him as a natural leader. (Dan won a seat on the Flint Board of Education as an 18-year-old, followed by stints as a Genesee county commissioner and county treasurer. He succeeded Dale Kildee in Congress, winning the seat after his 18-term uncle announced he wouldn't run in 2012.) "An implied role [of Congress] is advocacy, and not everyone does that, but he's one of the best," Ananich said. "He'd be a heck of a governor. … But if he decided to do it, we'd lose a great congressman."
For his part, Kildee said politics is far from his mind right now, and his decision will be determined by how he believes he can best serve. "You just do your job, fight for the things you care about, and when the time comes, make a decision about what role you're going to try to take on to make the biggest impact."
In the House, colleagues say Kildee has a bright future if he chooses to stay. "Dan represents the very best of what it means to be the voice of the voiceless," said Rep. Ben Ray Lujan, his boss at the DCCC. "He goes to the House floor, he's on local media or national media—whatever the stage requires, Dan always stands up to it." With House Democrats' messaging chief, Rep. Steve Israel, retiring at the end of this term, Lujan said Kildee should be among those considered for the job.
For now, Kildee said he's focused on dealing with the fallout in Flint. Snyder pledged $28 million of aid in his State of the State address, and Obama said $80 million in federal money is on its way. But that may be just the start. Kildee is pushing to get citizens set up with filters immediately, and for a robust testing regimen to monitor progress. As soon as possible, he wants private lead-service lines to be replaced, a project that could run as high as $75 million. The more long-term response, he said, will require years of educational and nutritional programs for kids who were exposed to lead—which will require buy-in at the state and federal level.
Kildee did score one policy victory in the omnibus, transferring $2 billion to a program that funds blight removal for cities like Flint. Whether he runs for governor or stays in the House, he says he'll bring the same mind-set to work. "I take the approach that I've never changed jobs in my life," he said. "It's basically about the same things, trying to get it right for my hometown and places like it."