How to Be a Republican Mayor
San Diego's Kevin Faulconer thinks he can show the GOP how to win back the nation's big cities. But is there enough substance to back his style?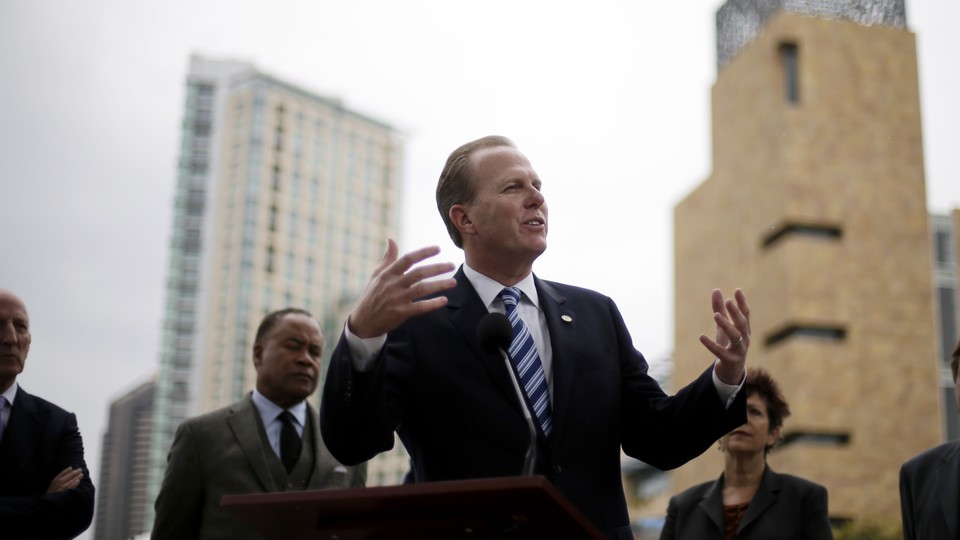 San Diego Mayor Kevin Faulconer is currently the great urban hope of the Republican Party—thanks to Bob Filner's spectacular failure.
Filner resigned as San Diego's mayor after less than a year in office and after more than a dozen women had accused him of sexual assault, harassment, or other inappropriate behavior. In the special election that followed, Faulconer, a middle-aged white Republican, soundly defeated his young Latino Democratic opponent—likely in part because Faulconer's inoffensive, no-frills manner seemed like the perfect antidote for a city poisoned by a national scandal.
But according to Faulconer, his ascension is no historical accident. He believes his campaign strategy could become a roadmap for Republicans in urban areas. First, Faulconer opened his campaign headquarters in an empty storefront in San Diego's historically black neighborhood. Then, when he visited Latino groups, he spoke in Spanish. He promised the city's underserved communities that he cared as much about them as anyone else. "I went to neighborhoods that Republicans had traditionally surrendered and Democrats had ignored," Faulconer said. "I said: 'Look my job is to provide opportunity. My job is to ensure we're providing equal access to services. And we're going to do things differently.'"
Faulconer thinks Republicans can eventually start to win in urban areas if they engage with the poor and with communities of color. Others do, too. The Republican National Committee gave Faulconer a prime speaking slot at its winter meeting after attributing the mayor's victory to his outreach efforts. It's easy to understand the attraction. Without Faulconer, none of the country's 10 largest cities would have a GOP mayor.
It isn't just his campaign style that is drawing attention. In the almost two years since his election, Faulconer's advisers can tout approval numbers above 50 percent across the board, including from Latinos and voters who described themselves as "very liberal." Plus, in a city where Democratic voters outnumber Republicans by 13 percentage points, Faulconer has attracted zero meaningful opposition to his reelection bid next year.
But if Faulconer is ultimately going to succeed in building a movement that can lead the GOP out of the wilderness and into the city, he's going to have to do more than run a savvy campaign and be likeable. And that is where he runs into trouble: Faulconer has yet to propose any big-ticket items targeted toward the communities he says he wants to help. Meanwhile, Republican presidential candidates' increasingly inflammatory remarks about people of color, which Faulconer hasn't publicly rebuked, undermine his efforts to connect with those same voters. And Faulconer's perhaps biggest challenge is to stop playing it safe. He has never been one to say or do anything particularly controversial; instead, he recites well-rehearsed talking points and signs onto initiatives others started. It's tough to imagine Faulconer becoming a model for GOP mayors if he doesn't raise his voice or deliver on policies that meaningfully improve the lives of those targeted by his political rhetoric.
* * *
Back in the 1990s, there was nothing special about a big-city Republican mayor. It was the era of Rudy Giuliani in New York and Dick Riordan in Los Angeles, mayors who promised to be tough on crime and streamline bureaucracy. But while New York and Los Angeles eventually fell back into Democratic hands, San Diego never stopped voting for GOP leaders.
Filner—San Diego's first Democratic mayor in two decades—was supposed to end all that. President Obama won the city by 25 percent on the same ballot as Filner's victory, and the city's Republican registration started to shrink—it's now just 26 percent of the city. But Filner's implosion gave San Diego Republicans another chance. "Voters here, they'll go for Obama," said Jerry Sanders, San Diego's Republican mayor from 2005 to 2012. "But when they look at how the city runs, they want fiscal conservatism."
Faulconer, a city councilman before becoming mayor, has followed a long line of socially liberal and fiscally conservative San Diego leaders. He is pro-choice, pro-marriage equality, pro-comprehensive immigration reform, and pro-gun control. But on the economic side, Faulconer is against tax and minimum-wage hikes and in favor of pension reform and bidding out city services. But Faulconer's real novelty lies in his efforts to engage diverse communities.
Just one-sixth of his 29 staff members are white, heterosexual males. He founded a nonprofit called One San Diego that raises money for laptops and after-school programs in underprivileged areas. A booming economy has allowed Faulconer to add community-center hours across the city as well as to break ground on a $13 million new library in a low-income neighborhood. He also makes most of his major announcements in communities of color, paying particular attention to southeastern San Diego, the city's seat of black political power, which has also seen a major influx of Latinos in recent years. At a holiday toy giveaway in the neighborhood recently, Faulconer easily toggled between English and Spanish—he started learning the language in grade school—while speaking to families in the crowd.
As a Republican in a blue city, it doesn't hurt that Faulconer is seen as competent and easy to get along with. When he was on the City Council, Faulconer became close with Tony Young, a black Democrat who represented the city's southeastern neighborhoods. After Faulconer won the mayor's race, he appointed Young to lead his transition team. Faulconer's push to improve communities of color, Young said, is sincere. "It has to be the right plan of engagement, and it also has to be the right person," Young said. "It can't be fake. People know when it's fake. Kevin really wants to do this."
* * *
But feel-good projects and a commitment to diversity won't be enough if Faulconer wants to move the needle for urban Republicans. Khalid Alexander, a community-college professor and the head of an activist group called Pillars of the Community, told me there's little difference in what Faulconer has done for the black community versus his Republican predecessors—Faulconer just has more black leaders surrounding him.
On the campaign trail two years ago, Alexander recalled, Faulconer headed into a black barbershop for a conversation with neighborhood leaders. Faulconer brought along some prominent black supporters. The talk turned to the police department's well-publicized racial-profiling problem, and Faulconer was asked what he would do about it. Faulconer, Alexander said and the barbershop owner affirmed, replied that the answer to racial profiling was to hire more police officers—a bit of a non sequitur that troubled the crowd. The black leaders with Faulconer asked him if he was sure that was what he meant. Faulconer said it was. At that point, Alexander said, the air went out of the room. (Faulconer, for his part, recalls saying that racial profiling would not be tolerated and that the city needs more diverse cops.)
"There's a clear disconnect between the way he sees the world and the way the black community and Southeast San Diego sees itself," Alexander said.
And Faulconer's party, he said, isn't the issue. "If people saw him as a Republican doing things for southeast San Diego, I don't think people would have a problem voting for him," Alexander said. But Faulconer's agenda is bereft of any major policy ideas that target the communities he's trying to engage with.
He has also avoided taking on the big policy issues that conservative urbanists believe are ripe for Republican leadership. Many conservatives think GOP mayors should encourage greater density and development as a way to reduce soaring housing costs and that they should also promote the use of Uber, Airbnb, and other sharing-economy companies. But when a local councilman hosted a tense showdown among residents over plans to beef up development and raise building height limits, the mayor stayed decidedly out of the fray. And when a fierce conversation started about the city's Airbnb regulations, Faulconer backed off and let others lead on the issue.
To be sure, Faulconer has had one signature policy victory, though much of its planning began under his predecessor. In December, at Faulconer's urging, San Diego became the largest city in the country with a legally binding commitment to get all of its future energy from renewable sources. But that isn't helping him on the ground.
Matt David, a Republican political consultant who has worked on national presidential campaigns as well as a San Diego mayoral election in recent years, said it's unfortunate Faulconer isn't well known outside of Southern California because Faulconer has succeeded in winning a big city when the party consistently fails at it. But ultimately, David said, for Faulconer's project to work, he's going to have to deliver. "I think part of this strategy has to be more than reaching out to minority groups," David said. "You have to point to concrete policies that have had impact on people's lives."
What's more, Faulconer has been reluctant to speak out about the Republican Party's rightward tilt nationally, something that David and everyone else I spoke with for this story said is incredibly damaging to Faulconer's efforts to engage people of color. Months ago, I asked Faulconer about Donald Trump's idea to put a wall along the U.S. southern border. Even though he disagrees with Trump, Faulconer evaded the question. More recently, I asked him why he punted: "I tend to focus on things that I have an effect on locally here in San Diego," he said. Talking about national issues, Faulconer said, is a distraction.
Despite making no waves with his words or policies, Faulconer and his allies already have more than $1 million in the bank to support his 2016 reelection campaign, and that's without any real opposition so far. Faulconer's political consultant told me nearly all the money the campaign spent in 2015 went toward Spanish-language advertisements. But Faulconer seems to realize he's going to have to do more than just run great campaigns if he wants to be a national figure who can show the GOP how to earn minority votes. He told me he would announce a major new youth-employment program that focuses on underserved neighborhoods in his January State of the City speech. He didn't want to reveal just how many jobs the program would create before the address, but he was uncharacteristically bold in his promise.
"I can't tell you what the number is," Faulconer said, "but it's going to be off the charts."