Kelly Ayotte's Criminal-Justice Reform Dilemma
The politics of an election year present new challenges—even for legislation that might otherwise sail through.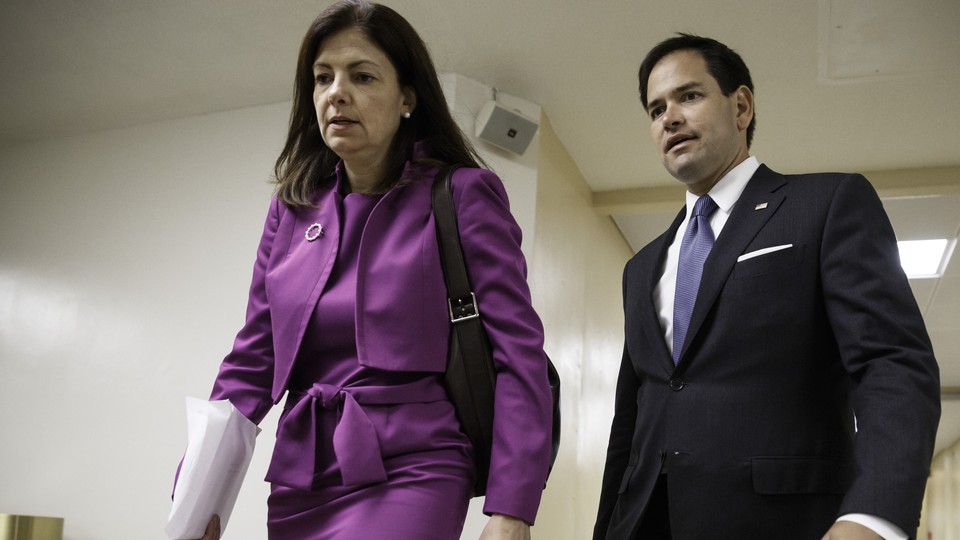 Presidential-election years are tough on the legislative process. All the attention shifts to the White House combatants. Partisan polarization reaches new levels of toxicity. And ultimately everyone (especially those in the party not occupying the White House) figures it's better to wait and let the new president put his or her stamp on things. More practically, the legislative calendar gets squashed down to maybe 6 months, with only a couple of those genuinely fit for getting stuff done. Throw in the usual array of members causing turmoil as they pursue the presidential nomination themselves, and things really start to get weird. It is the rare bill, members acknowledge, that has a prayer of moving forward in the midst of this circus.
This year, the one policy area Hill denizens have pointed to as having real potential for movement is criminal-justice reform. For years now, the issue has been gaining public support across the ideological spectrum. Obama wants it. So do the Koch brothers. More hopeful still, there is now a concrete piece of legislation, the Sentencing Reform and Corrections Act, that enjoys significant bipartisan backing, including from many conservatives you might expect to be lock-'em-up types. (Senators Mike Lee and John Cornyn are both big fans.)  Unfortunately, among the members clouding the bill's prospects is an unusual suspect: a moderate—at least by current standards—New Hampshire Senator Kelly Ayotte.
Aimed at overhauling federal-sentencing guidelines, with a focus on nonviolent drug crimes, the Senate bill has close to 30 cosponsors. Most importantly, it was introduced by the Judiciary Committee chairman, Chuck Grassley, a tough-on-crime hardliner who had stiff-armed previous efforts. In October, the reform plan sailed out of committee on a 15-5 vote. Earlier this month, President Obama boosted the cause, giving criminal-justice reform a shout-out in his State of the Union speech. Speaker Paul Ryan's office is talking the issue up as a promising area of agreement, and it was a topic of enthusiastic discussion at House Republicans' recent retreat. On January 20, several dozen former and current law-enforcement leaders issued a public letter to Hill leaders, urging support for the legislation.
Sounds as close to a no-brainer as you get in Congress, right? Except that Senate Majority Leader Mitch McConnell most likely won't bring it to the floor for a vote. Not this session. Because, for all its appeal, the Sentencing Reform and Corrections Act would prove an uncomfortable vote for some of McConnell's members—Ayotte prominent among them.
In many ways, Ayotte is the precisely sort of reasonable, non-fringy lawmaker you'd expect to be out front on a popular, bipartisan reform. She hails from New England, which tends to breed more pragmatic, moderate Republicans than other regions, and she is among the Senate's most bipartisan members (No. 7, according to the latest ranking from Georgetown University's Lugar Center). She's even willing to cross her own team on occasion: She was one of 10 Republicans to back Loretta Lynch for attorney general, and she was central to the bipartisan deal that ended the government shutdown. Last year, when her more fractious colleagues threatened a shutdown over Planned Parenthood funding, Ayotte publicly smacked them for playing "a game of chicken." And on climate change, she is a full-blown heretic. (Last January, Ayotte was one of only five Republicans to back a Senate statement saying that humans play a significant role in climate change; 10 months later, she supported Obama's Clean Power Plan.)
But when it comes to crime—especially drug-related crime—Ayotte occupies a tricky zone. For starters, she's a former New Hampshire attorney general, whose law-and-order background helped get her to the Senate in the first place. More problematic still, her home state is being decimated by a brutal opioid epidemic.
The abuse of drugs like heroin and the even more potent fentanyl has become a public-health crisis in New Hampshire. The state has some of the nation's highest death rates from overdoses, coupled with vanishingly few resources for treatment. A recent survey of Granite Staters found that one-quarter of the population sees drug abuse as the state's top problem.
Unsurprisingly, the issue has become a hot topic at all political levels. Presidential contenders stumping in the early primary state have spotlighted the problem. The issue has also moved front-and-center in Ayotte's reelection race against Democratic Governor Maggie Hassan. A local conservative group caused a stir in in the fall with attack ads accusing Hassan of holding drug-treatment money "hostage" and "playing politics with the lives of New Hampshire citizens."
Responding to the crisis, Ayotte has introduced legislation to increase resources for addiction treatment. But she has also introduced legislation to increase prison terms for fentanyl distribution—pushing in very much the opposite direction of the larger sentencing-reform bill.
As she has with respect to past bills on the subject, Ayotte has remained studiously silent on the Sentencing Act. (Her office politely declined multiple requests to comment on her position.) It's not that she's out crusading against reform, mind you. Still, some of the bill's supporters see her foot-dragging as a real problem. "If it wasn't opposed by some like Ayotte, then we'd have an easier time convincing McConnell," an aide to one champion of the legislation told me.
This is not to suggest that Ayotte is single-handedly holding up this train. Even the most popular legislation presents multiple challenges. McConnell has told the bill's supporters that, before he'll bring it to a vote, they need to make it harder for critics to caricature. He worries, specifically, that the retroactive nature of the bill—which would shorten sentences for some current inmates—could lead to supporters being accused of releasing a horde of dangerous criminals back into society. The bill's backers say they are open to further tinkers, and they are laboring to woo additional, prominent co-sponsors. (Marco Rubio is seen as a prime target.) It remains unclear, however, what changes or level of overall support would convince the ubercautious McConnell to take the plunge. (The majority leader's office also declined to comment.)
In any election year, Senate leaders are loath to put their members in a position to take awkward votes. In a year when Republicans are especially anxious about holding onto their slender majority, that hesitation can easily lead to paralysis. With Ayotte's race critical to keeping the majority and Ayotte facing a solid challenger in Hassan (polls show Ayotte's lead between 2 and 7 points), what could possibly spur McConnell to risk complicating her position?
Far safer and easier to wait and see what November brings. After all, it's not like anyone really expects this Congress to get anything done anyway.