Kasich's Super PAC Attacks Christie in New Hampshire Mailer
Chris Christie is under fire from several of his center-right GOP rivals.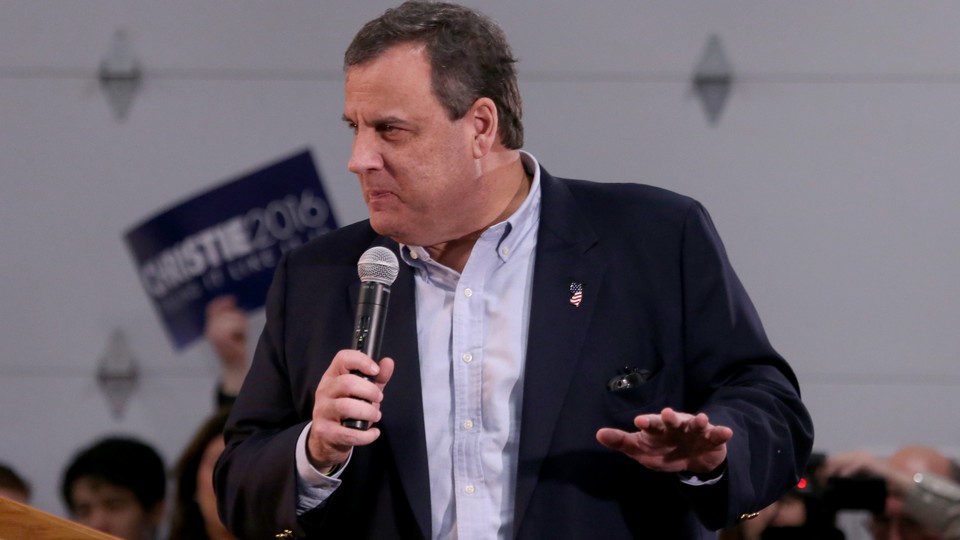 Presidential candidates vying to emerge as the Republican establishment pick in New Hampshire are zeroing in on the same threat: a revitalized Chris Christie.
In its most direct attack to date on the New Jersey governor, who is gaining traction in the first-in-the-nation GOP primary, the super PAC supporting John Kasich sent mailers to Granite State voters Monday criticizing Christie's economic record in office.
"How will Republicans defend his failed record?" the mailer from New Day for America reads before listing several news clippings from over the past two years unfavorable to Christie. The mailer concludes: "His budget isn't balanced. His credit rating is dropping. His economy is failing. Chris Christie: Tough talk. Weak record."
Connie Wehrkamp, a spokeswoman for the group, wouldn't disclose how many households received the mailer, only saying that they "hit a sizable universe."
The mailer is just the latest in a line of attacks Christie has faced in recent weeks from his GOP rivals who are also hoping to win over the independent and more moderate voters that play a prevalent role in the New Hampshire primary.
Conservative Solutions PAC, which backs Marco Rubio, began airing two TV ads in New Hampshire Tuesday criticizing Christie. And the pro-Jeb Bush Right to Rise super PAC hit the state's airwaves last week with a spot contrasting the former Florida governor's record with that of Christie and Kasich.
New Day has gone after Christie before. Last month, the group launched a TV ad in New Hampshire that briefly swiped at Christie over New Jersey's budget woes. And Kasich targeted his fellow governor during an appearance Sunday on NBC's Meet the Press.
"Here in Ohio, we have a balanced budget. They don't over in New Jersey," Kasich said. "Our credit has been strengthened. Their credit has been downgraded. We've got more jobs."
But until these past few days, Kasich and his allies had largely reserved their harshest criticisms for Donald Trump, who is leading the GOP field in New Hampshire polls by a wide margin. Christie has climbed to fourth place in the state, according to the latest Real Clear Politics polling average, putting him within striking distance of Rubio and a few points ahead of Kasich and Bush.
"With a Democratic-controlled legislature fighting him every step of the way, not only has Governor Christie been a leader in securing landmark reforms to the pension, tenure, and bail systems, but New Jersey just reported the strongest private-sector job growth the state has seen in 15 years, with the unemployment dropping nearly in half since Christie came into office to 5.3 percent," Christie campaign spokeswoman Samantha Smith said. "We'll defend that record any day of the week."
This article has been updated with comment from the Christie campaign.