Is Trump Killing the Iowa Caucuses?
GOP leaders wonder whether his disruption is an aberration or a sign of new times.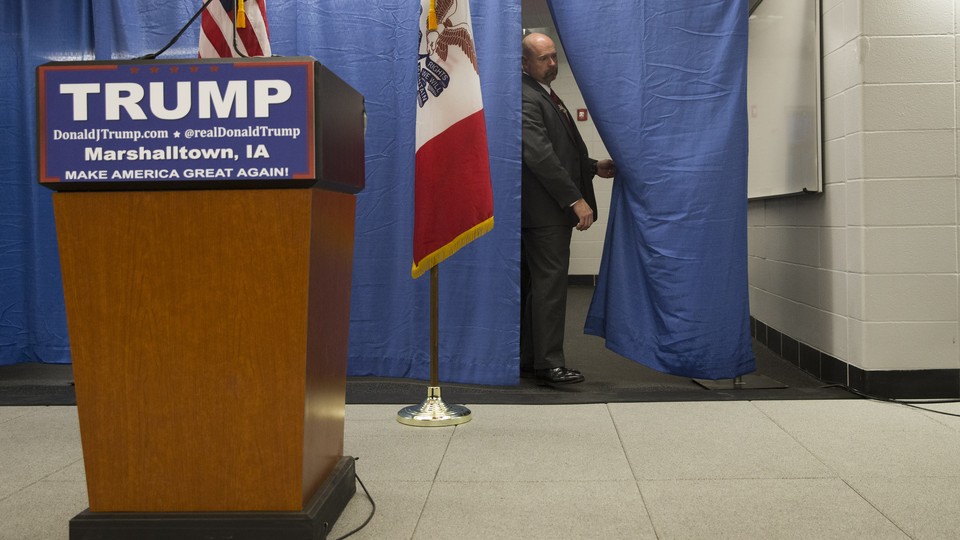 DES MOINES, Iowa—Donald Trump is a rule-breaker, a status-quo buster, and a defiler of political conventions who channels the public's mad-as-hell hunger for change. To borrow a cliché from Silicon Valley, "The Donald" is a disrupter.
Despite grave misgivings about his character, rhetoric, and policies, I appreciate Trump's deft reading of the public mood. I understand why his supporters are drawn to a butt-kicker (here and here). I share their desire for radical reform or destruction of the two major parties and other political institutions that have failed to adapt to an era of wrenching change (more on that here).
In Iowa, however, I'm seeing effects of Trump's disruption that concern me. If, as I suspect, the Republican presidential front-runner is a reflection of the times and not an outlier, the Iowa caucuses may be as outdated as a fax machine.
"I've been wrestling with that, too," said Matt Strawn, a former chairman of the Iowa GOP who I met for drinks a few blocks from the gilded-dome statehouse. "A lot of his supporters aren't people who you'd traditionally expect to come to caucuses. It's a good thing that he's expanding our voting base."
Strawn tapped his fingers on wooden bar rail. "But there's a flip side of the coin," he said. "I'd be fascinated to know how many Iowans have been able to ask Donald Trump a direct question."
The answer is almost none. Unlike almost any successful candidate in Iowa, Trump talks to voters, not with them. He flies into the state, delivers his patented rants, shakes a few hands, and heads back to his gold-plated, Trump-branded plane.
My broader point: Trump has made a mockery of the traditions that make Iowa a singular stop in the presidential campaign process. More than even New Hampshire, which follows Iowa on the election calendar, Iowa forces candidates to endure a grueling, humbling, months-long courtship of discerning, demanding voters. They're really put to the test.
Not this guy.
Trump has spent so little quality time in Iowa that it was breaking news this week when the celebrity billionaire (you may want to sit down for this) actually … spent … a … night … in … a … hotel. A Holiday Inn, no less!
So miserly with his time, Trump made just three Iowa appearances in October and two in November for a total of 30 appearances in the last four months, according to The Des Moines Register. In the same period, his chief rival, Sen. Ted Cruz, made 100 appearances.
Trump needed very little television or radio advertising in Iowa to climb atop the polls. Compared to past Iowa front-runners, he hardly courted local reporters or leading Republicans. Even when it came to one of the oldest institutions in politics—a debate between candidates—Trump thumbed his nose at the only GOP clash in Iowa, better to salt his feud with Fox News moderator Megyn Kelly.
"How much of this is unique to Trump as opposed to signaling a new way of doing business?" Strawn said, repeating my question. "I don't think we know."
The current GOP chairman, Jeff Kaufmann, told me he thinks Trump is an aberration: No future candidate will disrupt the Iowa way with Trump's particular blend of celebrity, moxie, and wealth.
While crediting Trump for holding several well-attended events in Iowa, including some in which voters addressed the candidate, Kaufmann allowed that "one thing that was missing with him is the uncomfortable follow-up."
Trump escaped the traditional Iowa vetting. Others won't, Kaufmann said. "I think you have a perfect storm of a huge brand and angry people."
Tim Albrecht, a leading GOP strategist in Iowa, also called Trump an aberration. "I think there's so much unease, angst, uncertainty, and such distrust—with all of our institutions, not just politics—that people are turning to somebody who's making all these institutions mad. That's Trump, a man with a brand benefitting from the people's anger."
True enough, I replied. But why does Iowa's political elite assume that Trump will be the last candidate who finds a way around their traditions—the 99-county tour; the multimillion-dollar advertising buys (and the cut that goes to Iowa consultants); the courtships that come with fat contracts and promises of jobs in Washington; and, yes, Iowa debates?
Few people are as wealthy as Trump, I told Albrecht, but he's shown what can be done on a tight budget.
Not everybody is as famous as Trump, but we live in a culture that creates celebrities overnight—and on the cheap.
Trump is uniquely savvy about the power of new media and the fealty of old media. But, win or lose, his campaign is a playbook for the next disrupter—somebody with a compelling message and the ambition to change politics as we know it, for better or worse.
Finally, I shut up. Albrecht smiled.
"You might be on to something," he said. "I hope to hell not."