Iran's Latest Bid to Avoid Paying Terror Victims: Take Them to the Supreme Court.
Victims of Iranian bombings say the regime should pay them nearly $2 billion. Congress agreed. But Iran says that was unconstitutional.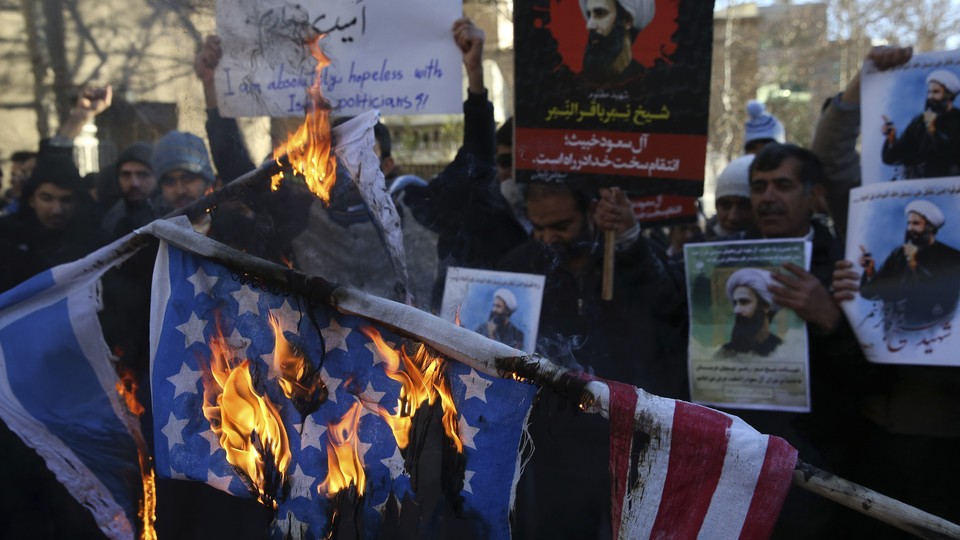 The Iranian government has been ordered to pay billions of dollars to American victims of terrorism. But it will try to convince the Supreme Court next week that the U.S. government can't make it pay up.
The Court is slated to hear oral arguments Wednesday in Bank Markazi v. Peterson, a case full of twists and ironies that will test the powers of Congress, the courts, and the Iranian regime's refusal to cooperate with either one.
The lead plaintiff in the case, Deborah Peterson, sued Iran for the wrongful death of her brother, who was killed in the 1983 attack on the U.S. Marine barracks in Beirut. Hundreds more victims and family members, including victims of a 1996 bombing in Saudi Arabia, also sued the Iranian regime or signed onto existing lawsuits; there are now more than 1,000 plaintiffs in the case before the Supreme Court.
American courts have repeatedly ruled that Iran was responsible for the bombings in Beirut and Saudi Arabia, and have ordered the country to pay billions of dollars to American victims and their family members.
Iran never made those payments. But then a few of the plaintiffs figured out that Iran's central bank, Bank Markazi, had stashed assets worth roughly $1.7 billion inside the U.S., hiding the funds by channeling them through banks in Italy and Luxembourg until they wound up in a Citibank account.
President Obama signed an executive order in 2012 that froze those assets, so Iran couldn't pull them out of the country. Then Congress passed a law that said the assets in question must be "subject to execution … in order to satisfy any judgment ... awarded against Iran for damages for personal injury or death caused by an act of [terrorism]."
Iran is still fighting—and now it's invoking the U.S. Constitution.
Bank Markazi's lawyers will tell the Supreme Court justices next week that Congress and the president overstepped their authority by passing and signing a law targeting specific Iranian assets. Judgments against Iran were part of an ongoing legal dispute, the bank argues, and Congress can't pass laws that dictate the outcome of a particular lawsuit.
"That legislative intrusion into a single pending case—changing the law so plaintiffs can collect nearly $2 billion from their adversary—violates the separation of powers," Bank Marzaki said in a brief to the high court. "Deciding individual cases is a judicial function, not a legislative one. If the distinction between the legislative and judicial functions means anything, Congress cannot change the law solely for one case to ensure that its favored litigant prevails."
So far, the courts have disagreed. A federal appeals court ruled in 2014 that the law in question "does not usurp the judicial function; rather, it retroactively changes the law applicable in this case, a permissible exercise of legislative authority."
The lawsuit is one of the few Iran-related issues on which the Obama administration and congressional Republicans agree. The Justice Department, the Senate, and 225 House members, from both parties, have all filed briefs defending Congress' actions and urging the high court to reject Iran's pleas.
The legal committee representing House lawmakers didn't deny that the statute in question was targeted at these lawsuits—which would be pretty difficult, since the statute mentions the litigation directly. But lawmakers and the Justice Department say Congress can, in fact, pass laws that affect ongoing lawsuits.
Iran's position, House lawmakers argued, would prohibit Congress from passing laws to deal with an oil spill if the oil company is being sued, or from outlawing state and local policies being challenged on civil-rights grounds.
"Congress has broad authority to write laws as generalized or particularized as it deems necessary, and Congress properly exercised that authority here. … Bank Markazi proposes unprecedented limits on Congress's legislative powers," House lawmakers' brief says.