Iowa Latinos Left High and Dry by Presidential Candidates
Campaigns won't spend real resources on Latinos in Iowa until they show up to caucus. But they won't caucus until campaigns reach out to them.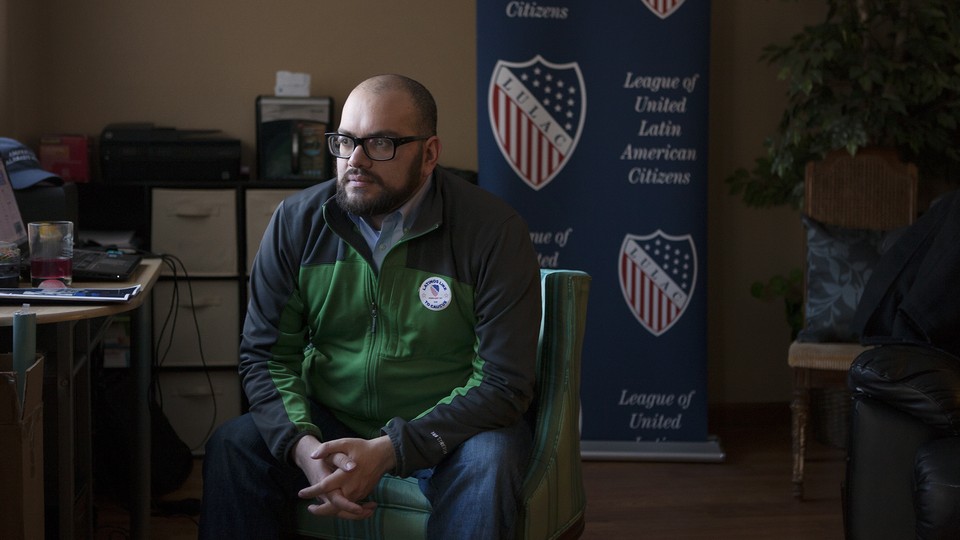 DES MOINES, Iowa—Three Democratic presidential campaign surrogates bicker in front of a group of skeptical young Latino voters, some leaning back and crossing their arms in this church basement.
Gabriela Domenzain, a senior adviser for Martin O'Malley, calls Bernie Sanders's immigration plan an "imitation."
"I can say it's not an imitation," snaps Erika Andiola, the national Latino press secretary for Sanders.
House Democratic Caucus Chairman Xavier Becerra, representing Hillary Clinton, quickly counters, "In my fights for immigration reform, Bernie Sanders was not in the room."
The room has heard enough from the three reps. Hector Salamanca, one of the leaders for local advocacy group DREAM Iowa, speaks up.
"Why am I going to reach out and help these campaigns if they're not going to invest in infrastructure, not going to invest in resources and education?" he says to the roundtable gathered at Trinity United Methodist Church, organized by the Latino Victory Project. "They make a lot of grand promises, but for us here in Iowa, we care about the stuff that happens after the caucus, after the election."
The surrogates go quiet, if only for a moment.
"You're absolutely right," says Domenzain. "Campaigns only come around every four years, and it's unfortunate."
Latinos don't have a strong history of caucusing in Iowa. Of the 50,000 registered Latino voters, only 3,500 caucused in 2008—the most who have ever caucused, yet still a poor representation for Iowa's fastest-growing population, which makes up 5.6 percent of the state, according to 2010 Census numbers.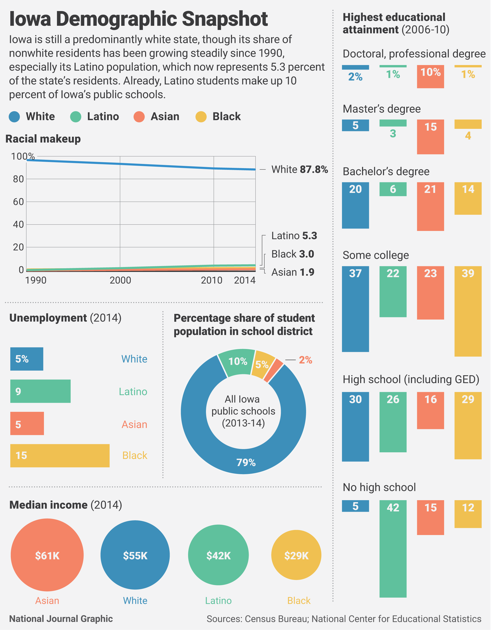 The campaigns know the poor turnout numbers well, and that's reflected in their efforts in a state that could give a presidential candidate momentum for the rest of the primary race.
"The only way we'll make a difference is if we have a really profound presence in the caucuses," Becerra says to those gathered. "If the news is a whole bunch of Latinos we've never seen before come out to caucus, that's going to be good for all of us. If only 1,000 Latinos come out to caucus, we're not going to make a difference that way."
All three surrogates found something to agree on, deflecting the onus onto Iowans: If Latinos in Iowa want attention in the future, they have to show up. Latino advocates across the state say they have heard this before.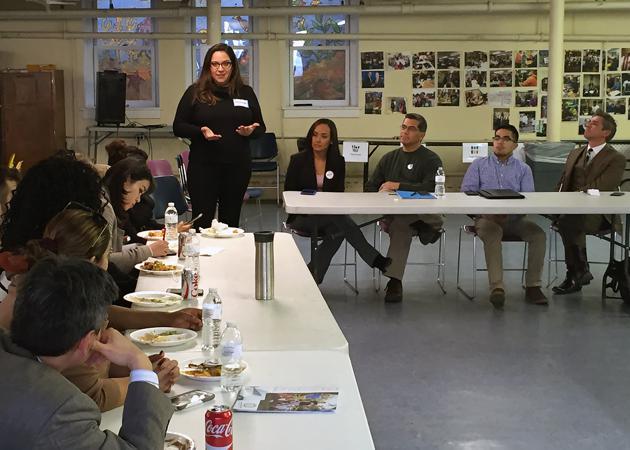 Christian Ucles has seen the same cycle of Latino pandering for the last four caucuses.
Campaigns show up in Iowa, wait several months until they hold a handful of Latino-specific events, send a surrogate or two, and maybe host a roundtable with local Latino leaders. That's the extent of their outreach, Ucles says. Rarely are there paid, local staff dedicated to the Latino vote, nor do campaigns spend substantial resources for voter-registration drives or caucus training for Latinos. Many in the state don't even know what a caucus is, he says.
But it hasn't been for a lack of trying on Ucles's part. As the political director for the Iowa branch of the League of United Latin American Citizens, he reached out to presidential campaigns from both parties early this time around, asking them to send candidates and surrogates to speak to Latinos this summer. Other activists with the Latino Forum invited them to attend events like the Latino Heritage Festival, a massive annual gathering in downtown Des Moines in September. Only O'Malley and Sanders showed up.
It's not that campaigns don't care about Latinos, he says. They made a strategic decision based on previous caucuses and determined that in Iowa the Latino vote doesn't matter. But they may be to blame for the lack of participation.
"They won't talk to Latinos unless they have a history of participating in the Iowa caucuses," he tells me. "But why don't they show up? Because your campaign doesn't talk to us. And why doesn't your campaign talk to us? Because they think that we don't vote. So, it's a cycle that keeps going."
The week Ucles and I spoke over pupusas at the Des Moines restaurant El Salvador del Mundo, all three Democratic candidates were in town for the Iowa Brown and Black Forum, the oldest presidential forum for issues important to people of color. The forum coincided with Latino-specific events and roundtables in the days leading up it. But that week was a rarity in the campaign, Ucles says.
"Why are you waiting until the two-minute warning of the fourth quarter to send people to Iowa?" he says. "You've been campaigning for nine months. You've had your candidate here 50 times. You're telling me you couldn't have done more for our community? Come on."
If presidential campaigns won't push heavily for the Iowa Latino vote until a large number of Latinos caucus in Iowa, then activists will have to do the legwork themselves, he says. So, LULAC is attempting to get 10,000 Latinos to caucus on Feb. 1 through its own grassroots efforts.
On Their Own
Six middle-aged men strategize about the Latino get-out-the-vote effort in a small classroom in the Iowa City Public Library.
The table is strewn with "Latinos Like to Caucus" stickers, "Commit to Caucus" mailers, and doughnuts from the local Hy-Vee grocery store. Joe Enriquez Henry, LULAC's national vice president for the Midwest region, brought something to add to the loot on the table: registration information on the state's 50,000 Latino voters that the group purchased from the secretary of state's office, something they didn't have in previous elections.
"We need to hit this 10,000," he says to men in the room. "I don't want you guys to walk away thinking it's just going to happen, because that's one of the things that we've allowed to happen in the past. We just think it's going to happen, that Jesus is going to take care of it; Mother Mary, if we say the rosary, is going to make it happen."
National LULAC gave the Iowa chapter $300,000 to hire staffers, put out mailers, and call registered Latinos. Over the next two weeks, LULAC staff will run caucus-training sessions across the state, phone potential voters, and send out mailers that will say, in one way or another, "If you don't vote, the majority will decide for us."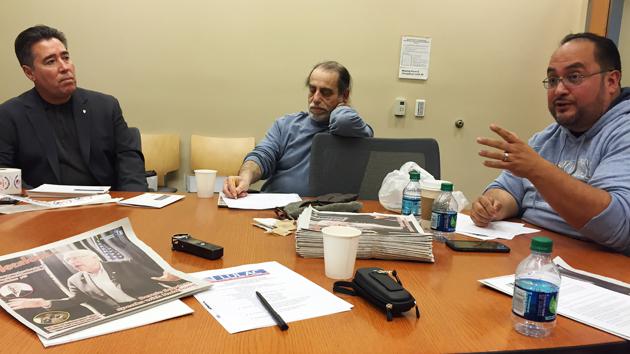 "We're going to instill a little bit of guilt here because most of us were raised Catholic," Henry says. "We have to get this done. Our backs are against the wall."
The weekend before the caucuses, they will also make phone calls to remind voters where their precinct is and ask if they need a ride. All callers will be bilingual.
To Henry, LULAC is on its own to get Latinos to the caucuses. The campaigns, he says, "just don't care." But if they hit their mark, they can make campaigns care.
"Our votes could be the difference between Hillary and Sanders," says Tar Macias, the president of the Latino news service HolaIowa.com. "It could be the difference between Trump or Cruz. They don't realize that because they don't see a value in us. The only way they'll see a value in us is what we're doing right here."
They still have to convince Latino voters who are wary of the political system. For her part, that's what Domenzain, O'Malley's senior adviser, tries to do while remaining upbeat after a few young Latinos tell her they're too jaded to caucus.
The day before the roundtable in Des Moines, she spent time with young Latinos in a Mexican restaurant in Marshalltown, a town that's 24 percent Latino, about an hour northeast of the state capital. She was met with skepticism, as many in the room said they doubted O'Malley could win.
"That's really cynical to say you're wasting your vote by supporting the most progressive candidate on immigration in history," she told one young Latino at the El Portal Mexican restaurant. "We could actually say that because of Iowa Latinos and because you went out to caucus, Governor O'Malley is a viable candidate in this race. And why? Because of the subject of immigration."
O'Malley's Latino outreach has stood out to Ucles, LULAC's political director, comparing it to other campaigns over the last two decades that excelled in speaking to Iowa Latinos.
In 1999, George W. Bush almost immediately sent an organizer to live in Iowa for an entire summer in order to reach out to Latino voters. He visited the state early himself. Bush wanted to make a big showing at the now-defunct Iowa Straw Poll, an event that candidates used to test the waters in the months ahead of the caucuses.
His efforts paid off, getting 500 Latinos to vote for him in the event. Out of the 40,000 people who participated in the straw poll, 7,000 voted for Bush. Latinos made a huge difference, and gave Bush momentum in the caucus race, which he later won.
Both Obama's 2008 and 2012 runs were also marked by significant Latino outreach, Ucles, says. But in this election cycle, it's been the O'Malley campaign that's stood out to Latinos, holding several events over many months, in part for one big reason.
"That's because he has to," Ucles says. "He's so far down in the polls that he needs to meet with every single Iowan he can get. He can't be choosy. He can't be picky."
The O'Malley campaign is doing things that campaigns have traditionally not tried, including a soon-to-be-released Spanish-language video explaining how to caucus. Whatever the motives, his campaign's efforts were appreciated by the young Latinos in Marshalltown.
Several people there signed commitment cards for O'Malley, including some undocumented immigrants and residents who said they would try to convince friends and family who could vote to support the former Maryland governor. One of them was Roberto Gonzalez, a legal resident who said he's planning to convince 20 of his coworkers at the town's meatpacking plant to caucus. But that's still a difficult task.
"A lot of people want to do it," he says. "They just don't have the information they need to decide which one to go for. The candidates need to translate their information more. Provide it in Spanish so they can understand it better." But he knows that the only way Latinos in his state will begin to draw such attention is if they turn out in droves at this year's caucuses.