Inside Michelle Obama's SOTU Guest List
The people who fill, and don't fill, the exclusive seats reveal some of the biggest issues on the president's political agenda.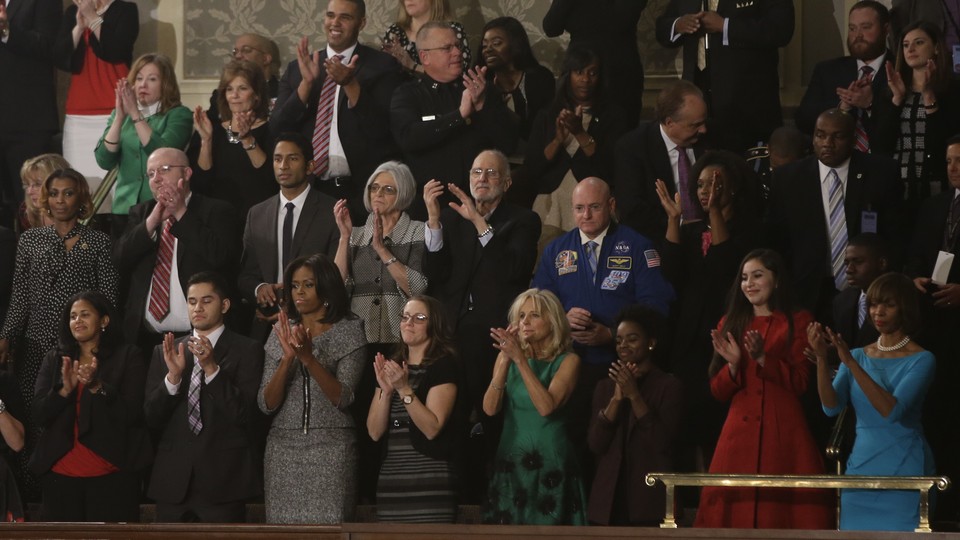 The first lady's guest list for President Obama's final State of the Union address reads as both a celebration of the administration's accomplishments and a symbol of what the president still hopes to achieve.
One of the most notable attendees is Refaai Hamo, a refugee living in the U.S. with his son and three daughters after fleeing Syria, where his wife was killed in a missile strike.
Hamo skyrocketed to online recognition after being featured on the popular Facebook page "Humans of New York," where he is referred to as 'The Scientist.' The site, where Hamo's post received hundreds of thousands of like and shares, was recognized by the president who commented that, "As a husband and a father, I cannot even begin to imagine the loss you've endured. You and your family are an inspiration ..."
Proponents of criminal-justice reform and increasing gun regulation will also join the first lady. Connecticut Gov. Dannel Malloy, who banned gun sales to those on federal terror lists after the terror attack in San Bernardino, California, will attend.
Those more personally affected by gun violence will also be invited. Ryan Reyes, whose partner Larry "Daniel" Kaufman was one of 14 victims in the San Bernardino terror attacks, is on the guest list. 2016, however, will not be the first year that those directly affected by gun violence are invited into the first lady's gallery. In 2013, several victims of gun violence, including a fourth-grader from Sandy Hook Elementary school, were invited.
The president will likely reiterate his message on increasing gun-safety measures following his announcement this month that he would issue executive orders to tighten background-check loopholes and increase gun-safety technology, among other measures.
Perhaps the most visual symbol of the president's push for gun reform will be a seat that will purposefully remain vacant for the victims of gun violence who no longer have a voice.
The Affordable Care Act, immigration reform, and educational initiatives will also have representatives seated with the first lady. Jim Obergefell, the plaintiff in Obergefell v. Hodges, and Maj. Lisa Jaster, one of three women to graduate from the U.S. Army Ranger School, will attend to highlight accomplishments of the Obama administration.
The first lady's full guest list: