In SOTU Response, Nikki Haley Takes Digs at Obama—and Trump
The potential GOP vice presidential pick took advantage of her moment on the national stage.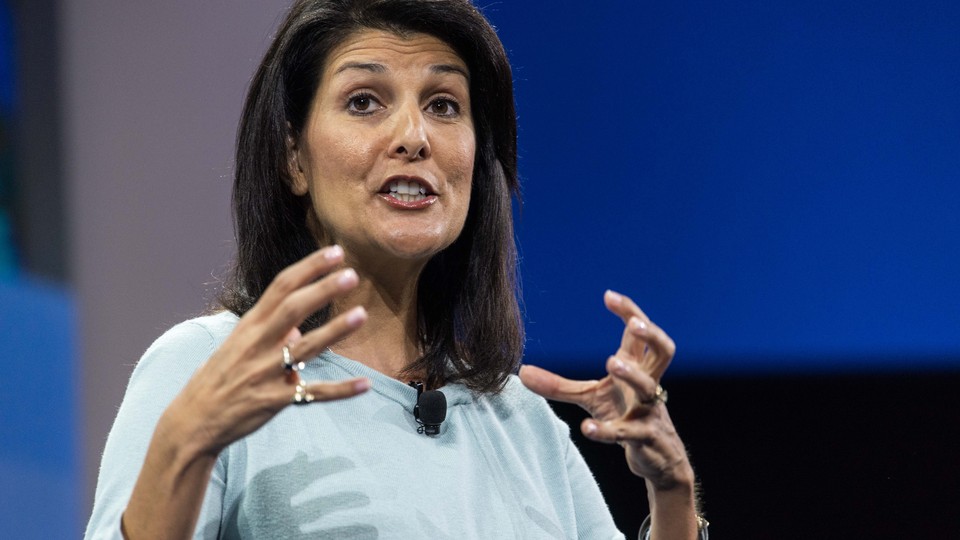 Since its beginning 50 years ago, the opposition's televised appraisal of the president's State of the Union address has been as much about the messenger as it has the message. In 1966, the "square jaws" and "fullback's shoulders" of the 52 year-old Gerald Ford—then the minority leader of the House—were a marked contrast to the "weathered visage" of his 70 year-old partner, Sen. Everett Dirksen, according to The New York Times. "To many Americans, [Ford] may have seemed the new, young face of a different Republican Party."
This year, South Carolina Gov. Nikki Haley presented the new, young face of the Republican Party, which has struggled to attract voters who look like her. In her nearly 10-minute speech, Haley referenced early on that she is the "proud daughter" of Indian immigrants and implicitly rebuked the Republican candidate who has dominated the presidential campaign trail, Donald Trump, who has called for closing U.S. borders to Muslims.
"I am the proud daughter of Indian immigrants who reminded my brothers, my sister, and me every day how blessed we were to live in this country," said Haley. "My story is really not much different from millions of other Americans. Immigrants have been coming to our shores for generations to live the dream that is America."
"Today, we live in a time of threats like few others in recent memory," she added. "During anxious times, it can be tempting to follow the siren call of the angriest voices. We must resist that temptation. No one who is willing to work hard, abide by our laws, and love our traditions should ever feel unwelcome in this country."
At 43, Haley is the country's youngest governor. But like Ford's speech, her rebuttal didn't put forward many novel ideas revealing a new perspective. She called for an end to Obamacare, respecting religious liberty, and rolling back the federal government's role in education policy. And she said that America "must not let in refugees whose intentions cannot be determined," reminding those of her call with many other Republican governors to block resettling Syrian refugees in their states despite Obama administration claims that the vetting process is thorough.
She also explained how a Republican president would be different in terms typical of a GOP congressman's floor speech, calling for lower taxes and a stronger military, "brakes on runaway spending and debt," respecting the Second Amendment, and international deals "celebrated in Israel and protested in Iran."
But before she did, she spoke from a place that no one else could, as her state's leader following last year's shooting at historic Emanuel African Methodist Episcopal Church in Charleston that left nine dead. The tragedy spurred Haley and others to take down the accused shooter's revered Confederate flag from the State House, where it flew for 54 years.
"We didn't turn against each other's race or religion," she said. "We turned toward God, and to the values that have long made our country the freest and greatest in the world. We removed a symbol that was being used to divide us, and we found a strength that united us against a domestic terrorist and the hate that filled him."
She then turned to an "important lesson" learned, one that could well have been aimed at the presidential candidates gearing up for the first-in-the-nation Iowa caucuses in less than three weeks.
"Some people think that you have to be the loudest voice in the room to make a difference," she said. "That's just not true. Often, the best thing we can do is turn down the volume. When the sound is quieter, you can actually hear what someone else is saying. And that can make a world of difference."