In Iowa, Ted Cruz Wields Steve King Like a "Knife" on Immigration
His "shoulder-to-shoulder" campaign with the far-right congressman may give Cruz the edge among small-town voters.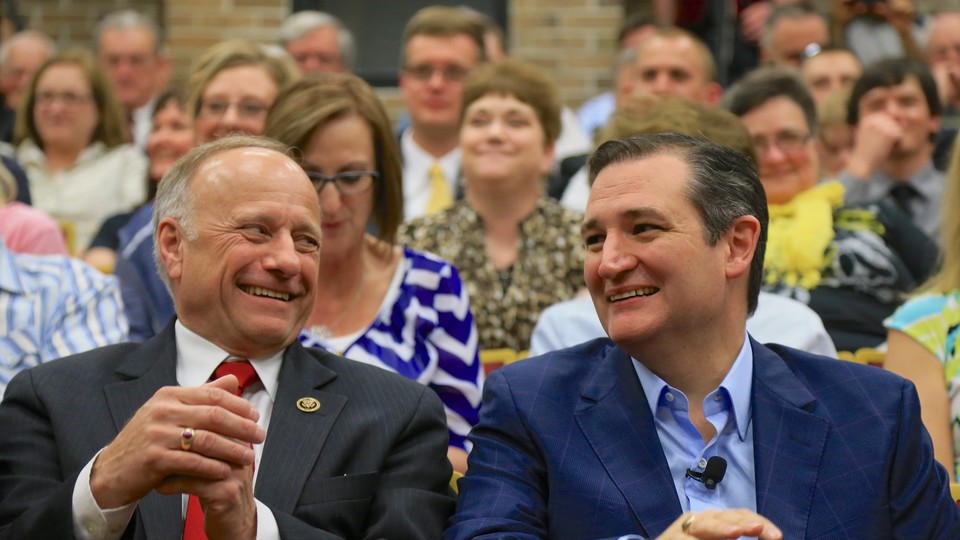 NEW HAMPTON, Iowa—Sen. Ted Cruz calls him a "knife fighter."
Wrapping up his six-day bus tour across Iowa, where he visited 28 counties, the Iowa caucus front-runner was joined by Rep. Steve King, who, for the first time in eight years, made an endorsement in the state's caucuses.
Since endorsing Cruz in mid-November, King—who mocked undocumented Mexicans as having "calves the size of cantaloupes" used to carry drugs across the border and has been an outspoken anti-immigrant leader in the Republican Party—has been an avid supporter and mainstay at his events in a state that has a quickly growing Latino population of 5.6 percent.
Around the same time Cruz started his bus tour across Iowa, he launched a television ad that calls illegal immigration an "economic calamity" and in which he vows to triple security on the Mexican border. King's presence on the trail could give Cruz an edge in the immigration debate in Iowa, which has so far been dominated by Donald Trump, who entered into the Republican presidential campaign by calling Mexicans rapists and saying that Mexico would pay for a wall on the border.
On Saturday, King introduced Cruz to crowds of 200 or more at each event, stuffed into restaurants and auditoriums after braving single-digit temperatures normal for January in the Hawkeye State. He talked about the Constitution, the Founding Founders, and "restoring the soul of America" with such emphasis that it elicited an mmm-hmm or amen from several members of the audience.
"He and I have fought time after time," King said to one crowd in New Hampton, many of whom were his own constituents. "We fought together on immigration."
When President Obama announced new executive actions on immigration in late 2014, King and Cruz stood together at a press conference on Capitol Hill, calling on Congress to withhold funding for what they called a "lawless" order.
While King doesn't like to point to just immigration as a top issue, he does say that the desire to "restore the respect for the rule of law" consistent with their shared "constitutional conservatism" is central to their viewpoints on immigration.
Rural Iowa is King's territory, and Republicans here share his views on immigration. Cruz made sure to capitalize on that in his stump speech, praising King just as much as King praised him.
"We will finally, finally, finally secure the borders and end sanctuary cities," he said to rousing applause. "And I'll tell you, there has been no one more relentless, no one more tireless, no one more effective in stopping amnesty and fighting to secure the border, in fighting to keep this country safe than Iowa's own Steve King."
Walking over to King's chair a few feet away, Cruz gripped King's shoulder and said, "I have been proud to stand shoulder-to-shoulder with him in each and every one of those fights."
In campaign stops in Oelwein, Waverly, and other small towns in northeast Iowa, Cruz repeated similar praise for King.
"Rather than say something nice about Steve King," he said to chuckles in the crowd, "let me instead say thank you to the men and women of Iowa. To the men and women all across this state, thank you for sending a strong, principled, constitutionalist knife-fighter like Steve King to represent Iowa and represent all of us in the United States Congress."
This political theater is perfect for campaigning in Iowa, where caucusing is personal for voters, often coming out to support candidates that made an effort to visit their small town and spoke to their values. While it may not be the case anymore across the country, former House Speaker Tip O'Neill's axiom that "all politics is local" thrives in Iowa.
"Having Steve King up there speaks volumes for his credibility," said New Hampton resident Jane Collins after that town's event. "Immigration is very important. There's people living here and getting benefits that we're paying for that they're not paying taxes or anything. It's taking away from those working hard and that maybe have had setbacks and have been less fortunate."
New Hampton, a town of just 3,500 people, is 4 percent Latino, according to 2010 Census numbers, and is likely larger today. Just 10 years earlier, there were virtually no Latinos in that town. In the past couple of decades, Latinos have moved to small towns across the state, filling in job holes left by Iowa's aging white population. The median age of an Iowa Latino is 23, which is 15 years younger than the median age of the rest of the state.
Following Saturday's event in Oelwein, Betty Miller, an Independence, Iowa, resident, said that King "is a hero in Iowa," especially for his position on immigration. To her, Trump made immigration a campaign issue for this election, but Cruz can continue the debate.
"Trump is doing so well because he stood up and put it out there," she said. "When Trump brought it out, Cruz stepped up to the plate. We like people who don't back down. Cruz is real and he really has a heart."
These are not one-issue voters. When Cruz mentioned his plans to overturn Obama's executive orders on gun control and have the Justice Department investigate Planned Parenthood, crowds on Saturday applauded loudly, whistling and cheering. But in a state that has a growing Latino population that threatens the norm of small towns, immigration is on the short list of issues that can determine who voters go out and caucus for on Feb. 1.